When it comes to eating out, most of us pay attention to the quality of the food and drinks as well as its overall environment and services. But have you tried something out of ordinary upon visiting a restaurant? If you have not, here are 8 Unusual Restaurants To Visit Around the World for you to check out!
---
1) Bird's Nest Restaurant @ Soneva Kiri Eco Resort, Thailand
Ever wonder what it is like to dine in a bird's nest? No, not an actual bird's nest but more of a tree pod, or a nest made from woven material that can accommodate up to four people. If that's not enough, the pods are literally perched atop trees as high as 16 feet above the ground! The good news is, you don't have to climb the tree to get to the pod. All you need to do is sit inside the pod, and it will be raised using a pulley system. You and your partner or perhaps your friends get to enjoy the stunning view from above while dining. And if you are wondering about how your food and drinks will be delivered, well, let's just say the waiter uses a zip line to do so.
2) Dinner In The Sky @ Jalan Bukit Bintang, Kuala Lumpur
Here's a chance for you to dine… literally above the sky. Certainly not for the faint-hearted or those who are afraid of heights, guests are strapped into seats attached to a table. From there, everything will be lifted using the crane up to 50 metres high (that would be 164 feet!) and you can enjoy your meal while suspended in the air. You can even enjoy the spectacular bird's-eye view of the KL skyline come evening or nighttime.
3) Robot Restaurant @ Tokyo, Japan
It's like stepping into a surrealistic science-fiction fantasy setting filled with robots, ninjas, scantily-clad dancers and lots of colourful neon lights. And expect a whole lot of loud music as well. That's the major attraction you will get at Robot Restaurant, totalling around 90 minutes of highly-energetic performances. Just don't expect anything fancy or special about their food since the menu mostly consists of sushi and bento boxes.
4) Cereal Killer Cafe @ Brick Lane, London
Love all things cereal? Well, here's one for you: the Cereal Killer Cafe located on Brick Lane in London. Renowned as the world's first international cereal cafe, it made its debut in 2014 with the menu consisting of — yes, you guessed it — cereal-centric foods and dessert regardless of sweet or savoury. They have Cereal Fried Chicken (cornflake chicken with buffalo dip), Avo Crackle Pop (deep-fried avocado in a Rice Krispie marmite coating) and even various ice cream flavours soaked in cereals like Cocopops and Frosties. The cafe also cater cereal-based Killer Cocktails for adults as well, namely Loopy Froot (Froot Loop gin with elderflower syrup, apple juice and blue curacao) and Cereal Milk-Tini (vodka, Kahlua and Cocoa Pebble cereal milk).
5) Rollercoaster Restaurant @ Various Locations
Don't worry, you will not be literally sitting on a moving rollercoaster while dining. Instead, this high-concept restaurant offers customers an unusual experience where food and drinks ordered from the touchscreen tablets at every table will be delivered via… a spiralling rollercoaster system. Think of it like a sushi restaurant served on a conveyor belt and you'll roughly get the idea. Expect delicious menu varieties like 8oz Sirloin Steak, Chicken & Bacon Caesar Salad, Rollercoaster Beef/Chicken/Quorn Burger and Salted Caramel Brownie.
6) Labassin Waterfall Restaurant @ San Pablo City, Philippines
Leave your shoes behind and enjoy this one-of-a-kind dining experience at the Labassin Waterfall Restaurant. Guests are to be seated at the long bamboo tables literally standing in the shallow river beside a small waterfall. You can even feel the cold rushing waters under your bare feet as you dine the restaurant's local kamayan-style buffet.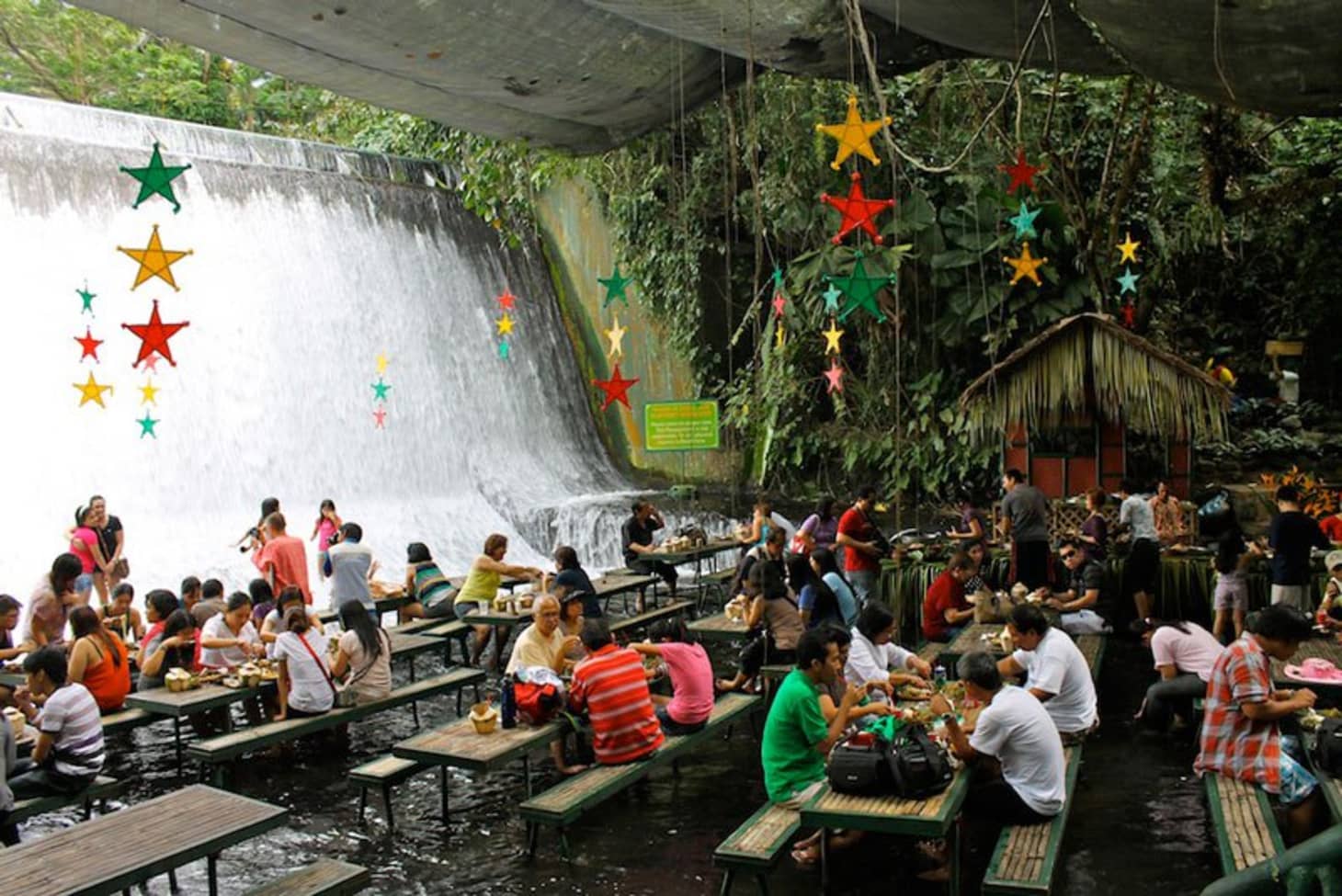 7) El Diablo @ Lanzarote, Spain
El Diablo offers grilled food varieties like steak, chickens, sausages and fish. So, what's so special about them? Instead of having them grilled on the regular hob or grill, this restaurant uses an unusual cooking method. That method in question happens to be the heat of the volcano — lava, to be exact — at 400°C (752°F)! Don't worry about the sudden spewing lava or even a volcanic eruption since it has lain dormant since 1824. Other than enjoying the volcano-grilled foods, you also get to enjoy the panoramic views of the Timanfaya National Park.
8) Prison Of Fire @ Tianjin, China
Now, who's in his/her right mind to want to enjoy a meal in prison? Well, if you happen to be at the city of Tianjin, there's a literal prison-themed restaurant called Prison Of Fire. You can enjoy your meal like "prisoners", complete with prison-like settings (steel-iron cells and purposefully dark interior). Even the food are served through a door hatch. At least there's still tables and chairs though.