If you are craving for European cuisine and on the lookout for halal food, you can explore these 10 trendy Halal European restaurants in Singapore.
---
1) Brio Restaurant
Brio serves trendy and casual Western food. Their cuisine ranges from Italian risotto and pizza to western grills, made using the freshest of ingredients. They serve breakfast, lunch, tea as well as dinner. There is something different to try at any time of the day.
2) Fika Swedish Cafe & Bistro
This is perhaps the most famous and popular restaurant that serves authentic Swedish food. The Malay owner is married to a Swedish man and managed to whip up awesome dishes at this restaurant. If you happen to be here, don't forget to try their Swedish meatballs and desserts.
3) Noosh Halal Noodle Bar & Grill
They made the headlines recently for their butter beer which ironically does not contain any beer or alcohol. It is made after the popular butter beer drink in London. The owner is a very enterprising and hardworking woman who started from just one humble hawker stall in an industrial area. She's now the proud owner of a few lush restaurants.
4) Fat Papa's Burger and Shakes
Fat Papa's is a brainchild of the local music celebrity Sheikh Haikel. His attractive personality is a huge reason why many flock to this restaurant hoping to catch a glimpse or a short chat with their favourite man. He offers mouthwatering burgers, ribs and shakes, typical western fare but no doubt a class of its own.
5) The Mad Sailors
The Mad Sailors specialises in British style fish and chips. The same people also have a restaurant that serves Mexican Tacos, called Afterwit-Mexican Tacqueria. Hop down for some authentic British food at the trendy Haji Lane area.
6) The Royals Steakhouse
The Royals Steakhouse began as a bakery that sells rainbow cakes. Today they have diversified into hot grilled steaks and burgers. It is a good two-in-one place to try their popular cakes and hot grilled steaks.
7) Royz et Vous
Royz er Vous's specialty is coffee but don't forget to check out their dinner and lunch menus as they are equally mouth watering. Relax in a cafe style atmosphere and enjoy their delectable range of food from breakfast, pasta to meatballs.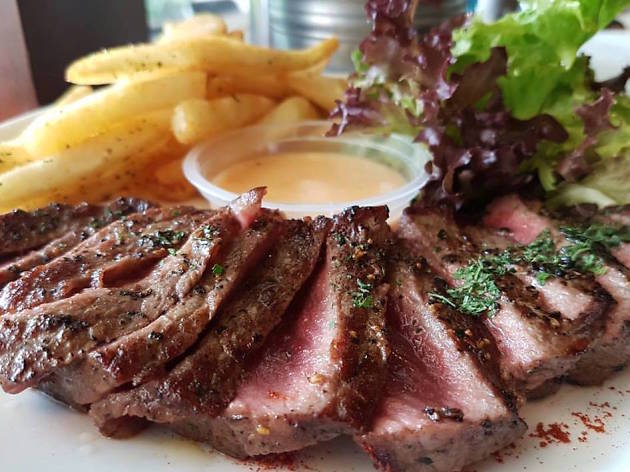 8) Andes by Astons
Andes is the Halal branch of Astons western food. Their popular steaks, fries and sides have morphed into Andes to attract the burgeoning Halal crowd. Affordable and large portions.
9) Carousel Buffet Restaurant
Carousel is a buffet restaurant based at the Royal Plaza on Scotts Hotel. To date, this 7-year award winning restaurant is still named the best halal buffet spread in town. Affordable prices and the seats are often sold out. Don't forget to reserve your table online and secure your seats in advance.
10) I am
Head down here for authentic Dutch food. I am's Charcoal-Grilled Beef Burgers, Fish & Chips,  Bitterballens, Dutch' Frites & Mayo, Dutch processed Coffee, non alcoholic Mocktails and their signature Rainbow Cake will leave you hungering for more.
---
https://www.facebook.com/tallypressmy/