Does anyone else find tyre maintenance an irksome necessity? From pumping air to regular checks for wear and tear, tyre maintenance could be time consuming, not to mention expensive. Furthermore, all the checks in the world could not prevent tyres from puncturing, or damage. But, what if we told you there we could soon have an airless, puncture-proof tyre?
---
The Uptis Prototype
Yes, that's right, this new tyre is named Uptis, standing for "Unique Punctureproof Tire System". A brand new and innovative design, Uptis is developed by tyre maker Michelin, and partnered with General Motors. This partnership is a joint research agreement to validate the prototype tyre, with plans to introduce it to passenger cars as early as 2024. Currently, they have tested it on the Chevrolet Bolt EV, and a real-world test will take place on a test fleet of these cars in Michigan later this year.
What's So Great About the Uptis?
I don't know about you, but I'd call not needing to pump in air into my tyres a major improvement! Besides that, the Uptis is also more environmental-friendly and safer as well. As an airless tyre, tyres do not go flat, puncture, or suffer from blowouts, making the roads a safer place. These tyres also use less raw material and energy to produce. With these durable tyres that require almost no replacement, the amount of scrapped tyres due to puncture or damage will reduce significantly as well. At the moment, about 200 million tyres worldwide are scrapped prematurely, resulting in a substantial amount of waste. Ultimately, the Uptis supports the General Motors global vision for "a world with zero crashes, zero emissions and zero congestion".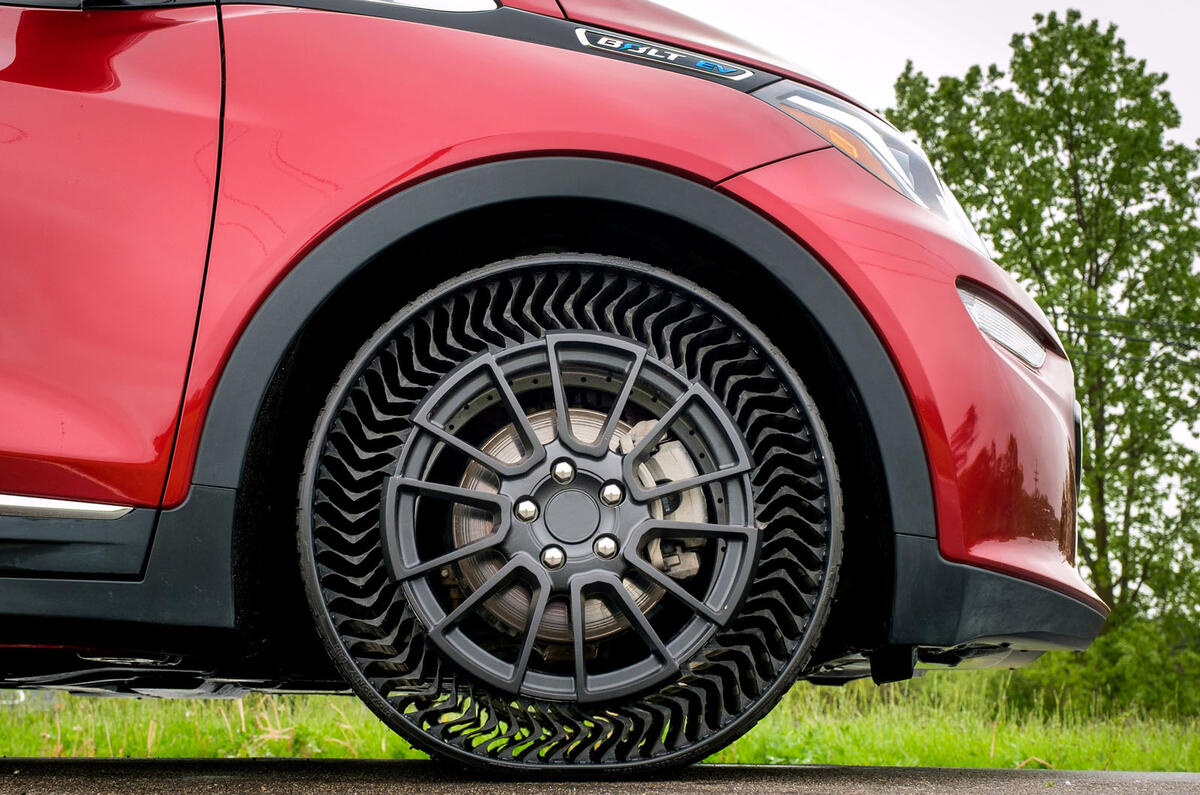 The Future is 2024
The Uptis is part of Michelin's VISION concept which was first unveiled at the Movin' On Summit back in 2017, which consists of four main pillars: airless, connected, 3D-printed and 100% sustainable. For passenger cars of the future when they could be autonomous and require little to no maintenance, Uptis is the perfect complement. As for what makes up the tyre if not air, Uptis employs groundbreaking technology in architecture and composite materials which enables the tyres to hold the car's weight at travelling speeds. If all goes according to plan, we could be getting Uptis by 2024!
What do you think? Are you excited for airless, puncture-proof tyres? I sure am, because I can then bid goodbye to air-pumping, and unfortunate tyre-changing by the roadside! Share your thoughts with us in the comments below!