Hello Kitty is a pretty iconic character that many of us can remember watching on TV as children. Even today's kids are still growing up with the many toys and products featuring the fictional character. Hello Kitty who is also known as Kitty White is a popular fictional character produced by Japanese company Sanrio. She is essentially a depiction of a young female Japanese Bobtail. Her signature look is unmistakably the red bow that she wears. Anyone who still wants to show their love can check out the Hello Kitty X Cathy Doll collection!
---
Hello Kitty X Cathy Doll Makeup
The collection is the latest one from the Korean-inspired beauty brand which is also responsible for the Disney Tsum Tsum collection. Every product features rose gold packaging with a cute Hello Kitty design on top. In this collection you can browse through a powder pact, blushers, lipsticks, tints, and brow pencils.
Lip Products 
Under the range of lip products you can choose between the lipsticks, the airy lip blur line, and the lip and cheek matte mousses which give you double function. For the lipsticks, the shades are Cheery Bomb, Sorbet Halabong, Dry Persimmon, and Fresh Berry.
Meanwhile, the airy lip blur products come in Pink Rose, Peach Rose, Sun Rose, and Red Rose. Furthermore, the mousses can be applied as a tint for both your lips and cheeks. It also finishes in a matte texture. Choose from Punch, Carrot, Walnut, and Red Ribbon.
Compacts and Pencils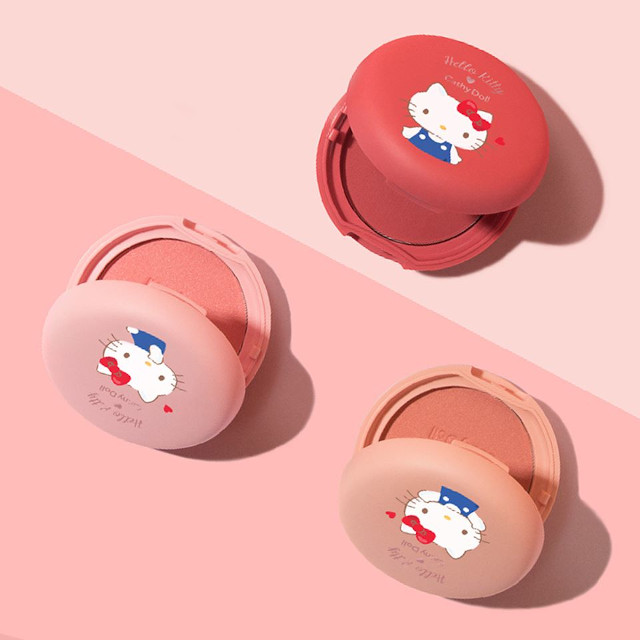 Moving on, the collection also features an oil control blur pact to help combat any oily skin. However, the pact is only available in one shade which can pose as a problem for many. On the other hand, in regards to blusher there is a combination of shiny and matte finishes. For the shiny ones, the shades are Frozen Strawberry and Frozen Peach while the matte comes in Choco Cherry.
The last products in the Hello Kitty X Cathy Doll collection are the eyebrow pencils which come in two shades. Choose between soft brown and dark brown to help keep your brows on fleek at all times.
The Hello Kitty X Cathy Doll collection is currently available at selected Guardian stores in Malaysia!