Singapore, city of the merlion, is only a stone's throw away from Malaysia. But how well do you actually know our neighbouring country? Take a look at this list and see how many brands you knew were from Singapore!
---
1) Razer Inc.
Founders: Tan Min-Liang, Robert Krakoff
Year of Establishment: 2005
What It Is: High-performance gaming hardware, software and systems manufacturer
Fun Fact: Razer Inc. has two headquarters; in Singapore and in San Diego
2) TWG (The Wellbeing Group) Tea
Founders:  Taha Bouqdib, Manoj M. Murjani, Maranda Barnes
Year of Establishment: 2008
What It Is: A tea company that promotes itself as a luxury brand
Fun Fact: The year "1837" in its logo is actually a tribute to the year when the Chamber of Commerce was founded in Singapore
3) RAOUL
Founders: Douglas and Odile Benjamin
Year of Establishment: 2002
What It Is: A clothing label that started off as a men's label, before expanding into womenswear
Fun Fact: It made its international debut in 2010, and Duchess of Cambridge Kate Middleton wore a RAOUL piece during her visit to Singapore in 2012
4) World Scientific Publishing Company
Founders: Phua Kok Khoo, Doreen Liu
Year of Establishment: 1981
What It Is: An academic publisher of scientific, technical, and medical books and journals
Fun Fact: It is the largest international scientific publisher in the Asia-Pacific region
5) Axe Brand Universal Oil
Founder: Leung Yun Chee
Year of Establishment: 1928
What It Is: A medicated oil suitable for relief of giddiness, headache, blocked nose and cold, stomachache, insect bites, rheumatic pain, and muscular pain
Fun Fact: A German physician gave Leung the recipe for the oil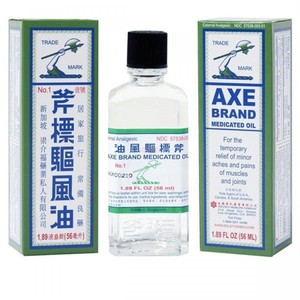 6) Xmi Private Limited (X-mini)
Founders: Ryan Lee, Reuben Lee, Barry Choo
Year of Establishment: 2006
What It Is: A technological company with a focus on introducing the newest wave of multimedia products to the global market
Fun Fact: Xmi's range of capsule speakers have won many awards, including the red dot design award, which it won for five times
7) Browhaus
Founder: Cynthia Chua
Year of Establishment: 2004
What It Is: An eyebrow and eyelash grooming chain
Fun Fact: British journalist, author and Vogue contributor Francesca Segal got her brows done at Browhaus Covent Garden in 2013
8) OSIM International Limited
Founder: Ron Sim
Year of Establishment: 1980
What It Is: A household appliance turned healthcare brand that mainly focuses on massage chairs
Fun Fact: The name "OSIM" is a combination of the founder's surname "Sim", and the "O", which represents the globe
9) Thai Express (SG)
Founders: Grace Goh-Lee, Ivan Lee
Year of Establishment: 2002
What It Is: A chain of restaurants serving Thai cuisine
Fun Fact: It is one of the few Thai restaurants in Singapore to serve Thai laksa, and they serve eight varieties of laksa
10) Akira
Parent Company: TT International Limited
Year of Establishment: 1994
What It Is: An electronic brand that offers all sorts of products, from audio-visual gadgets to household appliances
Fun Fact: It launched Singapore's First 3D Blu-ray Smart LED TV
11) Charles & Keith International Private Limited
Founders: Charles Wong, Keith Wong
Year of Establishment: 1996
What It Is: A fast-fashion footwear and accessories brand
Fun Fact: In 2017, they launched a Winter Collection in Qatar, featuring minimalist, functional, sports-inspired and revamped vintage styles
12) Pedro Shoes
Parent Company: Charles and Keith International Private Limited
Year of Establishment: 2006
What It Is: A footwear and accessories brand
Fun Fact: Pedro was created originally to cater for the working man, before launching into the women's line in 2008
13) Tiger Balm
Founder: Aw Chu Kin
Time of Establishment: The 1870s
What It Is: A pain-relief ointment
Fun Fact: Aw was a Chinese herbalist who was working in the Emperor's court, and he named his two sons Boon Haw ("gentle tiger") and Boon Par ("gentle leopard")
14) Banyan Tree Holdings Limited
Founders: Ho Kwon Ping, Ho Kwon Cjan, Claire Chiang
Year of Establishment: 1994
What It Is: An international hospitality brand that manages and develops resorts, hotels and spas
Fun Fact: It started when Ho Kwon Ping and wife Claire were vacationing in Phuket, and thought that it was an ideal location to build a resort
15) Fish N Co.
Founders: Ricky Choo, Lambert Yeo
Year of Establishment: 1998
What It Is: Fresh seafood with a concept of being of served right from the pan
Fun Fact: Choo and Yeo left their jobs at Singapore Airlines to pursue their passion in the food business
16) COMO Hotels & Resorts
Founder: Christina Ong (nee Fu)
Year of Establishment: 2000
What It Is: A hotel chain
Fun Fact: Christina is also known as the "Queen of Bond Street" (in London) because of the number of properties she owns on the street
17) Gryphon Tea Company
Founder: Lim Tian Wee
Year of Establishment: 2006
What It Is: A tea company that crafts its tea using exotic and experimental ingredients
Fun Fact: Lim is the fourth-generation owner of Lim Lam Thye Private Limited, and the family has been in the tea business for almost 100 years
18) Three Legs Cooling Water
Parent Company: Wen Ken Group
Year of Establishment: 1937
What It Is: A type of water that is said to be effective in dispelling "heatiness" from the body
Fun Fact: Cool Rhino water is a product extension of Three Legs Cooling Water
19) Tiger Beer
Parent Company: Heineken Asia Pacific
Year of Establishment: 1932
What It Is: A 5% alcohol by volume pale lager
Fun Fact: It is Singapore's first locally brewed beer
20) BreadTalk Group Limited
Founders: George Quek, Katherine Lee
Year of Establishment: 2000
What It Is: A multinational food and beverage corporation
Fun Fact: It owns the Din Tai Fung restaurants in Singapore and Thailand
---
https://www.facebook.com/tallypressmy/