More than just comfort food that instantly warms one's stomach, heart and soul, pizza is simply versatile enough for you to top it with anything you like. Most of us, of course, have grown accustomed to usual pizza toppings such as chicken, beef, seafood, ham, cheese and pineapple. But there are a few countries that went as far as introducing their own pizza creation with the kind of toppings you ordinarily wouldn't have even considered. That said, here are 10 Weird And Unusual Pizza Toppings From Around The World!
---
1) Banana Curry (Sweden)
Given its choice of toppings, it's easy to expect that this pizza comes from an Asian country. But you'll be surprised that this banana curry pizza actually originated from Sweden! Believe it or not, it also happens to be one of the country's most popular pizzas. In case you are wondering about their ingredients, the banana curry pizza mainly consists of the two aforementioned toppings along with sliced pineapple, chicken and peanuts.
2) Coconut (Costa Rica)
Apparently, Costa Rica has its way of serving their pizzas in a different way. Who would have thought that coconut shavings, too, can be one of the pizza toppings? Think of them as a unique substitute to the usual grated cheese.
3) Kangaroo & Emu (Australia)
Who even came up with the idea to put kangaroo meat on a pizza?! Like it or not, this weird pizza topping is actually available in none other than Australia. If that's not enough, you can even find emu meat as one of their local pizza toppings. We'll pass though.
4) Horse Meat (Denmark)
First things first, the very thought of consuming horse meat alone would be disconcerting for most people. But the Danes have different thoughts altogether, as horse meat pizza is actually available in their country. Among them is a Copenhagen restaurant named Gorm, which served such a pizza back in the early 2010s. The particular restaurant even went as far as putting up a controversial sign that reads: "Are you ready for a scandal? Then Gorm's pizza with horse is a good finale."
5) Peas (Brazil)
Can you imagine a load of green peas added as one of the major pizza toppings? Yes, they actually exist in Brazil where peas on pizza are actually a common sight. Is there nothing else to top the pizza with…?
6) Crocodile Meat (Australia)
Here is another weird pizza topping from Australia and this time, it's crocodile meat. You can actually find this pizza at the Australian Heritage Hotel in Sydney, where adventurous foodies get to try their exotic local specialities like BBQ Emu and Pepper Kangaroo pizzas. Then, there's Saltwater Crocodile Pizza garnished with buffalo mozzarella, eggplant, mushroom and olives. Yum? We'll let you be the judge of that!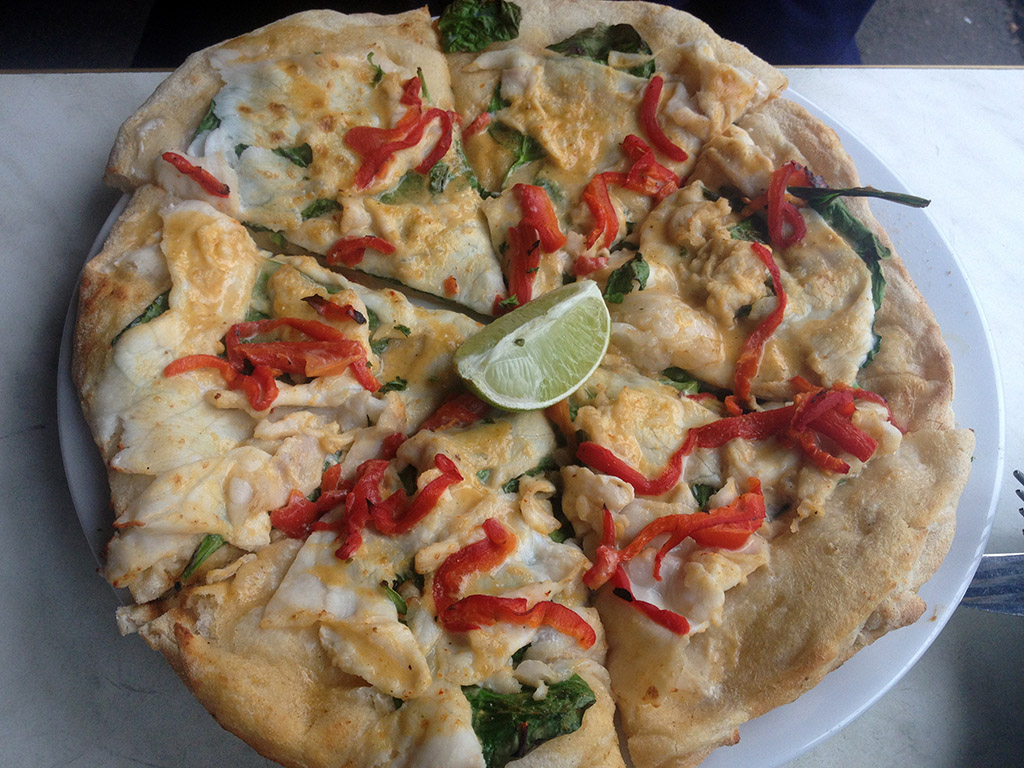 7) Reindeer Meat (Finland)
Believe it or not, you can find reindeer pizza in Finland, specifically Kotipizza, who also happens to be the largest pizza restaurant chain of the Nordic countries. One of their unique menu options is Pizza Berlusconi, which actually named after former Italian Prime Minister Silvio Berlusconi. Here's why: Berlusconi once mocked that the country ate nothing else but "marinated reindeer" when he visited Finland back in 2005. The aforementioned pizza subsequently got its name after it toppled Italy in 2008 an international pizza competition. The ingredients of Pizza Berlusconi? Smoked reindeer meat, chanterelle mushrooms, cheese and sliced red onions.
8) Full Breakfast (England)
If you think this familiar wholesome full English breakfast can only be served on a plate, well, think again. Apparently, there's a pizza version of the aforementioned breakfast meal and it comes with a hearty mix of bacon, sausage, tomatoes, mushrooms and yes… sunny-side-up eggs.
9) Grand Prix Cookie Crust Pizza (South Korea)
Yes, you read it right — a pizza made of cookie dough-stuffed crust topped with shrimps and sweet potatoes. And it was once available at Mr Pizza, which happens to be among the top pizza chains in South Korea.
10) Durian Cheese (Malaysia)
And finally, we save the best weirdest for the last: the durian cheese pizza, which was recently introduced in Pizza Hut Malaysia back in early August. The main ingredients? Natural durian pulp and cheesy toppings baked all together with a crispy pizza crust.