Many of us grew up playing with LEGO's and creating whatever our imagination fancied. With the never ending possibilities of LEGO, we can make houses, spaceships, and more. In addition, we can also act out whatever stories we see in our minds with the LEGO figures. As a way to cater to adults, LEGO also has collectibles of various pop culture references. Now as a new way to collect while saving space, the LEGO pop art posters are perfect for expressing your own creativity.
---
LEGO Pop Art Posters
The new and upcoming LEGO pop art posters come in a 40cm square canvas and colourful pea-sized pieces. These tiny pieces is how you create a 2D image that can then be hung on the wall for display.
In the entire collection, there are four different sets available that make references to pop culture. LEGO is releasing the posters in Andy Warhol's Marilyn Monroe, portraits of The Beatles, villains from Star Wars, and Iron Man in his different suits.
Marilyn Monroe
https://twitter.com/LEGO_Group/status/1278312582655377408?ref_src=twsrc%5Etfw%7Ctwcamp%5Etweetembed%7Ctwterm%5E1278312582655377408%7Ctwgr%5E&ref_url=https%3A%2F%2Fwww.soyacincau.com%2F2020%2F07%2F05%2Flego-art-collection-adult-star-wars-andy-warhol-marvel-the-beatles-marilyn-monroe%2F
Andy Warhol's famous bright pink screenprint of Marilyn Monroe from 1967 is now brought to life on your LEGO pop art canvas. Furthermore, you can create your own version with three different colours.
In addition to the canvas, the set also has a soundtrack with interviews with Jessica Beck who is the curator at the Andy Warhol Museum. Moreover, you can listen to stories from Blake Gopnik, an Art Critic and the author of 'Warhol'.
The Beatles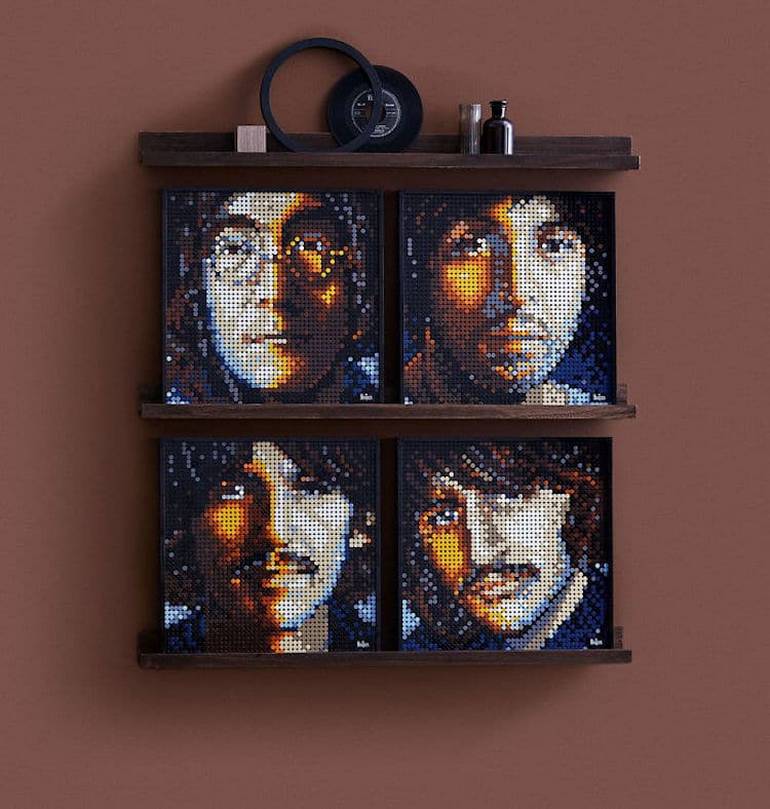 Meanwhile, The Beatles set can bring your favourite band member to your own home. Choose from John Lennon, Sir Paul McCartney, George Harrison, Sir Ringo Starr, or all four of them.
The unique portraits feature up close images of the band members. In this set you can listen to the soundtrack that brings you interviews with Geoff Lloyd, British journalist Samira Ahmed, and Nish Kumar who is a comedian and TV presenter.
Star Wars
Moving on, the villain might not always look good in movies but they can look good displayed in your home! Choose between Sith, Darth Vader, Darth Maul, or Kylo Ren from the Star Wars set.
The soundtrack that comes with this set includes music from the films and fun stories from Star Wars creators. Furthermore, there will also be interviews with Doug Chiang who acts as VP and Executive Creative Director at Lucasfilm.
Iron Man
Last but not least, arguably one of the most important Avengers is Iron Man. For the LEGO pop art poster, you can decide between the Mark III, the Hulkbuster Mark I, or the Mark LXXXV suits that he wears.
There is also an ultimate Iron Man portrait that is the result of all three sets being combined. In the accompanying soundtrack you can enjoy interviews with fromer Marvel Editor in Chief Roy Thomas, and host of 'Comic Book Historians podcast' Alex Grand.
Is it Available yet?
The new LEGO pop art poster collection will only be available in Malaysia starting from the 1st of August. Each set is retailing for the price of RM659.90 and will be available for purchase from LEGOLAND Malaysia and LEGO certified stores. You can also check out more information on the official LEGO website.