Whether it's for great holidays or business trips, traveling can always be fun. The important aspects to consider when flying include comfort, service, and also the food! As the world's number 1 low cost airline, AirAsia still offers a pretty good deal. Despite the fact that you must purchase the food separately, many flyers still love it. However, if you are skeptical about their meals just head over to Santan in Mid Valley to give it a try!
---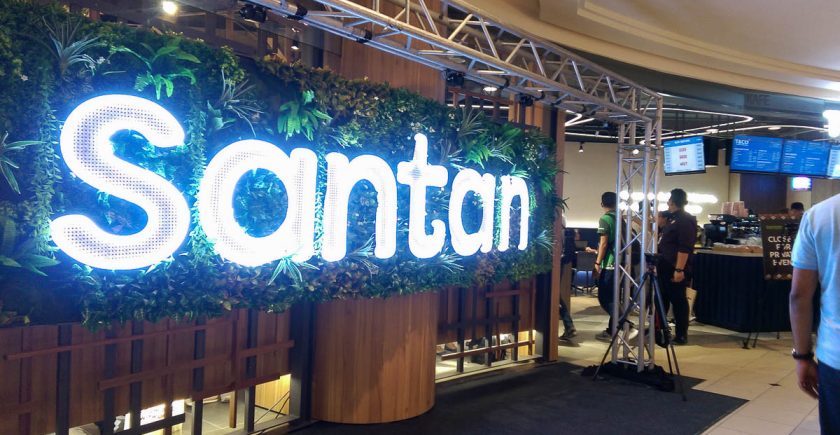 That's right! AirAsia has officially launched their first ever store, Santan, in Mid Valley Megamall. The restaurant offers a variety of delicious Asian food that can be found on the in-flight menu.
In fact, the food is also served to you in the same way it would be if you were on their flight. Each dish comes in a brown box that is wrapped with a paper band proclaiming the dish as "From ASEAN With Love".
So what can you expect? Well some favourite dishes include Pak Nasser's nasi lemak and nasi padang beef. Furthermore, be sure to try the beef rendang, nyonya curry laksa, and even the chicken satay.
Also on the menu are dishes that come from five other chefs and culinary art students. Each meal ranges from RM12 to RM15 for a set that includes a drink.
The process of ordering is similar to a few fast food restaurants now. Customers must use the screen boards available to make their order. Here they will be able to browse through the menu, place their orders, and make the payment. After that, they will need to collect their meal from the counter.
In an effort to be seen as a lifestyle brand, AirAsia aims to introduce Santan in more places. This also includes global hotspots like London and New York as well as other Asean countries.