Dr Maszlee Malik has always been actively involved in promoting the importance of education. In fact, he served as the Minister of Education once after Pakatan Harapan won the majority at GE-14. Unfortunately, as of today (3rd January 2020) Dr Maszlee has officially resigned as Minister. However, many Malaysians want him to come back and there's even a petition going around!
---
Dr Maszlee Malik
Most people know Dr Maszlee as the reason that black shoes are a part of the school uniform. But that's not all he did while serving as Minister of Education. During his time, Dr Maszlee has actually accomplished a lot for our education system.
To begin, the Ministry of Education has advanced in five different sectors to improve the overall education level. Each sector has seen tremendous contributions to the Malaysian education system.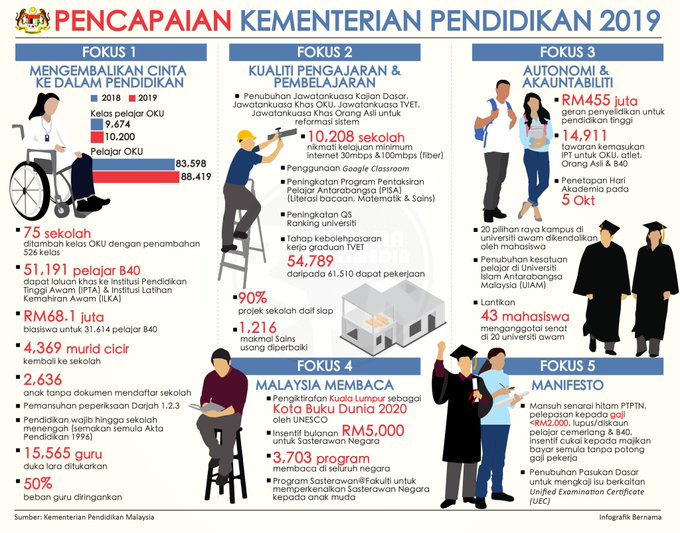 The Heart of Learning
Firstly, he has introduced more OKU friendly schools and more scholarships. Additionally, over 4,000 students have returned to school. In addition, Dr Maszlee also abolished the mid-year and final exams for students in Year 1 to Year 3. This is to encourage them to focus more on what they learn instead of scoring well.
Moreover, he has reduced the burden on teachers by introducing more administrative helpers to schools. This allows for teachers to be able to focus more on teaching the students.
Education for All
Just a year ago, a new policy was introduced to help those who are less fortunate gain access to good education. Part of this was to have a 60% quota for students from low income B40 households in boarding schools.
Dr Maszlee said that the original objective of the Ministry of Education is to help those who are less fortunate. Therefore, children from poor households who study hard and excel must be provided assistance. Additionally, the ministry also aimed to stop well-to-do families from abusing the system.
Furthermore, corrective measures made now allow for stateless children to also receive an education. Since 2019, over 2,600 stateless children have enrolled in school.
Better Performance in Pisa
Malaysia's performance in the Programme for International Student Assessment (Pisa) 2018 has improved as well. According to the Pisa results, Malaysian students scored 415 points for reading, 440 points for mathematics, and 438 points, for science.
Moreover, it was found that both high- and low-achieving students performed better generally. This shows that there is an equal level of improvement happening! Additionally, improvements in mathematics were strong among the highest-achieving students.
Free Breakfast Programme
As of this January 2020, primary school children all over the country will receive a free breakfast before school. The initiative by the Ministry of Education aims to provide students with a nutritious meal as well as bonding time.
It is especially beneficial for students from poorer households who may not be able to have a proper breakfast before school. Furthermore, it can help to break barriers as every student will be able to eat together.
Rights to Politics
Moving on, three related Acts have been amended that impact students who are receiving a higher education. The amendments focused on allowing students of higher education institutions to be involved in political parties on campus.
This was a welcomed move as many students from higher education institutions expressed frustrations before GE-14. Students were not allowed to take part in any political activities which they felt was limiting their freedom of speech.
Malaysians want Dr Maszlee Back!
While he believes it is important to move towards the future of education, Dr Maszlee also believes in including everyone. This is why his policies have helped ensure that every child deserves equal opportunity to good education. He has also improved access and quality of education for marginalised and disadvantaged communities such as the stateless children.
Malaysians have already begun expressing their sadness at his resignation. In fact, someone by the name of Tuah Kencana has started a petition! The petition highlights the key contributions of Dr Maszlee and encourages Malaysians to sign for him to return to his position as Minister. At the time of writing, it has already received 367,859 signatures!