Contrary to popular belief, Klang isn't just about bak kut teh. There are actually plenty of other delicious foods you can try here. From handmade pau to banana leaf rice, here are the 8 Foods You Need To Try Other Than Bak Kut Teh in Klang.
---
1) Handmade Pau @ Klang Food Centre
Paus (steamed Chinese buns) are a dime a dozen. You can easily find them everywhere in the Klang Valley area alone. But as common as they seem, not every pau is made equal. This is especially true for the pau that is served at Klang Food Centre. Far from your average varieties, the pau is all handmade and freshly prepared on a daily basis. You will also find a variety of sweet and savoury fillings (over 13 of them!) with the likes of char siew, mui choi (preserved vegetable), corn custard, curry chicken, peanut and yam & pork.
Address: 10, Jalan Batai Laut 5, Kawasan 16, Taman Intan, 41300 Klang, Selangor. | Tel: 03-3342 8122 / 012-369 9862 (Mr P.C. Lam)
2) Roti Bakar @ Chong Kok Kopitiam
If you are longing to start your day with a good old-fashioned roti bakar (toast), you can't go wrong with the one served at Chong Kok Kopitiam. The bread is lightly toasted and fluffy to the taste, with a generous serving of homemade kaya and butter sandwiched in between. Best paired with half-boiled eggs and a cup of hot kopi-O (black coffee). Keep in mind that the coffee shop is often packed with customers every day, so it's best to arrive as early as you can (opens at 6:30am)! Also a word of caution, law enforcement officers are pretty diligent here, so unless you want your vehicle towed away, maybe don't double park here, unless you decide that it's all worth it in the name of good food!
Address: 5, Jalan Stesen, Kawasan 1, 41000 Klang, Selangor. | Tel: 03-3371 0996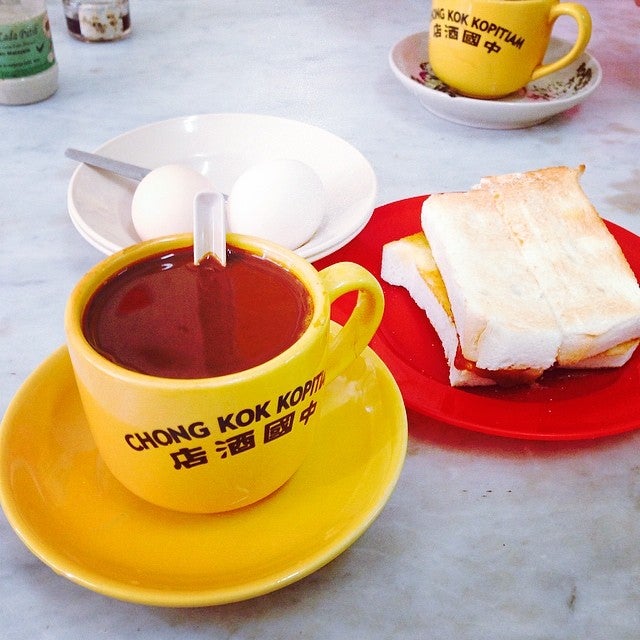 3) Cendol @ Cendol & Rojak Bandar Bukit Tinggi
Nothing beats a good bowl of ice-cold cendol on a sunny hot afternoon. But which place serves among the best cendols in town? Here's a recommended place for you: look out for the white truck at Jalan Batu Nilam 2 in Bandar Bukit Tinggi, specifically the one operated by Kaniappan. Not only is his cendol reasonably priced, but also blessed with a satisfying combination of gula Melaka, coconut milk and cendol strands that do not taste too watery or too thick.
Address: Jalan Batu Nilam 2, Bandar Bukit Tinggi 1, 41200 Klang, Selangor | Tel: 016-386 1737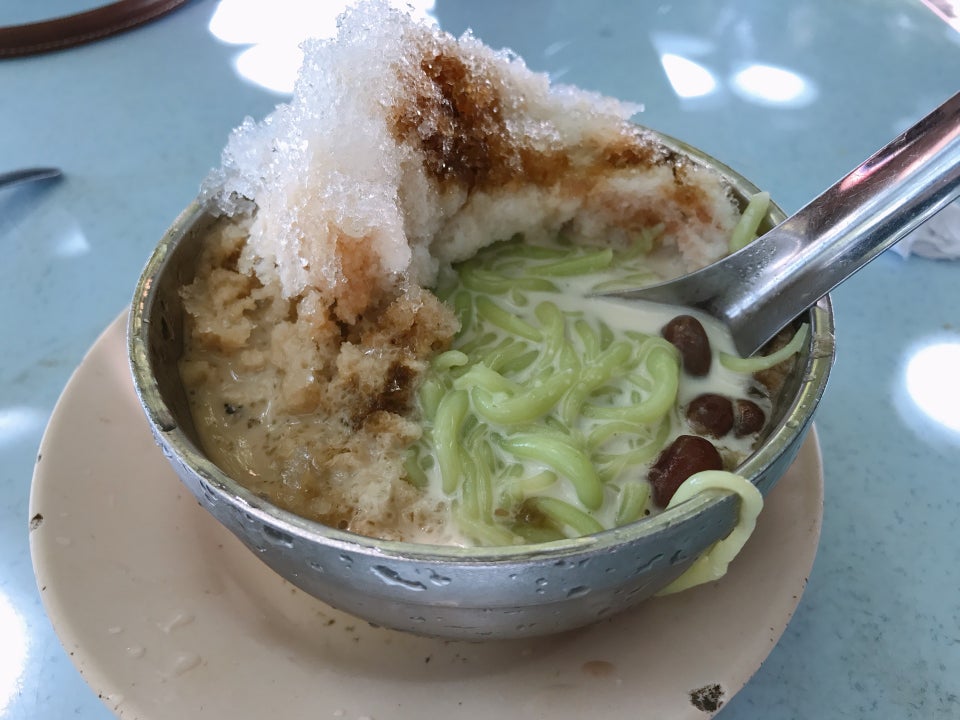 4) Nestum Prawns & Steamed Lala @ Restoran Boston Baru
This famous seafood restaurant in Klang needs no introduction. Yes, it's notoriously known for its long queue and waiting time. But the good news is, some of their recommended seafood dishes are worth waiting for. This includes their signature Nestum Prawns, consisting of deep-fried mantis prawns coated with a generous amount of Nestum cereal and curry leaves. Another Boston Baru's signature dish is the must-order Steamed Lala — juicy lala in superior stock laced with Chinese wine and sliced ginger.
Address: Jalan Kapar, Kawasan 18, 41300 Klang, Selangor | Tel: 016-268 3104
5) Pandan Layer Cake @ Regent Pandan Layer Cake Shop
The name of this old-school confectionery shop says it all. Their signature pandan layer cake is to die for, thanks to its soft texture of pandan-flavoured sponge cake that complements well with pandan jelly in between. They have other flavours too such as pandan + yam and pandan + corn.
Address: 70, Jalan Raya Timur, Kawasan 1, 41000 Klang, Selangor | Tel: 03-3371 8382
6) Curry Puffs @ Warung Pak Din
Looking for some traditional kuih muih? Then, you should head to Taman Palm Grove to try some of the local delicacies at Warung Pak Din. Prepare to be spoilt for choices, given their huge varieties of sweet and savoury kuih. But it was their signature chicken curry puffs that made them such a local favourite among many Klangites. Crispy on the outside and savoury on the inside, each puff is generously stuffed with delicious fillings of curried potatoes and sliced chicken meat.
Address: 40, Jalan Ladang, Taman Palm Grove, 41200 Klang, Selangor. | Tel: 018-974 9891
7) Mee Hoon Kueh @ Fatty Mee Hoon Kuih House
There are plenty of places that serve mee hoon kueh (hand-torn dough) in Klang, but the Taman Berkeley location is easily the most popular one of them all. A favourite among many locals, Fatty Mee Hoon Kuih House has been around since the 1980s and is still standing strong even until today. Frankly, it's easy to see why: their mee hoon kueh is all hand-pinched that has the right texture which isn't too thin or too thick. The dough is then cooked in a savoury clear broth. Then, each bowl is served with different morsels like fried anchovies and pork liver, making this the ultimate comfort food worth craving for.
Address: 29, Lebuh Bangau, Taman Berkeley, 41150 Klang, Selangor. | Tel: 017-336 6183
8) Banana Leaf Rice @ Yap Kee Coffee Shop
Believe it or not, this old-fashioned coffee shop has been around since 1923. And yet, many Klangites from old and new generations still made their way to Yap Kee for none other than the coffee shop's signature banana leaf rice. It's actually nothing fancy, with each platter basically filled with rice, curry, vegetable and a choice of meat like fried chicken or mutton curry. So, what's their secret anyway? The answer lies on the traditional family recipe that has been passed down for generations. Keep in mind that the lunch hour is usually packed to the brim, so be there earlier if you can.
Address: 26, Jalan Besar, Kawasan 1, 41000 Klang, Selangor.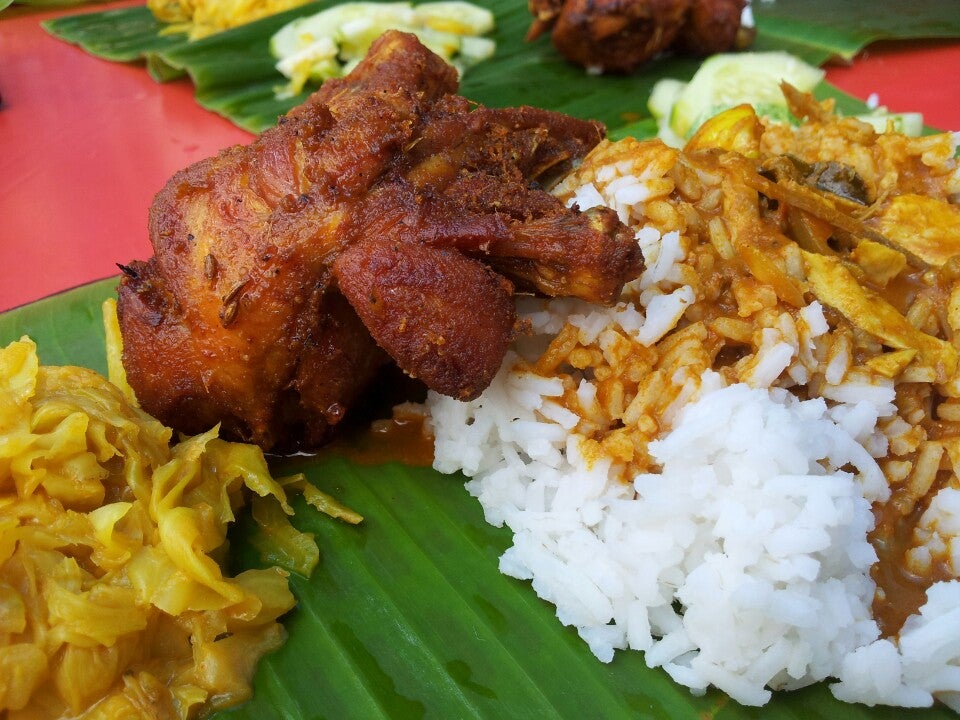 ---
https://www.facebook.com/tallypressmy/