Air fryers seem to be one of the best cooking inventions: from having to use very little oil to saving so much of your time, this invention does wonders in the kitchen. Having an air fryer at home, you'd be surprised by what you can do with it! They don't just work well with chicken and potatoes but cakes too! Yes, you read that right, cakes! If you have yet to own an air fryer, you can purchase it online here. Here are some easy mouth-watering cakes you can bake using your air fryer: 
Air Fryer Cake Recipes
---
1) Air Fryer Molten Chocolate Cake
Who doesn't love molten chocolate cake, right? With your air fryer, now you can bake yourself a satisfying molten chocolate cake at home! Super easy to make makes it perfect to have it for tea!
Serves: 4 people
Ingredients:
2 oz brown sugar

1 pinch salt

1/2 orange, juiced

1/2 teaspoon instant coffee

4 oz dark chocolate, chopped

4 oz butter

2 eggs

2.5 oz flour

A pinch of baking powder
Steps:
Slowly melt the chocolate and butter. When completely melted, simply add the orange juice.

Stir well to combine.

In a bowl, mix the eggs with the sugar and instant coffee.

Then beat consistently with an electric mixer until creamy.

Stir in the chocolate orange mixture.

Gently stir in the flour, baking powder, and salt. The batter only needs to be mixed slightly.

Preheat the Airfryer to 360F.

Pour the batter into a small buttered baking dish then place in the basket and slide the basket into the Airfryer.

Set the timer for 10 minutes and bake until the timer rings and the cake is firm to the touch.
Recipe from: https://www.airfryerguide.net/airfryer-molten-chocolate-cake/
2) 4-Ingredient Nutella Air Fryer Brownies 
The name of this dessert is already making you drool? Well, lucky you, you can whip this up at home just by using your air fryer! Even if you don't bake cakes, this dessert is so easy to make, pretty sure you won't flop! Don't forget to standby your camera, this should be one for the gram. Add a scoop of vanilla ice cream and you'll be in for a treat! 
Serves: 8 people
Ingredients: 
150g (1 cup) plain flour

225g (1 cup) white sugar

3 eggs, lightly whisked

300g (1 cup) Nutella

Cocoa powder, to dust (optional)
Steps:
Lightly grease a 20cm round cake pan. Line the base with baking paper.

Use a balloon whisk to whisk together the flour and sugar in a bowl. Make a well in the centre. Add the egg and Nutella. Use a large metal spoon to stir until combined. Transfer to the prepared pan and smooth the top.

Preheat the air fryer to 160C. Bake the brownie for 40 minutes or until a skewer inserted in the centre comes out with a few crumbs sticking. Set aside to cool completely.

Dust with cocoa powder, if using, and cut into pieces to serve.
Recipe from: https://www.taste.com.au/recipes/4-ingredient-nutella-air-fryer-brownies-recipe/zfvef95q
3) Air Fryer Banana Cake
For the banana cake lovers, this is something you can try at home! With this easy recipe, all you have to do is mix them up and just pop them into the air fryer. Make them for breakfast or even for desserts. In fact, they're yummy to eat at any time of the day!
Serves: 4 people
Ingredients: 
Cooking spray

⅓ cup brown sugar

3 ½ Tbs butter at room temperature

1 banana, mashed

1 egg

2 Tbs honey

1 cup self-rising flour

½ tsp ground cinnamon 

1 pinch salt
Steps:
Preheat an air fryer to 320 degrees F (160 degrees C). Spray a small fluted tube pan with cooking spray.

Beat sugar and butter together in a bowl using an electric mixer until creamy. Combine banana, egg, and honey in a separate bowl. Whisk banana mixture into butter mixture until smooth.

Sift flour, cinnamon, and salt into the combined banana-butter mixture. Mix batter until smooth. Transfer to the prepared pan; level the surface using the back of a spoon.

Place the cake pan in the air fryer basket. Slide the basket into the air fryer and set the timer for 30 minutes. Bake until a toothpick inserted into the cake comes out clean.
Recipe from: https://www.allrecipes.com/recipe/260630/air-fried-banana-cake/
If you don't have a hollow baking pan, you can purchase it online here.
4) Air Fryer Basque Burnt Cheesecake 
Cheesecakes are meant for the weekend! You don't need to go out to indulge in this delicious cheesecake because you can do it right at the comfort of your home with an air fryer! Is there anything the air fryer can't do? Satisfy your cravings this weekend! 
Serves: 4 people
Ingredients: 
250 cream cheese

80g sugar

15g egg yolk at room temperature

105g whole egg, at room temperature

0.5g vanilla extract

170g whipping cream, at room temperature

6g cake flour
Steps:
Soften the cream cheese to room temperature. Beat the cream cheese and sugar until all the sugar is dissolved.

Add the egg yolk and mix well.

Add the whole egg and mix well.

Add the cream and vanilla extract, and beat and combined.

Sift the flour evenly onto the cream cheese mixture. Beat until well combined.

Pour the batter into a 6-inch round pan, lined with baking paper.

Preheat the air fryer to 200

°C for 10 minutes.

Bake the cheesecake in the air fryer at 180°C for 18-21 minutes or until golden brown. 

Cool the cheesecake on a rack without removing the mold. Chill and serve. 

 *The cheesecake can be made one day in advance and chilled in the fridge. 
Recipe from: https://www.kuali.com/recipe/cakes/basque-burnt-cheesecake-using-air-fryer/
5) Air Fryer Pandan Coconut Cake
If you love everything coconut, you might like this cake! Pandan coconut cakes are always appetizing anyway. Simple to prepare and mix, just add everything into a baking pan and put into the air fryer. Wait patiently and maybe even catch up on a Netflix series! When it's ready, have it with your favorite beverage and enjoy!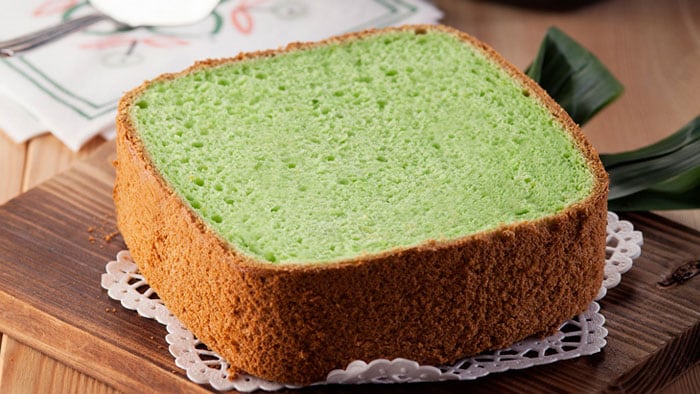 Ingredients: 
Dry Ingredients:
100g cake flour (otherwise, plain flour is ok)

20g desiccated coconut (optional, if you are unable to get this)

3/4 tsp baking powder

1/4 tsp salt
Wet Ingredients:
120g sugar

60g oil

60g coconut milk

2 eggs

1/2 tsp vanilla extract

1/2 tsp pandan essence
Steps:
Preheat the air fryer at 160 degrees Celcius for 5 minutes.

Combine all (A) ingredients.

Combine all (B) ingredients.

Add (B) into (A). Mix well. (The mixture will be quite watery.)

Line the base of the tin with baking paper. Pour batter into the tin. Cover the batter with aluminum foil and poke a few holes. 

Bake in the air fryer at 160 degrees Celcius for 25 minutes. Remove foil and check for doneness using a toothpick. Continue baking for 5 to 10 minutes till the top is golden brown. 
Recipe from: https://www.thehedgehogknows.com/2020/04/pandan-cake.html