Fast food is a staple in many countries. Although they have a bad rep for being "unhealthy" and encouraging "obesity", fast food remains as popular as ever. Here's why: they are easily available, with some of the restaurant chains even open 24/7 and usually appealing to all age groups. And not surprisingly, every fast food brand has its own popular menu item(s). Here are 12 Popular Fast Food Items From Around The World!
---
1) Whopper (Burger King)
Sure, Burger King is no match for McDonald's in terms of popularity. But their signature Whopper remains one of the best things ever created for a commercial fast-food chain. The secret lies in their flame-grilled beef patty that is a nice combination of juicy and charred taste. Completing the Whopper is a medley of fresh lettuce, sliced tomatoes, pickles and mayo sandwiched between a toasted sesame seed bun. In addition to the original Whopper, they also introduced a smaller version nicknamed Whopper Jr.
2) French Fries (McDonald's)
One of McDonald's menu staples that definitely needs no introduction. The world-famous shoestring fries (yes, they are made from real potatoes) may be packed with sodium, but it is fast food after all. Moderation is always the key if you want to consume them. Best dipped with chilli sauce, ketchup (tomato sauce)… or even McDonald's very own vanilla sundae.
3) Original Recipe Chicken (KFC)
KFC has their fair share of revitalising the late Colonel Sanders' signature fried chicken with different flavours. But nothing beats their good old Original Recipe Chicken, thanks to its world-famous secret recipe that contains 11 herbs and spices.
4) Animal Style Burger (In-N-Out)
Unlike most US fast food chains, In-N-Out's list of menu options is extremely limited. They are all basic stuff: cheeseburgers, hamburgers, fries, sodas and shakes. Even the fancy-named Double-Double is actually nothing more than an upgraded version of cheeseburger sandwiched with two patties and two slices of cheese. But the good thing about In-N-Out is its "secret menu" option including the likes of Flying Dutchman (basically melted cheese sandwiched between two beef patties) and 4×4 (a burger that comes with four patties and four slices of cheese). But among their most popular items would be Animal Style Burgers — a heavenly burger packed with a mustard-grilled patty, grilled onions, cheese, lettuce, sliced tomato and pickles.
5) Crunchy Taco (Taco Bell)
The California-based fast-food chain that serves Mexican-style food has been around since 1962. Their most popular item would be the signature Crunchy Taco, which consists of seasoned beef, lettuce and cheese sandwiched between the crunchy corn tortilla.
6) Waffle Fries (Chick-fil-A)
It may be a side dish but Chick-fil-A's Waffle Fries is a most-ordered item in the menu. Not to mention they are made fresh on a daily basis with… real potatoes.
7) Shrimp Burger (KFC China)
According to Business Insider, KFC is the most popular fast-food chain in China. So popular that it even made nearly USD7 million (RM 29.4 million) in 2017 alone. But whereas KFC is famous for its fried chicken, KFC China's most-ordered item surprisingly goes to… shrimp burger. Here is an interesting part about its shrimp patty itself: instead of a simple whole patty, it actually consists of a deep-fried patty stuffed with tiny pieces of shrimps within.
8) Broasted Chicken (Albaik)
Hailing from Saudi Arabia, Albaik is particularly famous for its signature fried chicken. Marinated with a secret spice recipe, Albaik's fried chicken has a distinctive taste since their chicken is "broasted" using a combination of deep-frying and pressure-cooking method.
9) Plain Biscuit (Bojangles')
Don't be fooled by its name of this Southeastern US-based fast-food chain. Instead, it is actually a biscuit made from scratch using buttermilk and baked fresh every 20 minutes. But if you are looking for toppings sandwiched in between, Bojangles' has plenty of them to choose from such as Cajun-spiced chicken fillet as well as bacon, egg & cheese and country ham.
10) Jolly Spaghetti (Jollibee)
It was known as "the McDonald's of the Philippines" and here's why: Jollibee is a massively popular fast-food chain with over 950 branches in its native country alone. They serve a wide range of fast foods ranging from ChickenJoy (Jollibee's equivalent to KFC's chicken bucket) to Adobo Rice and Beef Tenders. Then, there's the famous Jolly Spaghetti, which has an interesting combination of sweet and savoury taste. It consists of spaghetti noodles with minced meat, sliced hot dogs and a sweet sauce made from banana ketchup.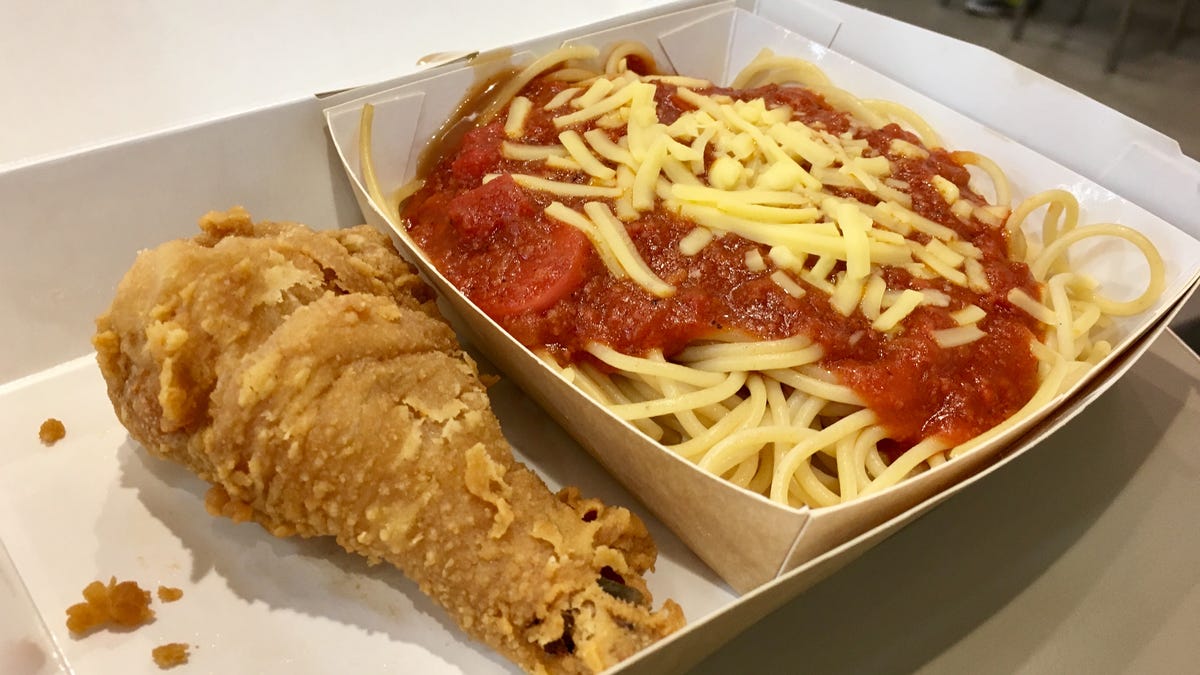 11) Japanese-Style Beef Rice Bowl (Nakau)
Nakau is a major Japanese fast food chain that specialises mainly in rice bowls (donburi) and udon noodles, with over 450 branches across Japan. Among their most popular items in the menu is Japanese-style beef bowl, which consists of steamed rice with marinated beef, onions simmered with a special sweet sauce.
12) Bento Special (HokBen)
HokBen (formerly known as Hoka-Hoka Bento) is a popular Japanese fast food chain in Indonesia. Their main specialty consists of beef & chicken dishes, fried foods and sukiyaki. Set menus are available as well, notably on their Bento Special which consists of rice, meat (beef or chicken), salad and other side dishes.