If you love the idea of getting all wet and wild, nothing beats the fun of spending the day at a water park. More than just a regular dip in the pool, water parks provide various attractions for all ages from adrenaline-rush water rides to relaxed floating and doing nothing. Below is a list of 10 Family-Friendly Water Parks in the World, listed in alphabetical order for your convenience!
---
1) Aquaventure Waterpark – Dubai
Slides, rides, splashes… this is where the action comes alive. Dubai's world-famous Aquaventure Waterpark at Atlantis The Palm has something for everyone regardless of age. Among them is the twisting-and-turning raft ride of Aquaconda — hailed as the largest waterslide in the world measuring at 9.2 metres (30.1 feet) wide. Other thrill-seeking water attractions to look out for include the gravity-defying Zoomerango and the vertigo-inducing Poseidon's Revenge. If that's not crazy enough for you, look out for The Leap Of Faith — an incredible 9-storey vertical drop that sends you plummeting through a clear acrylic tube surrounded by sharks and rays underwater.
2) Beach Park – Brazil
Located on the beach of Porto das Dunas, Beach Park is reputed as the largest water park in South America. Choices are aplenty here, including the 1.8-metre high twin pool of Seaquake as well as Noah's Ark — a kid-friendly attraction featuring everything from water rides to water jets and mushroom cascades. Looking for something synonymous with an adrenaline-rush sensation? Then, check out Insano (Insane), a towering 135-feet high water slide equivalent of a 14-storey building where riders get to experience the thrills of plummeting down up to 104 km per hour!
3) Chimelong Water Park – China
Spanning 182 hectares, this Guangzhou-based water park houses everything from slides to rides, drops and leisure pools. Notable thrill-seeking attractions include Tornado, Master Blaster and Behemoth Bowl while children are able to have fun at the likes of Kids' Aqua Plaza and Glacier Tunnel.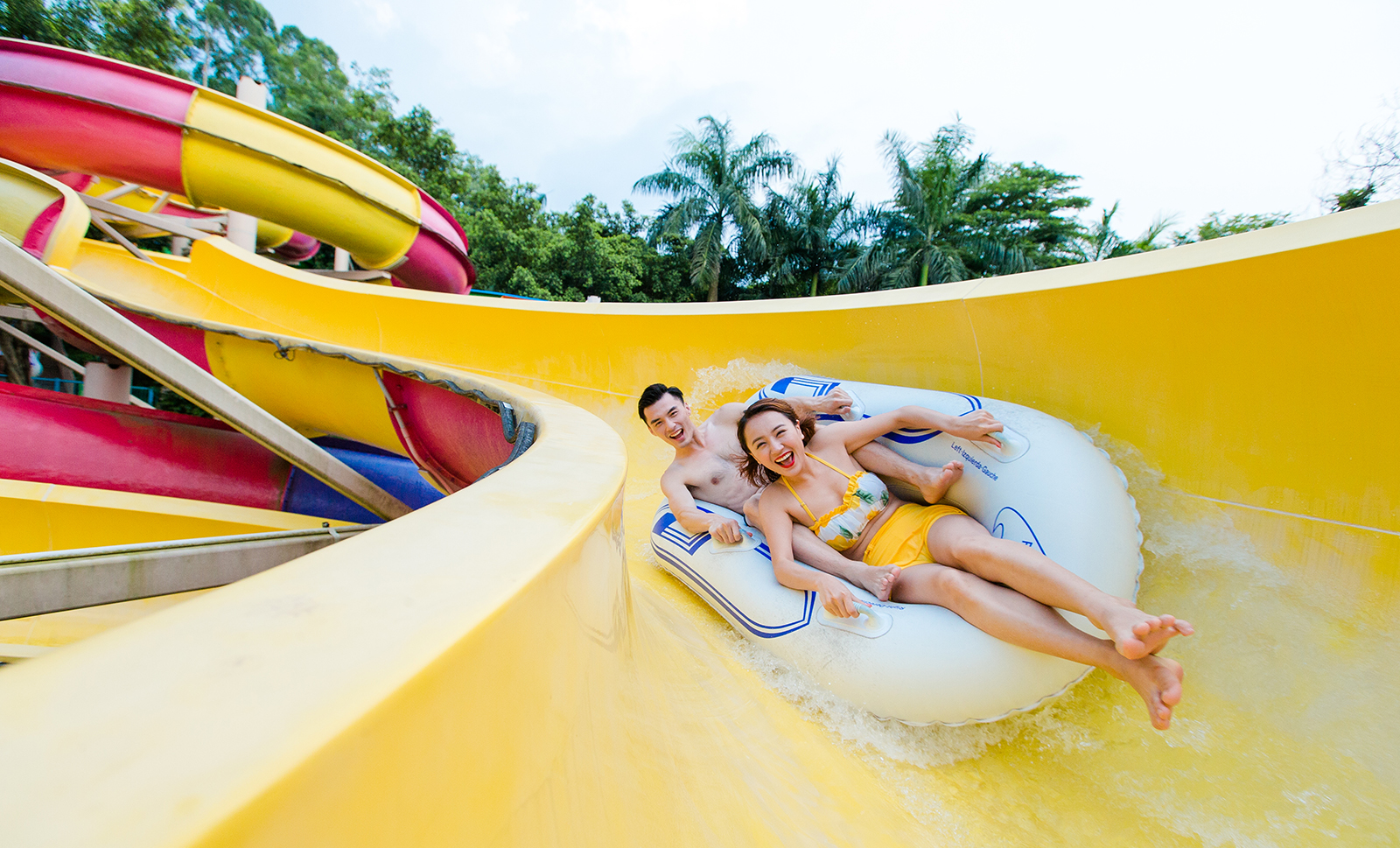 4) Splash Planet – New Zealand
At Splash Planet, the 6.5-hectare water park covers everything from the sliding Master Blaster to the two-person tube ride of Double Dipper. Then, there's the competitive Sky Castle Screamer where you get to race with your buddy for the thrills of a downward slide. Or you can sit back and relax on a foam mat around the gentle current of Lazy River.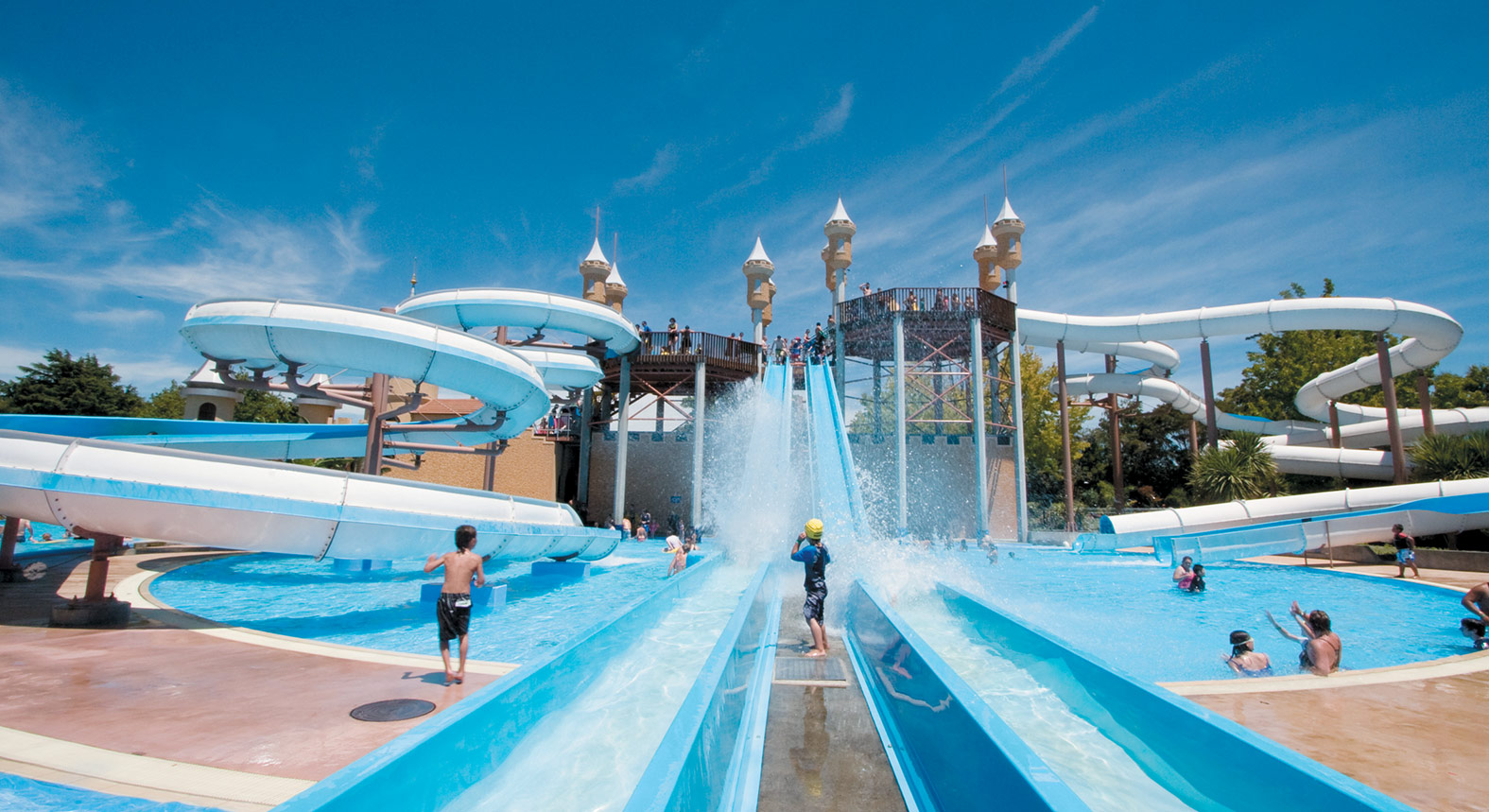 5) Sunway Lagoon – Malaysia
While there are plenty of noteworthy water parks in Malaysia, Sunway Lagoon is perhaps the most recognisable one of them all. It is basically an all-in-one theme park, covering everything from dryland (e.g. Amusement Park, Wildlife Park) to wetland parks. The latter, of course, refers to their famous water park with exciting attractions such as the turbulent 11-storey-high vortex water ride of Vuvuzela, the giant water slide of African Pythons and the rafting fun of Grand Canyon River Rapids. Kids, in the meantime, can have their splashing fun at the interactive water playground of Little Zimbabwe.
6) Tropical Islands – Germany
The first thing that is immediately attention-grabbing is the giant enclosed space of a dome-like structure. That dome in question was initially an airship hangar before it was converted into an indoor water park. How big is the dome? Let's just say the park is equipped with everything from a 10,000 sq m indoor rainforest to a 250-metre-long Whitewater River canal and a 27-metre high waterslide tower.
7) Universal's Volcano Bay – Florida
Operated by the famous Universal Parks & Resorts, Florida-based Volcano Bay is renowned for its majestic 200-foot-tall artificial volcano nicknamed "Krakatau". It isn't just for display purposes since you can actually climb all the way to the top. The Krakatau Volcano also houses several thrill-seeking attractions such as the twisty four-person canoe ride of Krakatau Aqua Coaster and the spectacular descent of Ko'kiri Body Plunge. For more easygoing water activities, you might want to check out the huge Waturi Beach or the 5.5-foot-deep leisure pool of The Reef.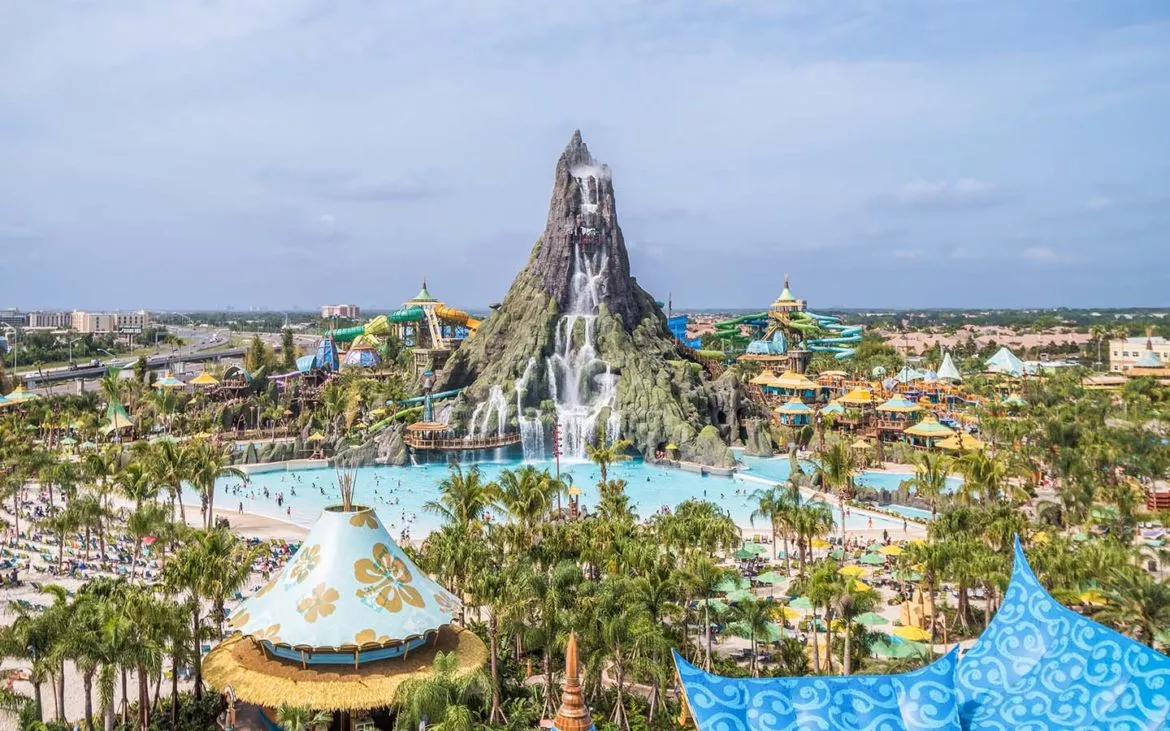 8) Waterbom Bali – Bali
The 38,000 sq m of Waterbom Bali consists of three types of slides and rides: "mellow", "moderate" and "extreme". Suffice to say, the "mellow"-ranked playground-like Funtastic and the gentle current of Lazy River are particularly suited for the whole family. For thrill-seekers, look out for the "extreme" heart-pumping drops of Smashdown 2.0 and Climax.
9) Wild Wadi Waterpark – Dubai
Here is another highly-rated water park in Dubai, offering 30 rides and attractions for both thrill-seekers and the whole family. Daredevils can look forward to the 120-metre slide of Jumeirah Sceirah zooming at 80 km per hour or the high-speed water slide of Tantrum Alley. Parents and kids, in the meantime, can have quality time together at some of the more family-friendly water attractions such as Wave Pool and the 360-metre long lazy river of Juha's Journey.
10) Wild Wild Wet – Singapore
True to its name, Wild Wild Wet provides all kinds of water-splashing fun for both thrill-seekers and families. Love speed and adrenaline rushes? Try the 360-degree loop ride of Vortex or if you are feeling competitive, there's the four-person slide of Kraken Racers. Those who prefer to play safe can opt for the Splash Play, Kids Zone or Professor's Playground.