Love it or hate it, the world can't seem to get enough of these crème-filled chocolate cookies popularly known as Oreo. There's just something about the combination of two chocolate wafers and crème filling that makes them such an addictive, pick-me-up treat. You can enjoy them on their own or dunk the Oreo cookie in a glass of milk, or your favourite beverage. And the good thing is, these Oreo cookies are versatile enough for different kinds of creative recipes! From pancakes to cake pops, here are 7 Creative Ways To Enjoy Oreo Cookies.
---
1) Oreo Pancakes
Oreos… but with a creative pancake twist? Why not? All you have to do is whisk together your dry ingredients. And that includes 1 cup of all-purpose flour, 1/3 cup of cocoa powder, 2 teaspoons of baking powder, 1/4 cup of sugar and 1/4 teaspoon of salt.
Once done, it's time to add in the wet ingredients (3 tablespoons of melted butter, 1 teaspoon of vanilla extract and 1 1/2 cup of milk). Whisk together with a large egg until the batter becomes lumpy. Sprinkle some crushed Oreo cookies (10 pieces would be sufficient) and stir them all together in the mix.
Next up, heat up the pan with butter or non-stick cooking spray. Simply use an ice cream scoop to scoop the batter into the pan. Cook around 2-3 minutes on each side, transfer them onto a plate and continue with the rest of the batter.
Now, here's the fun part: Start layering your pancakes with whipped cream in between and top it with another slice. Repeat the same steps (well, you'll get the idea) and finish it with whipped cream and crushed Oreos. Enjoy!
2) Oreo Cheesecake
You've probably tried this before in a cafe or bakery. And the good news is, you can easily make this at home. Start by preheating your oven to 350°F and then, pour in 24 Oreo cookies into a food processor to whiz them into crumbs. Transfer them to a medium bowl and stir in three tablespoons of melted butter. Use a 9-inch springform pan and press the mixture firmly onto the bottom. Bake for 5 minutes and leave to cool.
Tip: Don't worry if you do not have a food processor. Simply place the Oreo cookies in a resealable plastic bag. Remember to flatten the bag to get rid of excess air before sealing it tight. Use a rolling pin or an empty glass bottle and roll it across the bag to crush them as finely as possible.
Next up, get another bowl and beat three (250g) packages of softened cream cheese and 1 cup of sugar until smooth using an electric mixer. Add in 1/4 cup of all-purpose flour, 1 1/2 teaspoons of vanilla extract and 1/4 teaspoon of salt. Mix them well before cracking 3 large eggs (but one at a time), whisking them until blended. Gently stir in some chopped or crushed Oreo cookies into the cream cheese batter and pour them into the springform pan filled with the crust you made earlier. Bake for 60 minutes and let cool before refrigerating it up to 3 hours. Better yet, cool overnight! For garnishing, top the Oreo cheesecake with whipped cream and Oreo cookies in an upright position all around, followed by crushed cookies sprinkled in the middle.
3) Oreo Brownies
Level up your good ol' chocolate brownies… with Oreo cookies! Besides, chocolate brownies + Oreo cookies is basically a match made in heaven. Here's how:
Preheat oven to 325°F and then, line an 8″ or 9″ square pan/baking dish with foil or parchment paper. Don't forget to grease the pan with non-stick cooking spray.
To prepare the batter, mix in 2 boxes of brownie mix (e.g. Betty Crocker) and other ingredients (2 eggs, 1/3 cup of vegetable oil and 3 tablespoons of water) together in a large bowl. Pour half of the batter into the square pan/baking dish and line Oreos on top of it. Once done, pour the remaining batter on top of the Oreos-lined batter evenly and bake the brownies for 35-45 minutes.
Tip: Place a toothpick into the centre of the brownies to determine the level of doneness. If the toothpick comes out clean upon removing it after the baking process, that means you have done a great job!
Remember to let the freshly-baked brownies to cool completely. Yes, we know it can be tempting to dive in straight to the goodies. But cutting the brownies while they are still hot or warm is a disaster waiting to happen. They'll get crumbly and it would end up a mess. By giving them ample time to cool, you'll get a nicer and cleaner cut.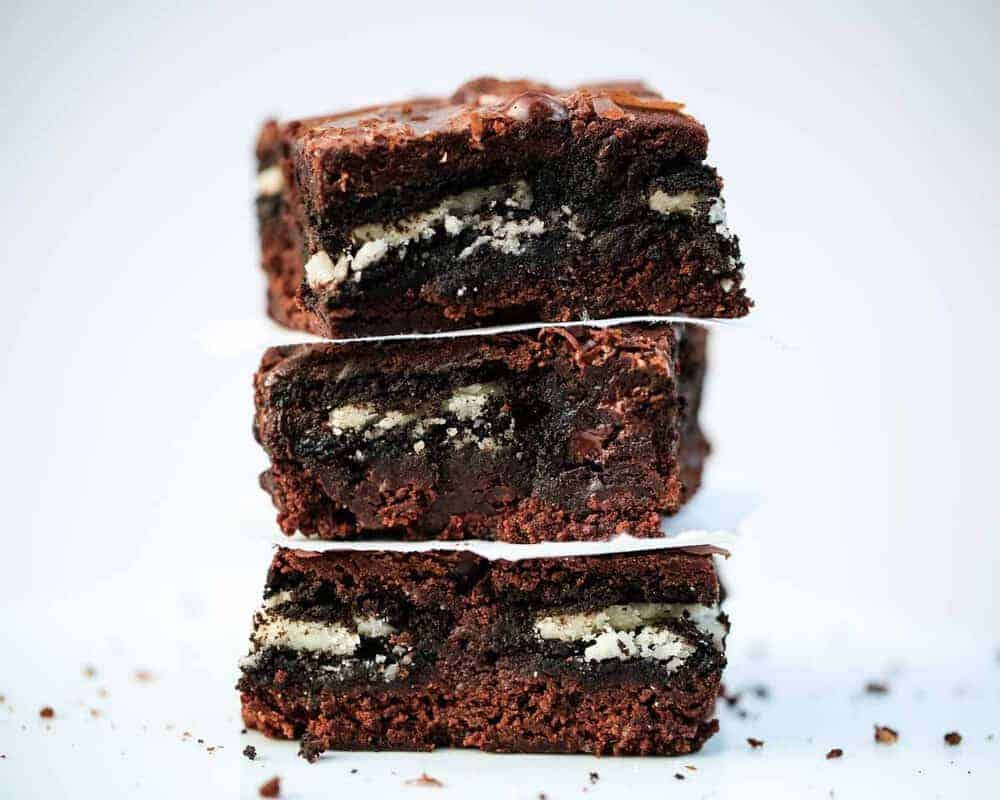 4) Oreo Balls
Three ingredients. You've read it right because that's all you need to make the bite-sized Oreo Balls. Good for parties or any time of the day when you need to grab some dessert, you only need Oreo cookies, cream cheese and chocolate.
Start by pouring a package of Oreos in the food processor and whiz them until they become fine crumbs. Then, transfer the Oreo crumbs to a large bowl and whisk in a brick of softened cream cheese altogether using an electric or hand mixer. Use an ice cream/cookie scoop and roll the mixture onto your palm into small balls. Place them on a tray lined with parchment paper and freeze the Oreo balls in a freezer for 15 minutes.
Next up, melt the chocolate (you can use dark or milk chocolate bars and roughly chopped them through) in a microwave-safe bowl using the oven. Remove the Oreo balls from the freezer and dip them into the melted chocolate until each of the balls is fully coated. (Optional: You can choose to top them off by drizzling the Oreo balls with whipped cream or white chocolate)
5) Fried Oreos
Ever tried fried Oreos before? If not, you might want to give them a try. The recipe is pretty straightforward, starting by heating 3 inches of vegetable oil in a pot to 350°F. Next, combine 1/2 cup of pancake mix, 1 egg, 3/4 cup of milk, 2 teaspoons of vegetable oil and 1/4 teaspoon of vanilla extract in a bowl. Dip each Oreo cookie of your choice (you can use the usual varieties or other flavours like Golden or Peanut Butter) into the batter and transfer it into the pot. Fry for 3-4 minutes until they become golden brown. Once down, remove the fried Oreos from the pot and place them on a plate. Let them cool for a while before serving. (Optional: You can get creative by sifting some powdered sugar all over the top of your fried Oreos)
6) Oreo Milkshake
Here's an easy-peasy milkshake you can pull off at home. Simply combine 2 cups of vanilla ice cream (any brand of your choice), 2/3 cup of milk and 8 Oreo cookies into the blender and pulse until smooth. Transfer the Oreo Milkshake into a tall or large glass and enjoy! (Optional: Get creative by levelling up your Oreo milkshake with toppings of whipped cream, chocolate sauce/syrup and a piece of Oreo cookie)
7) Oreo Cake Pops
Fancy some cake pops with an Oreo twist? Here's how you can do it: Whiz 10 Oreo cookies in a food processor until they become fine crumbs. Then, add in 1/4 cup of softened cream cheese and whiz it again. Make sure the mixture has a smooth and fudge-like consistency. Transfer into a large bowl and use an ice cream/cookie scoop to get them in even sizes. Roll the Oreo cake balls onto your palm and place them on a tray or baking sheet lined with parchment paper. Freeze the balls for 15 minutes. While you are at it, melt 1 cup of dark chocolate in a microwave-safe bowl in the oven. Remove the balls from the freezer and insert the cake/lollipop sticks on each centre of the balls. Finally, dip the Oreo cake pops into melted chocolate and enjoy! (Optional: You can choose to sprinkle some crushed Oreos all over the cake pops.)
So, there you have it! If you're looking for baking supplies for your Oreo cookie-based recipes, you might want to check out these baking supply stores!