Christmas cakes are the highlight of each and every Christmas. There are so many variations of the Christmas cakes and here we have compiled five different Christmas cakes recipes from around the world. Check them out!
---
1) Christmas Fruit Cake, India
This delicious fruit cake is made even sweeter when you soak the dried fruits in rum for at least a month before you bake. However, if that is not possible, simply marinate them in rum for at least 20 minutes before start baking.
Ingredients:
Each 1 cup measurement is based on 160 gm.
All Purpose Flour- 160gm
Sugar-120 gm
Butter-150gms(room temp)
Eggs-3(room temp)
Baking Powder-1tsp
Vanilla Essence-1tsp
Salt-1/4 tsp
Cinnamon Powder-2 pinch
Cardamom Powder-2 pinch
Cloves powder-1/4sp
Dry ginger Powder-2 pinches
Nutmeg Powder- 2 pinch
Honey-1 tbsp
Red Wine-2 tbsp
Rum-2 tbsp
Orange Juice-1/2 cup
Dry fruits of your choice -1cup
Chopped cashew nuts-1/2 cup
Orange Peel-1tsp
For caramel
Sugar-1/2cup
Water-1/4cup+3tbsp
Method:
Add the dried fruits, chopped nuts, orange juice, honey, rum and wine and cook over low heat for 20 minutes until the mix is dry and thick. Leave aside. Next make the caramel by cooking the sugar with 3 tbsp water over low heat till the sugar turns a golden brown. Then add 1/4 cup water to the caramel and leave aside. Then, add the dry ingredients and spices together in a bowl. Add the butter and eggs to the mixture. Coat the fruit mix in flour lightly before folding it into the cake. Finally add in the caramel mix into the cake. Fold in all together before baking at 180 degrees Celsius in a preheated oven.
2) Christmas Stollen, Germany
Ingredients:
375g Raisins in 1/4 Cup Rum, soak overnight
900g Flour
14g dry yeast
175g Sugar
250g diced Almonds
2 drops of almond oil
300g dried fruits
1/4 l of warm milk
300g Butter
150g Ghee
Method:
Mix all the ingredients together and leave aside for 1 hour. After one hour, divide the dough into 2. Form each into a dough and leave aside for another 1 hour. After baking, sprinkle powder sugar and vanilla sugar over the top of the cakes.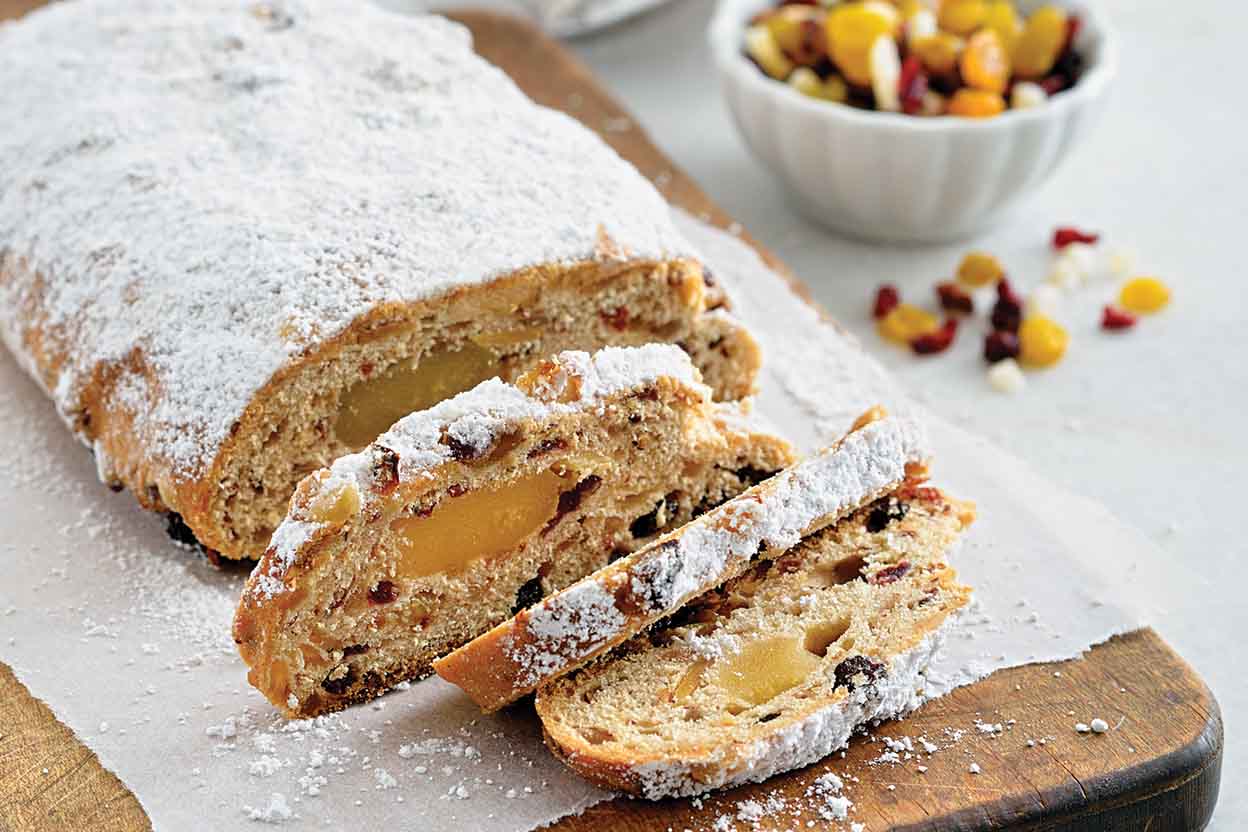 3) Galette des Rois, France
Ingredients:
2 rolls of ready made puff pastry
2 eggs
125g butter
125g sugar
125g chopped almonds
2 tbs of orange blossom water or orange liquor
1 drop of almond oil
Glaze:
2 tbs milk
1 egg yolk
Method:
Mix everything together except the glaze and the pastry dough. Lay out one piece of the pastry dough on a pie dish, preferably circular. Fill it with the filling and spread out. Then lay out the other pastry dough over it and pinch the sides together. Decorate the top of the pastry pie. Bake at 180 degrees Celsius for 20 minutes or until the dough is cooked.
4) Panettone, Italy
Ingredients:
300 ml Milk
50 g Butter
450 g Flour
80 g Sugar
Half tsp Salt
Half tsp fresh yeast
1 Orange
50 g Nut and Nougat mix
50 g white chocolate
50 g whole pistachios
50 g Orange peel
Glaze:
1 egg yolk
1 tbsp powder sugar
Method:
Cut the chocolate and nougat and freeze them. Mix the yeast with warm milk and add to the flour and sugar. Mix in the chocolate, nougat and nuts and leave it in a warm place to increase in volume. Bake at 180 degrees celsius for 30 minutes or until it is baked well. Glaze with the egg yolk and water mix and bake for a further 15 minutes. When fully cooled, sprinkle lots of powder sugar over the top.
5) Easy Yule Log Cake
This recipe is courtesy of BBC GoodFood.com.
Ingredients:
For the cake,
3 eggs
85g golden caster sugar
85g plain flour (less 2 tbsp)
2 tbsp cocoa powder
½ tsp baking powder
For the filling & icing,
50g butter
140g dark chocolate, broken into squares
1 tbsp golden syrup
284ml pot double cream
200g icing sugar, sifted
2-3 extra-strong mint, crushed
 Icing sugar to sprinkle over the cake
Method:
Mix the ingredients for the cake and cook in a 23cm by 32cm swiss roll tin. Bake for 10 minutes and leave to cool. Make the icing by heating the chocolate with the rest of the ingredients over a hot water bath. Spread the filling in the cake before rolling it into a log and spread more of the icing over the log cake. Create log effects by running a fork lightly over the cake. Sprinkle over with powdered sugar an leave it in the fridge overnight or at least 2 hours to set.
---
https://www.facebook.com/tallypressmy/