New Zealand is no doubt a tourist-friendly destination commonly associated with its numerous natural wonders. This includes everything from sandy beaches to alpine lakes and craggy mountaintops. So, the next time you are planning for a trip, check out these 10 Breathtaking Spots To Visit in New Zealand, listed in alphabetical order.
---
1) Aoraki/Mount Cook National Park
No visit to New Zealand would be complete without making a trip to Aoraki/Mount Cook National Park. The park is home to New Zealand's tallest mountain as well as the spectacular 27-kilometre-long Tasman Glacier. Outdoor enthusiasts and adventure travellers can look forward to various exciting activities like hiking, mountaineering and landscape photo opportunities.
2) Great Barrier Island
Great Barrier Island, which can be reachable via a 4-hour ferry ride or 30-minute flight, is surrounded with the likes of white surf beaches and calm sandy bays. Other attractions to look out for include hidden waterfalls, natural hot springs and plenty of easy-to-challenging hiking trails. You can also experience the beautiful sights of flora and fauna at the lush forest of Glenfern Sanctuary or come sundown, immerse yourself in the stunning night skies of stargazing.
3) Hokitika Gorge
A haven for both shutterbugs and Instagrammers, Hokitika Gorge offers visitors an opportunity to capture the majestic beauty of the vibrant turquoise waters and its surrounding forests. To reach the destination, you need to follow the walking track through the forest until you come across a viewing platform. This is where all the photo opportunities come alive once you cross the swing bridge.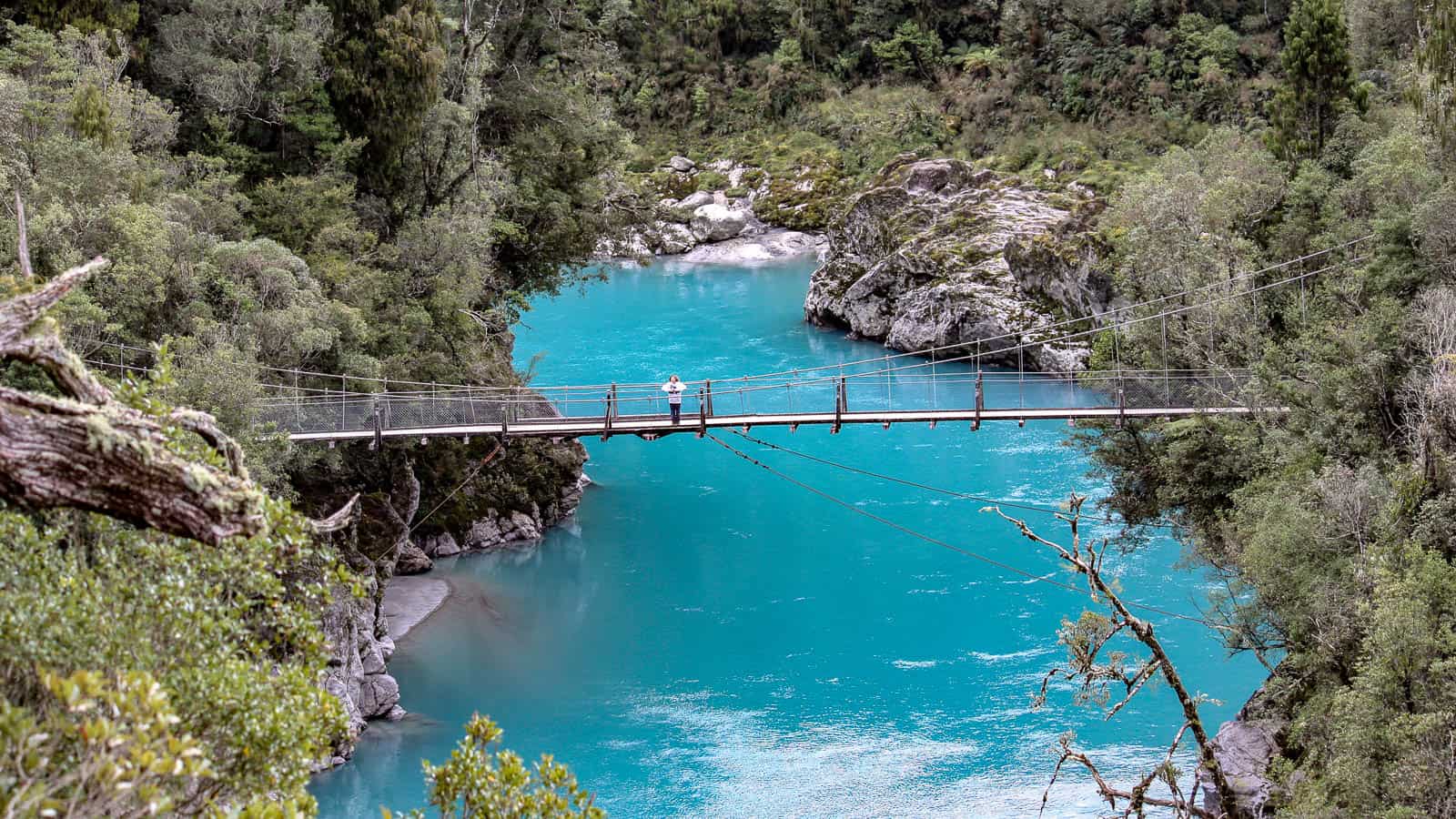 4) Lake Tekapo
Come day or night, there's something dazzling for everyone upon visiting Lake Tekapo at South Island. Immerse yourself in Lake Tekapo's gorgeous blue glacial waters during the day and if you travel during springtime, don't miss the photo opportunity to capture the breathtaking sight of purple-ish lupin flowers that grace the shore of the lake. Then during nighttime, Lake Tekapo turns into a great place for outdoor stargazing.
5) Milford Sound
Here is a true marvel that visitors should not miss out on. Located on the west coast of the South Island, Milford Sound offers amazing views of mountain peaks, rainforests, lakes and cascading waterfalls. Take a boat or kayak to cruise Milford Sound's famous fjord or explore the overall surroundings on a bird's eye view via a plane or helicopter. Wildlife lovers also get to experience the sights of sea mammals like dolphins diving and leaping in the crystal blue waters of Milford Sound.
6) Nelson Lakes National Park
Spanning over 100,000 hectares, Nelson Lakes National Park is an ideal tourist-friendly spot for numerous outdoor activities. This includes hiking journeys around the alpine lakes of Rotoiti and Rotoroa, a backcountry camping experience near Angelus Hut or Kerr Bay or enjoys the thrills of mountain-biking along the tracks in Glenroy and Matakitaki Valley.
7) Piha Beach
This is one of New Zealand's most popular spots where you get to show off your surfing skills. But even if you are not a surfer, there are plenty of things you can do at Piha Beach. For instance, you can take some beautiful photos at the beach's iconic black sands and its naturally rugged landscape. Or climb the monolith of Lion Rock situated between Piha and North Piha beaches and reward yourself with majestic views in every direction.
8) Wai-O-Tapu
Wai-O-Tapu, which literally means as "sacred waters" in the Maori language, is particularly renowned for the country's geothermal attraction. Visitors can look forward to tourist-friendly spots such as the brightly-coloured hot springs of Champagne Pool, the sightseeing-worthy Geothermal Park as well as the bubbling mud pool. And if you choose to come at 10.15 am, you get your chance to witness the natural eruption of Lady Knox Geyser – up to 20 metres high.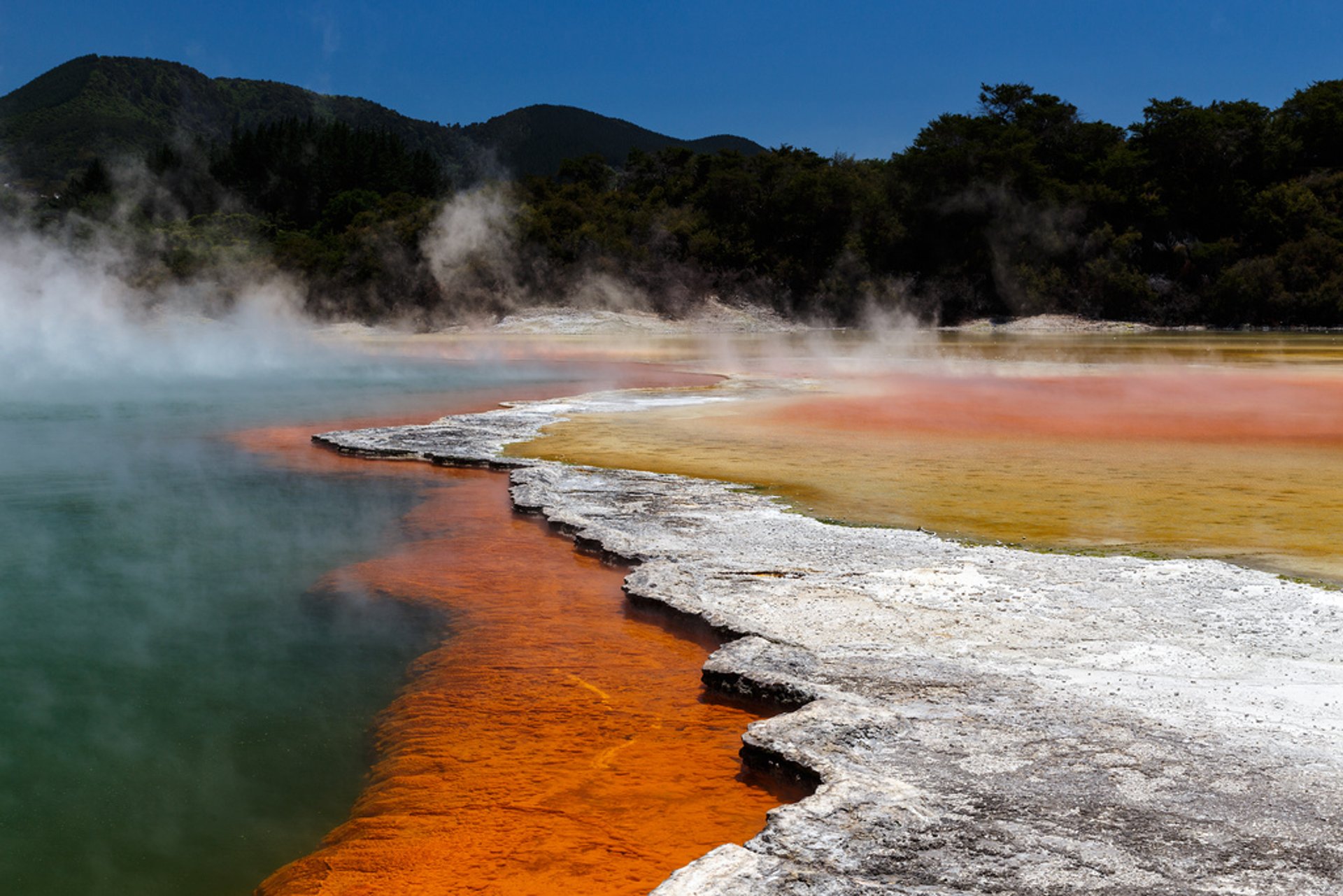 9) Waitomo Glowworm Caves
This is where you can catch the wonderful sight of glowworms illuminating the dark limestone caves of Waitomo. All you need to is book a guide-assisted boat ride and learn about the fascinating history of the caves. Remember to put on a warm jacket during the trip but any form of photography and videography are strictly prohibited.
10) White Island
Ever wonder what is it like to visit an active volcano? Well, you can do so by booking a launch or helicopter ride to the White Island a.k.a. Whakaari off the coast of Whakatane. Safety gear including hard hats and gas masks are provided for the tour. From there, you will get to experience the sights of billowing steam vents, volcanic streams and sulphur as well as a bubbling pool of mud throughout the exploration.