This year Malaysians are truly proving themselves to be amazing! So many achievements and awards have been the result of Malaysians hard work. And adding to the long list of achievements by Malaysia is UiTM student Hakeem Mohammad Akmal.
---
Hakeem Mohammad Akmal is 18-years old and currently a UiTM student in the Certified Accounting Technician (CAT) programme. He and many other students recently sat for the July-December 2019 Professional Accounting Program examination.
The CAT programme is provided by the Association of Chartered Certified Accountants (ACCA) and provides a strong foundation in finance and accounting. Students can then move on to the ACCA programme.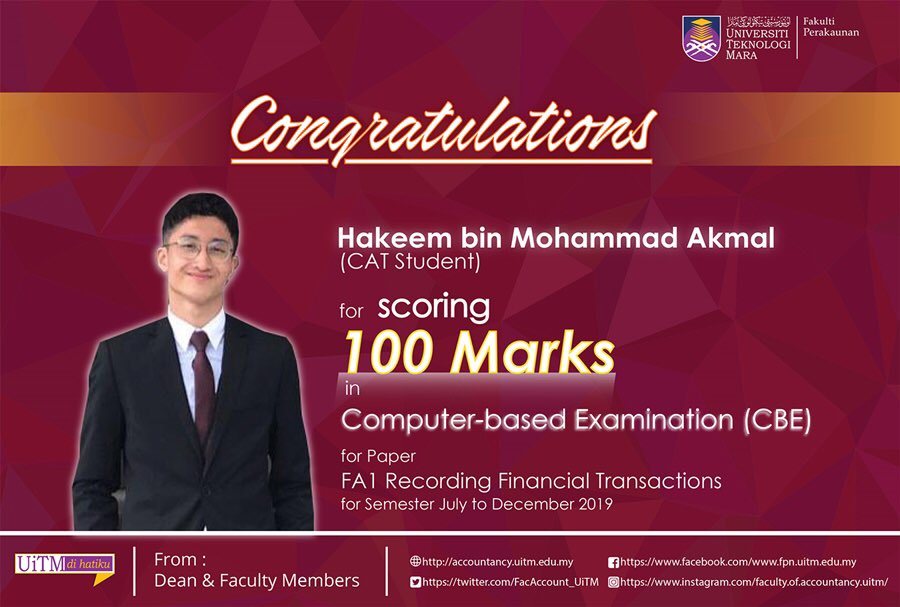 Hakeem Mohammad has wowed us all away with his amazing results for the Recording Financial Transactions paper (FA1). He successfully scored a full 100 marks on the paper! Absolute full marks!
In fact, he is the first person to do so in both Malaysia and around the world. As a result of this, ACCA have awarded him as number one in the world.
That's such an amazing achievement to have the professional association recognise his hard work and success!
Furthermore, he has no previous background in accounting. He decided to join the CAT programme as a way to challenge himself with something new.
Moving on, he credits his achievement to good time management and moderation. While he enjoys spending time with his friends he knows that he has to limit himself. Watching movies and playing sports are fun but he says they should be balanced with studying.
After Hakeem Mohammad completes his CAT programme, he plans to continue in ACCA. Moving forward he also wants to work in taxation as there are extensive job opportunities in Malaysia.
Congratulations Hakeem and we wish you all the best for your studies!