Those who lived their childhood era back in the 80s and 90s had it all nice and simple. Now, let's take a step back to the past and relive your childhood with these 12 old school snacks & candies.
---
1) Chupa Chups
Remember these iconic lollipops? These round and hard candy on white tiny sticks come with assorted flavours ranging from milky to fruity varieties. You can easily find Chupa Chups everywhere in the supermarkets, where they usually place them near the cashier.
2) Fizzy Kola
No Coca-Cola? No problem. There's always the next best alternative. And they come in the form of heart-shaped hard candies filled with cola flavour!
3) Ice Lollies
These ice lollies used to be hugely popular back in the 80s, particularly for primary school kids. They are basically flavoured ice served in a long plastic tube. Plus, some of them come with a piece of dried plum (asam boi) that gives you a sourish kick. These ice lollies usually sold outside the school gates and only cost you a few cents.
4) Hacks
These popular sweets need no introduction. You can literally find them everywhere from sundry shops to supermarkets and mamak restaurants. And they usually come in two types: the black candy in a red wrapper has that distinctly soothing taste designed for relieving coughs and sore throats. But let's be honest, most of us eat them anyway even if we are not having either of the aforementioned symptoms.
The next one is the orange candy in a white wrapper, which comes in a sweet-and-sour taste of honey lemon flavour for that Vitamin C goodness (although you can't beat the real thing).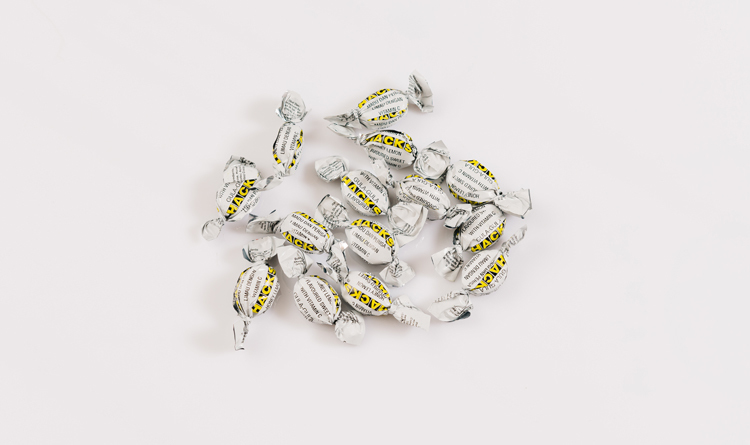 5) Hiro Choc Cake
Spongy on the inside and chocolate-y on the outside. Need we say more? No wonder they were such a popular snack back in the day.
6) Jelly Cups
Now, these colourful jelly cups can be really addictive. They come in assorted fruity flavours (more like artificial flavours but we wouldn't bother about all that when we're kids back then, right?). They are easy to eat too: Just peel the top off, tilt your head back and squeeze all the jelly goodness into your mouth.
7) Lemon Tablets
Who could forget these lemon tablets wrapped in a gold-coloured packaging? Each tablet has that distinctly citrus flavour once you pop it inside your mouth. And of course, one stick is never enough because they can be so addictive.
8) Mamee Monster
Their instant noodles may taste great. But for most of us kids back then, the Mamee Monster was the one where we could enjoy fuss-free at any time of the day! No hot water needed. Just tear the packet open, pour the little sachet of seasoning into the crunchy noodle block and shake evenly before munching!
9) Murakawa Bubble Gum
These bubblegums were the bomb back in the day. They come in a fruity flavour and yes… they also include some cool (temporary) tattoos, which can be found at the back of the wrapper.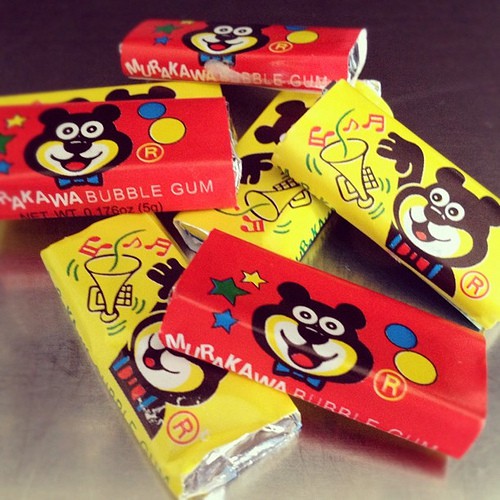 10) Muruku Ikan / Fish Muruku
The simple red-and-white packaging along with the half-naked baby may look like a cheap design slapped together in a hurry. But hey, that's what made them memorable in the first place. The crunchy snacks on the inside — well — let's just say, one small packet is never enough.
11) Nano Nano
What's not to like about this popular candy that comes in… three different tastes altogether? Okay, we admit that Nano Nano is clearly not for everybody. Not especially those who can't stand the sharp taste of sour-and-salty combo after tasting the sweetness of the candy in the beginning.
12) Pop Corn Perasa Durian / Durian Pop Corn
We have to admit that this so-called "Durian Pop Corn" is pretty deceiving. It's easy to get fooled by the packaging, thinking the snack is a combination of durian and corn flavour. In fact, they taste more like corn-flavoured snacks with a hint of sweetness.
---
https://www.facebook.com/tallypressmy/