The Miss Universe Pageant is coming up soon and we're all ready to see the beautiful ladies on stage. Every year the prettiest, most elegant, and intelligent ladies take to the stage to compete for the title. And we're always excited to see what Miss Universe Malaysia will be wearing.
---
Miss Universe Malaysia 2019
Our Miss Universe Malaysia this year is Shweta Sekhon who is a beautiful Malaysian model. She received the crown from last year's representative Jane Teoh during the pageant final in March. Moving on, she will be representing us at the Miss Universe pageant.
However, before we take a look at her stunning kuih inspired dress let's take a trip to the past. Here are some of the past dresses we've seen on our Miss Universe Malaysia representatives.
Previous Years
Back in 2014, Sabrina Beneett wore a dress inspired by The Goddess of Kenyalang which is a royal emblem of the indigenous communities of Sabah and Sarawak. It is the creation of designer Adila Long and jewellery designer Albert Ian.
Moving on, Miss Universe Malaysia 2016 caught quite a lot of attention with her outfit. Many Malaysians had mixed feelings about her Petronas Twin Towers inspired look. It kind of looks like something from the future.
Following that, we all know that Malaysians love food right? That's exactly why Miss Universe Malaysia 2017 was decked out in a Nasi Lemak inspired dress! It featured sparkly sequins in different colours to represent the sambal, rice, egg, and cucumbers. Of course they didn't forget the ikan bilis and kacang.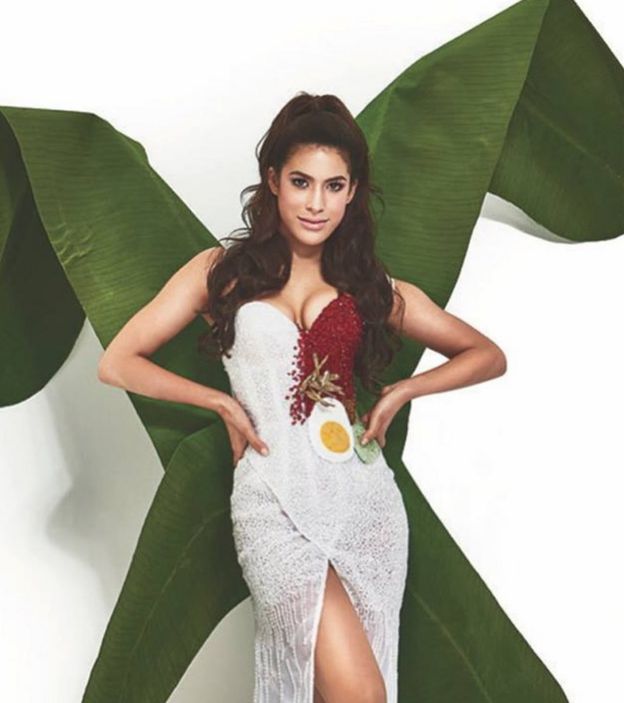 Lastly, we have Jane Teoh from last year's pageant. During the event she wore a costume inspired by the Malay fishing community's beliefs. In fact, it features an armour-like corset with the traditional Malay awan larat motif.
The 2019 National Costume
And finally the moment we've been waiting. Let's take a look at this year's Miss Universe Malaysia's national costume.
Wow! Her costume is inspired by our delicious Peranakan kuihs such as the onde onde, kuih talam, and kuih lapis. The design is very intricate and features a lot of flower motifs such as those found in traditional Peranakan batik.
Shweta will be donning the costume this 8th December in Atlanta, Georgia. We wish her all the best!