We know that people are creating weird and interesting food combinations at home or with friends. Milo powder in Maggi curry is one combo that took the Internet by surprise. Others include cereal in orange juice although some are still sceptical if it's a true trend. However, when a brand or two brands collaborate to create something new and unexpected, we tend to give it a try anyway. Malaysians are just adventurous like that. However, do you dare to try these 4 interesting and unexpected food combos by well known brands?
---
Tealive X Mamee
Did anyone ever think that instant noodles and bubble tea would go together? Well the people at tealive and Mamee did. Call them crazy but there are actually people buying it to try. Spicy Mi Boba comes with both seasoning powder and creamer to be added in the cup. There is also a little packet of tealive's pearls to top it all off. Anyone looking for a more unique experience is also encouraged to add in ice cubes to have it cold.
US Pizza X Penang Chendul 
There have been many interesting and unexpected food combos when it comes to pizza. We have dessert pizzas, boba pizzas, and other unique flavours. But did we really think it could go as far as chendul pizza? Order yourself a Penang Chendul Pizza to enjoy fresh pandan chendul noodles, light coconut milk, gula melaka, and kidney beans on pizza.
Santan X Crème de la Crème
With this first combo, we see a classic savoury dish meet a sweet treat to give us nasi lemak ice cream. Perfect for those hot days when you still feel like having our national dish! This ice cream uses a creamy coconut ice cream topped with ikan bilis, peanuts, and the same chilli paste used in Santan's famous Pak Nasser's nasi lemak.
Other than that, the two brands are also offering the pandan dodol ice cream which is meant to evoke a sense of nostalgia. Made with traditional dodol that is churned into a creamy coconut ice cream mixture. It also has fresh toasted coconut flakes to top it all off.
Ghost Pepper Cola
In conjunction with Halloween, Mamee's Daebak series is making a return with something new and bold. The Ghost Pepper instant noodles will now come in a combo pack featuring the noodles and Ghost Pepper Cola! This is not for those with a sensitive stomach because many note that the Ghost Pepper noodles are seriously spicy. The combo pack can be found at 7-Eleven for RM8.90.
4 Interesting and Unexpected Food Combos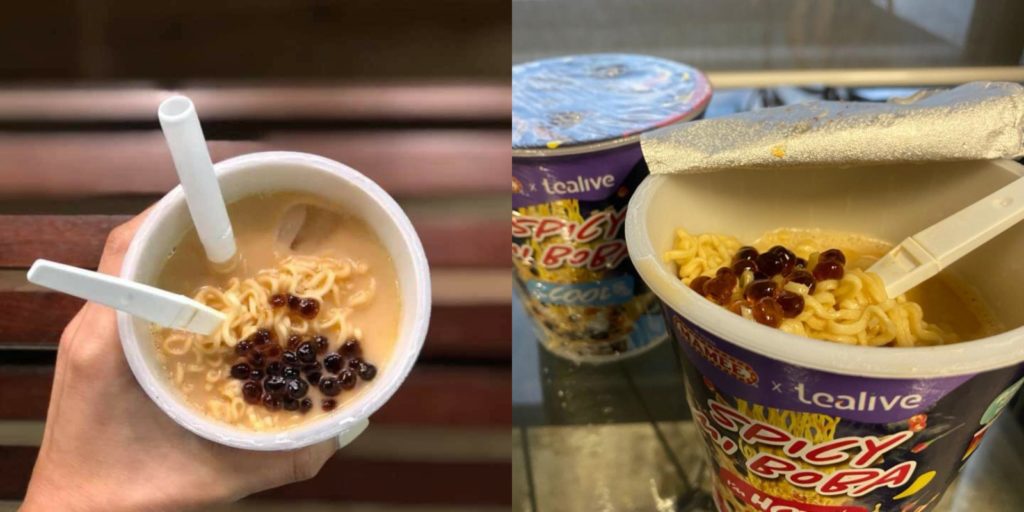 Now that we've reached the end of the article, are you intrigued to try any of the 4 interesting and unexpected food combos? The Nasi Lemak ice cream sounds like the easiest to try. However, it's really up to personal taste. Let us know if you've tried any of these combos.