"An apple a day keeps the doctor away", but just which apples to eat? There are actually more than 750 varieties of apples in the world, and not all of them are best eaten just like that. Depending on hardness, taste and juiciness, different apples are meant to be enjoyed differently. Let's check out these 8 types of apples and how to eat them properly!
---
1) Honeycrisp
The Honeycrisp apple from Minnesota is an all-rounder – sweetness, juiciness and crispiness – it has them all in spades. In fact, it's so popular that it's one of the most-grown apple varieties in the world. As it can hold its shape well, the Honeycrisp is also suitable to bake, and its juiciness adds a kick to the baked products, or even salads!
How to eat: As it is, in a salad, make sauce, bake it
2) Fuji
Named after Mount Fuji in Japan, the Fuji apple is no stranger to us. A pinkish-red apple, the Fuji was originally developed in Japan in the 1930s, and soared in popularity over the years. As it is incredibly crisp, it makes a great snack, or you could also add it into salads or slaws.
How to eat: As it is, in a salad/slaw
3) Pacific Rose
The Pacific Rose is a rather large apple with a rosy red hue to it. A natural cross between the Gala and Splendour apples, the Pacific Rose derives its blush from the Splendour variety. Sweet, crisp and refreshing, there's nothing better than to bite into a chilled Pacific Rose on a hot day. All three Gala, Splendour and Pacific Rose apples are from New Zealand!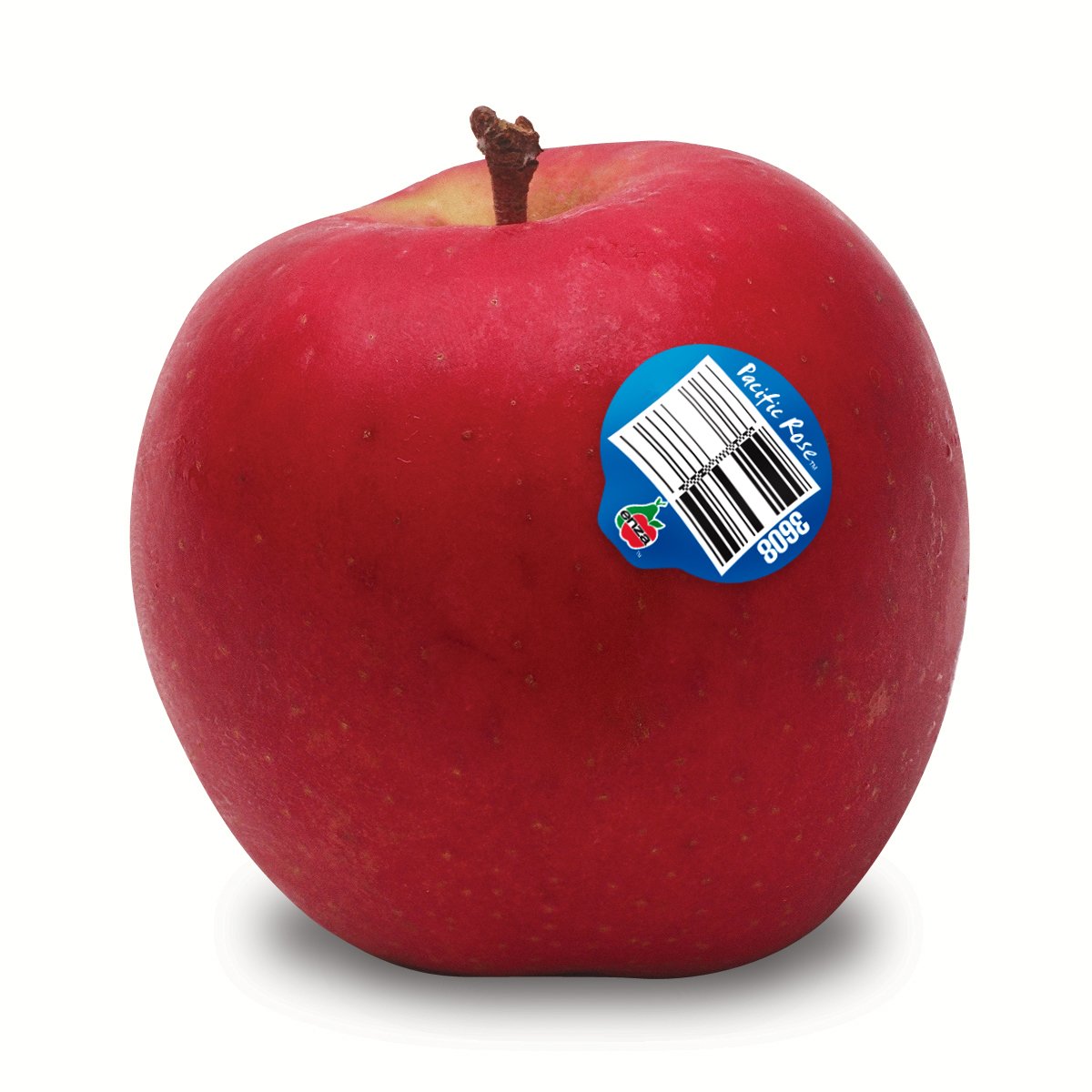 How to eat: As it is
4) Granny Smith
The Granny Smith is the ubiquitous green apple we see everywhere. Hard, crisp and very tart, Granny Smiths originate from Australia. While some people enjoy the tart taste just as it is, others prefer to cook it to sweeten it up. In fact, it even complements savoury food well, such as onion and cheese!
How to eat: As it is, in a salad, bake it, pair with savoury food
5) Pink Lady
Sharp and juicy, the Pink Lady from Australia creates a "fizzy" mouthfeel especially with that first bite. At first it may start off tart, but it has a sweet finish afterwards. The Pink Lady is also good for mixing with other apples in baked products or applesauce, as it adds tanginess to the overall flavour.
How to eat: As it is, in a salad, make sauce, bake it
6) Braeburn
Braeburns have a orangey-red appearance on a yellow/green background, and is both sweet and tart. When chilled, Braeburns store pretty well. They can hold their shape in baked goods, though they're not very juicy. Fragrant and smooth, Braeburns come from New Zealand!
How to eat: As it is, bake it
7) Gala
Yet another popular apple variety from New Zealand, Gala apples are one of the earliest available varieties. More tall than wide, Galas are mild, sweet and crisp to the taste. The Gala isn't a bright red, but more subdued in colour with orangey-yellow tones overpowering the red. Galas are great for snacking or cooking!
How to eat: As it is, bake it
8) Golden Delicious
The Golden Delicious from West Virginia has bright, yellow-green skin and mild, creamy flesh. As the Golden Delicious is soft and thin-skinned, it bruises pretty easily. Therefore, it's not the best apple to snack on, unless you eat it as soon as you get it. Its soft makeup makes it perfect for baking or sauces!
How to eat: Bake it, make sauce
Too much to remember? Thankfully, there's a better and easier alternative to enjoy apples without too much thinking – Apple Fox Cider! As an apple cider that prides itself with wayyyy more apples, Apple Fox Cider is celebrating the apple season all month long! Each Apple Fox Cider product contains juice from at least one whole apple, and here's how you can enjoy some refreshing Apple Fox Cider!
Fox Mobile
The fox is on the move! Catch the Fox Mobile as it tours around Klang Valley and across the region, bringing you Apple Fox Cider made with wayyyy more apples! At the Fox Mobile, check out how Apple Fox Cider is made, and "harvest" your very own Apple Fox Cider draught right there and then – fresh!
Bring Your Own Glass For Free Apple Fox Cider!
Cider lovers rejoice! All you have to do is bring your own glass to participating outlets, and get it filled up with ice-cold Apple Fox Cider, completely free of charge! It's as simple as that, and you can check out the list of participating outlets nationwide right here. This B.Y.O.G. promo only runs on 19th and 20th October, from 6 pm – 12 am, so make sure you don't miss out!
Made from real apples for a real crisp taste, Apple Fox Cider contains wayyyy more apples, and is inspired from New Zealand's cider makers. Best served over ice, Apple Fox Cider is the drink to enjoy this apple season. What does the fox say? You need an ice-cold Fox!
For more information, check out Apple Fox Cider's website, Facebook or Instagram!