In today's ever-growing digital era, working online typically invites lots of unwanted distractions and other related matters that could decrease our productivity. So, if you are looking to improve your efficiency or workflow, check out these 10 Essential Productivity Apps for Busy Professionals listed in alphabetical order.
---
1) Boomerang
We've all been there before: spending time checking emails on our phone, PC or laptop every now and then when we should be focusing on the task in hand. It doesn't matter whether the emails are still unread or just in because one thing for sure, they cause distraction. This is particularly evident, say when you are rushing to meet a certain deadline before lunchtime. To help you break off such a habit, there's an app for that and it's called Boomerang. It basically works by pausing incoming email notifications for a certain amount of time. You can also schedule emails for later replies and allow emails from certain senders.
Download from Google Play | iOS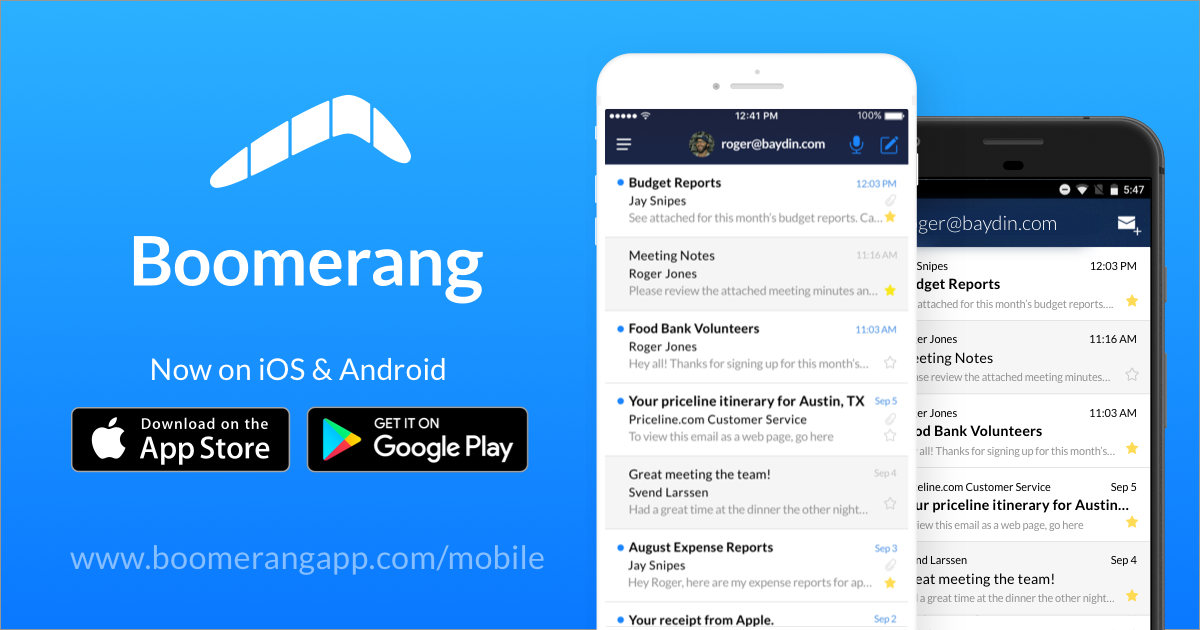 2) Buffer
Let's face it, handling social media can be time-consuming. This is especially true if your job requires to post on multiple social media platforms on a regular basis. Thankfully, there's a solution for that with the help of a social media manager app called Buffer. Think of it as a one-stop platform where you can manage, publish or schedule your posts and share to the likes of Facebook, Twitter and Instagram all in one place. You can even make full use of Buffer to track and analyse the performance of your posts and interactions.
Download from Google Play | iOS
3) Evernote
Got a brand new idea or thought that's been lingering in your mind? Or perhaps a few important things that need to be written down? You might want to consider Evernote, a handy app that basically allows you to take and upload notes. You can also organise them and even complement your notes with the likes of photos, links and screenshots.
Download from Google Play | iOS
4) HelloSign
For those who used to or are still dealing with signing physical copies of documents would understand the hassle of doing so. This includes everything from printing the document from the computer that requires your signature to scanning it back into the computer. You can imagine how much trouble you have to face if you are on the road. Fortunately, you can eliminate these troublesome steps by using HelloSign, an app that allows you to sign the document online. It's easy to use and you can have peace of mind since each document signed on HelloSign is legally binding.
Download from Google Play
5) LastPass
Having a tough time remembering all your logins and passwords from different accounts? With LastPass, you can store your usernames and passwords safely in their encrypted vault. The app can even autofill forms whenever you visit the sites. While you can use LastPass for free, the premium version offers more benefits such as unlimited sharing of passwords, 1GB worth of encrypted file storage and priority tech support.
Download from Google Play | iOS
6) Pocket
So, you just discovered some interesting articles or links. It can be anywhere online from a website to social media platforms like Facebook and Twitter. But too bad you don't have the luxury of time of reading them, let alone clicking on the links since you are too busy working on your current task. Pocket offers the kind of solution where you can save those interesting content to be read later. And the good news is, you can even download them for offline viewing!
Download from Google Play | iOS
7) Slack
Slack is basically a communication app, allowing you to do a lot of things in one same place. This includes the likes of group messaging/chat system with your teammates or co-workers, sharing files or documents and searching for past messages, conversations or discussions.
Download from Google Play | iOS
8) ToDoist
The name of this task management app, which simply rhymes with "to-do list", does exactly what it was designed for: allowing users to set up one or more checklists. You can also plan, assign and delegate your respective tasks to your teammates accordingly. Other highlights include setting up timely reminders, shared projects and even track or monitor the progress of a certain task.
Download from Google Play | iOS
9) Toggl
Want to know how much time you have spent on a particular task or project in hand? Thanks to Toggl, this app enables you to track your hours on whatever you are working on. And after you have done your task, you are able to take a look at the report. A detailed report with numbers that basically show how you utilise your time on a daily, weekly or monthly basis. This, in turn, allows you to analyse and determine whether there's room for improvement to boost your productivity in the future.
Download from Google Play | iOS
10) Trello
When it comes to project management, Trello is no doubt one of the most sought-after productivity apps regardless of small or big businesses. It's like a digital notice board that allows you to do various customisations from setting to-do lists, assign & delegate tasks, taking notes, add due dates and even share links & images.
Download from Google Play | iOS