Nowadays, being "healthy" is all the rage. It should be, since a healthy body is required for us to function optimally. However, many people cite a busy lifestyle as their main reason for not being healthy. No time to exercise, no time for meal preps, no time to get enough sleep… we're here to help out with one of those! Healthy meals don't have to be complicated and difficult actually. Some of them can be easily prepared, and here are 6 of them!
---
1) Honey-Drizzled Chicken Breast
Ingredients: Chicken breast, broccoli, carrot, light soy sauce, pepper, honey, cooking wine
Chicken breast is widely known as one of the food items with least calories and fat content, making it ideal as a main for healthy meals. You could marinate the chicken breast with light soy sauce, pepper and the honey prior to stir-frying for more flavour. Also, the broccoli and carrot are great sources of fibre, balancing up the otherwise meaty dish!
2) Tri-Colour Chicken Breast Cubes
Ingredients: Chicken breast diced into cubes, frozen mixed vegetables, garlic, black pepper, salt, light soy sauce, cooking wine, corn starch
The frozen mixed vegetables of corn, carrot and green peas immediately add a dash of colour to an otherwise bland-looking dish! Honestly, this could be the easiest meal to prep, because you could literally just throw everything into the pan and start frying. However, just a little suggestion, maybe fry the chicken first so that your chicken has more time to cook.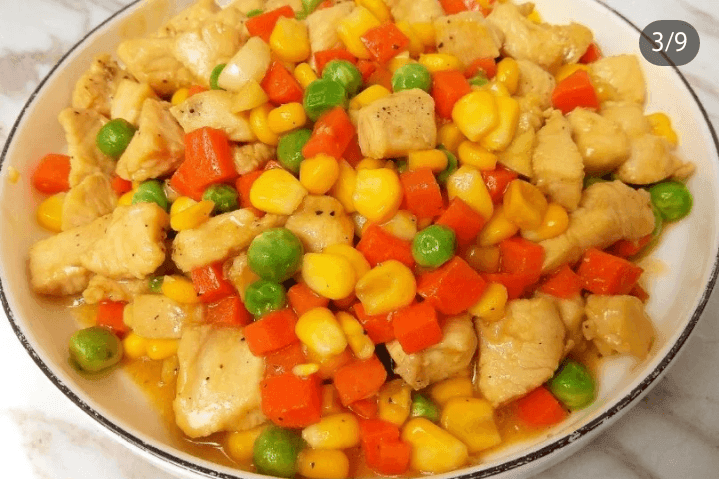 3) Spicy Chicken Cubes with Vegetables
Ingredients: Chicken breast diced into cubes, half a zucchini, half a potato, garlic, chilli padi, cooking wine, light soy sauce, dark soy sauce (your preference)
Who says that healthy food has to be tasteless? Add some kick to your meal with a dash of chilli padi! Besides that, the zucchini and potato are just vegetable suggestions; you could replace them with other vegetables of your choice. Other popular options include sweet potato, broccoli, carrot, and bell peppers just to name a few.
4) Chicken & Sweet Corn in Tomato Sauce
Ingredients: Chicken breast diced into cubes, sweet corn, two large persimmons, garlic and onion, light soy sauce, cooking wine, tomato sauce, corn starch, black pepper
If you've had anything tomato-related, you'll know that it does a good job of enhancing your appetite. Plus, tomato sauce, or ketchup, is practically a Malaysian staple – we eat it with anything and everything! Again, this is a relatively easy dish, simple stir fry the ingredients together and add in the tomato sauce, water and corn starch to cook!
5) Tri-Colour Shrimp
Ingredients: Shrimp, frozen mixed vegetables, garlic and onion, ginger, light soy sauce, cooking wine, starch
Finally something that isn't chicken on this list, right? Another dish that is relatively simple to prepare, all you have to do is stir fry everything together. Of course, the ingredients are merely suggestions, and you can add or subtract any ingredients you like. Add in some mushrooms, or substitute the frozen vege with asparagus… the choice is yours!
6) Salt & Pepper Sweet Corn
Ingredients: Sweet corn, salt, pepper, corn starch, an egg, some spring onion to garnish if preferred
Okay, food preparation doesn't get any easier than this. You could choose to use frozen corn in a pack or manually disassemble a corn, and then you just stir fry it. It's as easy as that! While you stir fry the corn, crack an egg in, and then add the desired amount of salt and pepper. Once it's cooked, you could garnish it with some spring onion if you prefer!
Which of these dishes will you be trying out first? What other recipes do you have for healthy meals? Share them with us in the comments below!
Article sourced from OMGloh.