IKEA needs no introduction. More than just a furniture retailer, this popular Swedish home furnishings giant is also known for its food courts. And get this: The menu in IKEA food courts are varied from one country to another. That being said, here are selected 12 IKEA Foods From Around The World.
---
1) Salmon Balls
Most of us have grown accustomed to IKEA's Swedish-style meatballs. Besides, it is one of their bestselling items on the menu. Whereas we can typically choose beef or chicken meatballs, IKEA did introduce salmon balls in some parts of the worlds including Europe and the United States. They were initially sold back in August 2018 as a test run. Made from the Aquaculture Stewardship Council (ASC)-certified salmon, the balls are seasoned with lemongrass and seaweed. And just like their signature meatballs, the salmon balls are also served with different side dishes such as mashed potato and vegetables.
2) Marinated Salmon Wrap
IKEA's marinated salmon wraps can be found in some countries such as Australia and the United States. The fillings of the thin bread wrap include marinated salmon slices, mixed salad, seasonal sauce and lots of dills with a lemon wedge on the side.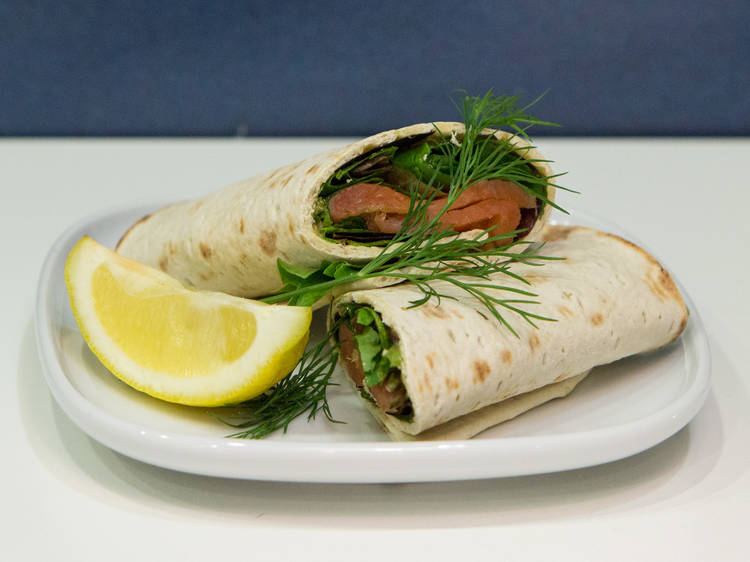 3) Butter Chicken
Believe it or not, you can find butter chicken in IKEA… Canada. They use organic chicken specially sourced from Canadian farms. The chicken itself is cooked in a gravy mixed with tomato, cream and butter. Every plate of butter chicken comes with a side of naan bread, basmati rice and yoghurt.
4) Salmon Lasagne With Broccoli
When comes to lasagne (or lasagna), beef and chicken meats are typically the popular choices. But in IKEA Singapore, you can get your hands on salmon lasagne. It has a cheesy crust and served with broccoli on the side.
5) Rekesmørbrød (Shrimp Sandwich)
One of IKEA Norway's food items in their menu is rekesmørbrød, a typical Norwegian shrimp sandwich served with soft bread, shrimps, hard-boiled eggs, mayonnaise and lettuce leaves. The IKEA shrimp sandwich also includes dills, cucumber slices and a lemon wedge on the side.
6) Entrecôte
First things first, entrecôte is actually a French word for a "cut of meat taken from between the ribs". In IKEA Denmark, their version of entrecôte consists of 200g Danish beef striploin served with bearnaise sauce, fries and grilled peppers.
7) Raspberry-Blue Quark Cake
IKEA Switzerland's version of cheesecake consists of raspberry, blueberry and quark. If you are wondering about quark, it is basically a cheese from lactic acid-added milk. Quark is described as mild and creamy with a yoghurt-like texture.
8) Plant-Based Soft Ice (Banana)
It's no secret that IKEA is serious about its initiatives towards sustainability. Last year alone, the Swedish home furnishings giant has infamously replaced the signature vanilla soft serve with plant-based soy version. Now, if you are in IKEA Japan, they have plant-based soft serve in… banana flavour!
9) Roasted Chicken Taliwang
The word "Taliwang" is actually derived from Karang Taliwang located in Mataram, Lombok. In IKEA Indonesia, they serve roasted chicken (ayam bakar) Taliwang with rice, sambal, cucumber slices and salad on the side.
10) Grilled Lobster With Wild Mushroom Rice
The word "IKEA" and "lobster" wouldn't be the first thing that comes to mind for most people. But believe it or not, you can actually find a lobster dish at IKEA Taiwan. It consists of the Marine Stewardship Council (MSC)-certified half-cut lobster with cheese sauce, chopped carrots, broccoli and aromatic wild mushroom rice. If you are wondering about the price, it will costs you NT$380 or RM50 a plate.
11) Crayfish Cheese Tart
The once-trendy cheese tart can be commonly found in many places these days. But IKEA Hong Kong steps up their game by introducing a different kind of cheese tart. One that has a crayfish topping! Their Crayfish Cheese Tart is actually the part of IKEA Hong Kong's Bistro Special which is only available from July 19 to August 15, 2019.
12) Grilled Halloumi Sandwich
Halloumi is actually a traditional semi-hard cheese originated from Cyprus. In IKEA Kuwait, they serve halloumi in grilled style and sandwiched between the bun.