When it comes to the Hollywood action genre, male actors are traditionally seen as the main priority as well as the bigger selling point. But let's not forget that there are a number of actresses who can kick serious butt just like their male counterparts. While we're at it, renowned Euro action specialist Luc Besson will be returning to his familiar "sexy female assassin" territory in "Anna" this July 25, which sees Russian supermodel Sasha Luss playing the titular role. And to coincide with the upcoming release of the movie, here are the 10 Greatest Female Action Characters in Hollywood Cinema.
---
1) Nikita ("Nikita")
Ever wonder why Sasha Luss' female assassin role in the upcoming "Anna" looks familiar? That is because her role bears a striking resemblance to Anne Parillaud's Nikita in the titular seminal 1990 movie, which also happens to be directed by Luc Besson. Like "Anna", Nikita is a trained assassin working for the top-secret government agency, doing their dirty work. Luc Besson's introduction of a sexy female assassin in "Nikita" not only earned the director international recognition but also inspired many filmmakers all around the world.
2) Ellen Ripley ("Alien")
Sigourney Weaver, who played Lt. Ellen Ripley in the first four "Alien" movies, was largely credited as the pioneer of a modern female action hero in Hollywood cinema. More than just a cinematic icon who fought against the Xenomorph alien species, Weaver even famously earned an Oscar nomination for Best Actress in 1986's "Aliens".
3) Sarah Connor ("Terminator 2: Judgment Day")
Forget about the baby-faced Emilia Clarke playing the new Sarah Connor in the much-maligned "Terminator Genisys" (2015). It's like watching Khaleesi a.k.a. Daenerys Targaryen trying hard to impersonate Linda Hamilton as Sarah Connor. Ask any true fans of the "Terminator" series and they would tell you the real deal is still Linda Hamilton herself.
Back then, it's hard to believe that Hamilton would become one of Hollywood's most memorable female action characters in the history of cinema. This is especially true, given the fact that her portrayal in the first "Terminator" back in 1984 was nothing more than a scared, damsel-in-distress character. But thanks to writer-director James Cameron, Hamilton's Sarah Connor has evolved from a meek waitress to a battle-hardened warrior and even a protector (of her son John Connor played by Edward Furlong) who doesn't mind getting her hands dirty.
4) Imperator Furiosa ("Mad Max: Fury Road")
For decades since George Miller first introduced the world with his then-groundbreaking low-budget post-apocalyptic thriller back in 1979, Mel Gibson was the star of the "Mad Max" movie. He, of course, reprised his iconic titular role for two more movies in "Mad Max 2" a.k.a. "The Road Warrior" (1981) and "Mad Max Beyond Thunderdome" (1985).
But in 2015, Tom Hardy replaced Gibson as the new Mad Max in "Mad Max: Fury Road". And yet, it was Charlize Theron's supporting role as the one-arm Imperator Furiosa who stole most of the show instead — a result that brought a refreshing change of pace for the otherwise traditionally male-driven "Mad Max" franchise. Her performance is the classic epitome of a tough anti-heroine that made her a fan favourite.
5) The Bride ("Kill Bill Vol. 1 & 2")
Quentin Tarantino's loving homage to Shaw Brothers' kung fu movies and HK martial arts genre is no doubt an entertaining, ultra-violent revenge thriller. At the heart of his two-part "Kill Bill" movies is Uma Thurman, who portrayed the unnamed vengeful protagonist nicknamed "The Bride". The "Kill Bill" movies are, of course, famously featured Yuen Woo-Ping's amazing action choreography who helped transform Uma Thurman into a convincing martial arts-trained protagonist with impressive sword-fighting skills.
6) Katniss Everdeen ("The Hunger Games")
The YA (young adult) novel-to-film adaptation craze may be dwindling, but let's not forget this particular genre used to be a hot commodity in Hollywood. Among them is "The Hunger Games" movie franchise, which was adapted from Suzanne Collins' dystopian YA novel trilogy of the same name. The movie franchise is particularly popular, thanks to Jennifer Lawrence's scene-stealing performance as the rebellious Katniss Everdeen.
7) Princess Leia ("Star Wars")
The "Star Wars" franchise, particularly George Lucas' original and sequel trilogies were largely male-driven. But despite iconic characters like Luke Skywalker, Darth Vader, Obi-Wan Kenobi and Qui-Gon Jinn, the franchise is also renowned for its strong female character in the form of Princess Leia (sorry, Padmé Amidala) played by the late Carrie Fisher. She may have been a princess but she is no pushover and definitely far from a typical damsel-in-distress. No wonder her role since 1977's "Star Wars: A New Hope" became a cinematic icon among many fans and moviegoers until today.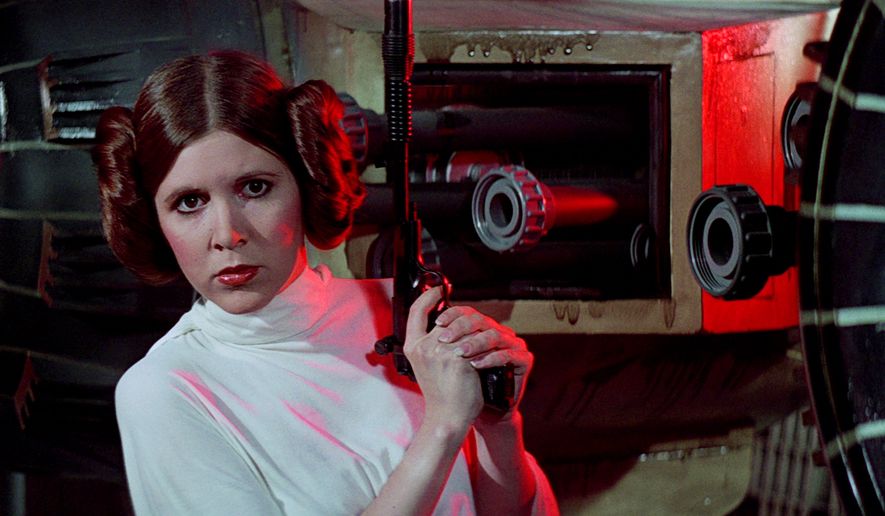 8) Lara Croft ("Lara Croft: Tomb Raider" & "Tomb Raider")
Depending on who you ask, some would prefer the original Lara Croft as a sex symbol with her signature tank top and short shorts while others like the more gritty version of her. The original in question is Angelina Jolie, who first immortalised the iconic role from the popular video game.
Then came the 2018 version of "Tomb Raider", which was inspired from the video game reboot. Swedish actress Alicia Vikander took over Jolie's role and made her a more grounded character.
9) Lorraine Broughton ("Atomic Blonde")
The Cold War-era espionage thriller may be a mixed bag. But it's hard to deny the level of commitment that Charlize Theron put herself through as the undercover MI6 agent Lorraine Broughton. Just like "Mad Max: Fury Road" two years prior, Theron continues to prove her physical prowess in the action department. Not to mention she looks insanely fetching in her 80s fashion wear.
10) Diana Prince ("Wonder Woman")
Remember back in the day when then-unknown actress Gal Gadot was picked to play the big-screen version of Wonder Woman? People complained about her for either being "too skinny" or "doesn't look muscular enough". And yet, for all the naysayers, Gadot immediately became a fan favourite after her small appearance in "Batman v Superman: Dawn Of Justice" in 2016. Her portrayal as the tough and selfless Amazonian warrior sealed the deal once and for all when she finally got her own solo movie in "Wonder Woman" a year later. The rest, as they say, is history.