Diving is more than just a hobby. It is an experience altogether, a chance to get in touch with nature and get a chance to be exposed to marine life up close. It is also important that you acquire scuba certification before traveling. With that, we have compiled 10 Best Scuba Diving Spots Around The World in alphabetical order that should be on your checklist to be checked someday!
---
1) Barracuda Point – Sipadan Island, Malaysia
In 2012, Sipidan Island's Barracuda Point topped the No. 1 spot as the "World's 50 Best Dive Sites" by CNN Travel. And true to its name, you will find yourself surrounded by a school of barracudas underwater — the reason why it got its name in the first place. Of course, there is plenty of other marine life as well, namely sea turtles, buffalo fish and manta rays.
2) Big Brother – Red Sea, Egypt
Big Brother is actually one-half (the other part would be Little Brother) of the famous Brothers (El Ikhwa) islands located in the middle of the Egyptian Red Sea. This is a great dive site for experienced divers looking for a real challenge, thanks to its unpredictable wild currents. Currents aside, expect to see hammerhead & white tip reef sharks as well as fishes like jacks and groupers. Keep in mind that there are strict rules if you plan to dive at Big Brother Island. This includes a minimum of 50 logged dives and valid scuba-diving travel insurance.
3) Blue Corner Wall – Palau, Micronesia
If there's one diving spot you can't afford to miss, it has to be Blue Corner Wall at Palau, Micronesia. Down below, expect to see wonderful marine life from gorgonian to fishes like jacks, snappers and Napoleon wrasse. Not to mention this world-class dive site has over 10 different species of sharks as well.
4) Cape Kri – Raja Ampat, Indonesia
374 fish species — now, that's the world-record count in one dive back in 2012. That means you'll get to see a rich diversity of marine life ranging from barracudas to jacks as well as groupers and sharks. Not to forget they have a beautiful coral garden that is a must-see to be believed. And given its strong currents, this would be an ideal spot for experienced divers but of course, you are only qualified to do so if you have at least 50 logged dives under your belt.
5) Cod Hole & Ribbon Reefs – The Great Barrier Reef, Australia
No scuba diving would be complete without nary a mention of world-famous Australia's Great Barrier Reef. Among the popular dive sites are Cod Hole and the Ribbon Reefs. Just like the name suggests, you can get up close and personal with various cods such as flowery cods and potato cods in the clear blue waters. The reef is also home to other colourful marine life, namely red bass, titan triggerfish and green turtles.
6) Great Blue Hole – Belize
Located off the coast of Belize, the Great Blue Hole is actually an enormous underwater sinkhole measuring over 300 metres (984.2 feet) across and 125 metres (410 feet) deep. Apart from its extraordinary sight, experienced divers get to see marine life like groupers and reef sharks as well as stalagtites and stalagmites.
7) Liberty Wreck – Bali, Indonesia
Fancy a wreck diving experience? At Liberty Wreck, you have the opportunity to explore the wreckage of the USS Liberty or at least whatever remains on the ocean floor. You can also look out for various marine life such as angelfish, pipefish and hawksbill turtles.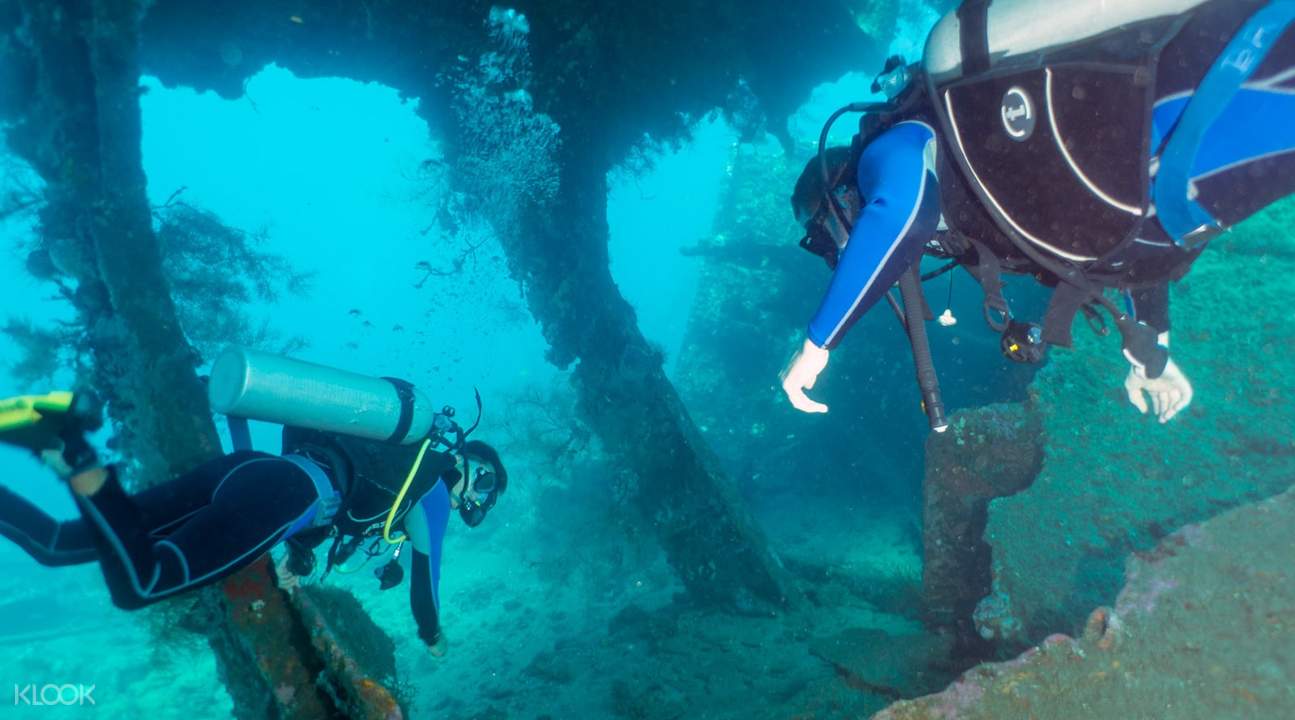 8) Manta Ray Night Dive – Kailua-Kona, Hawaii
Ever wonder what is it like to experience an underwater night dive? Well, you might want to consider heading to Kailua-Kona in Hawaii. You get to witness the amazing sights of manta rays swimming around the illuminated dark waters, thanks to the underwater light placements on the ocean floor.
9) Osprey Reef – The Great Barrier Reef, Australia
Here is another top diving destination situated at the Great Barrier Reef. Other than watching the likes of stout infantfish and dogtooth tuna, this particular reef is also famous for various shark species. You can expect to spot sharks like grey reef whalers, hammerheads, silvertips and whitetips. There's even a shark feeding site at North Horn — the kind of any diver's must-have activity in their bucket list.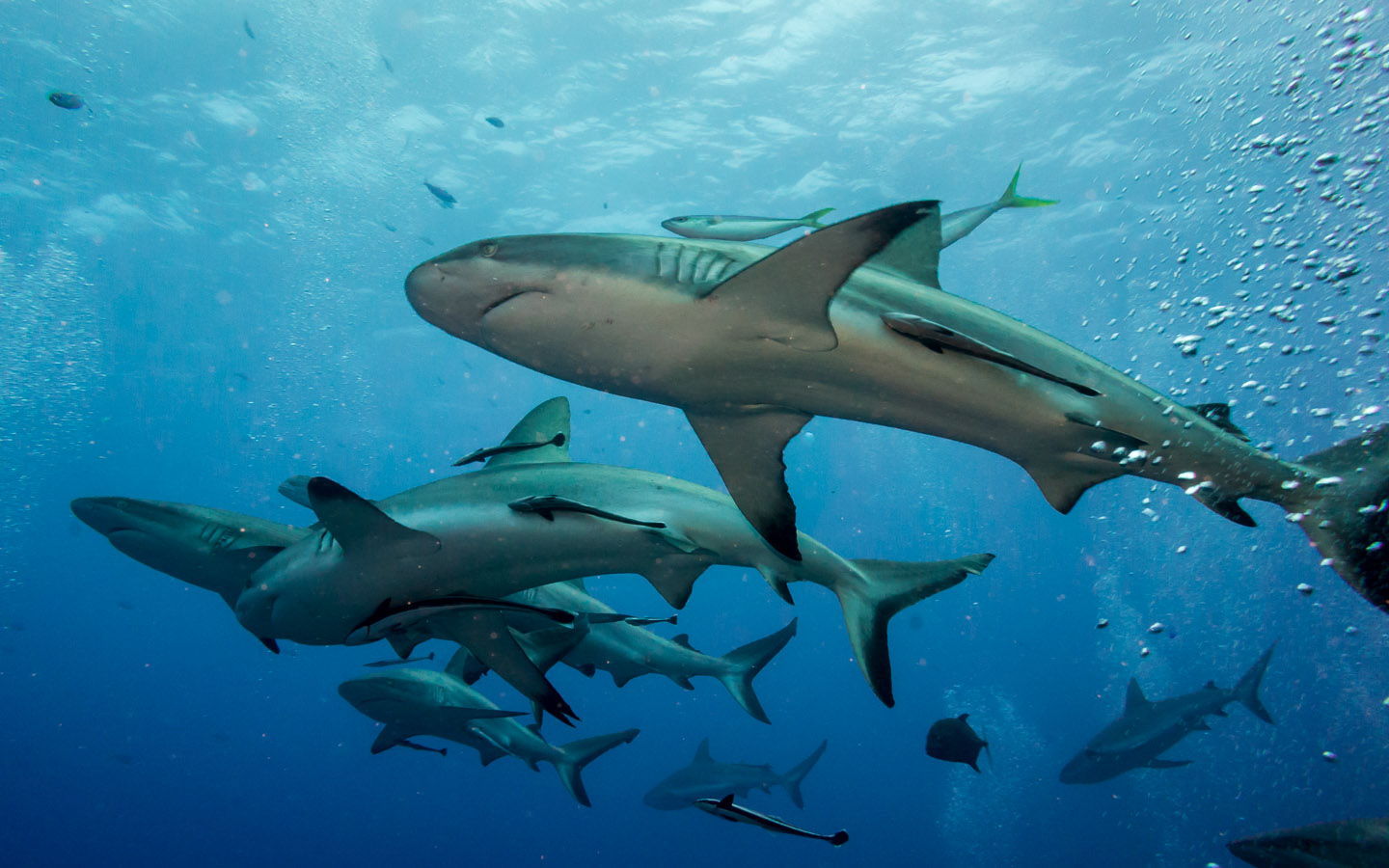 10) Richelieu Rock – Thailand
If there's one thing worth mentioning about Thailand's Richelieu Rock, this is where you can spot the huge whale shark. But of course, whale shark sightings aren't the only attractions here as you get to witness lifeforms like dogtooth tuna, ghost pipefish, barracudas and seahorses.