Visiting walk-through aquariums allow you and your family to enjoy the remarkable sight of different aquatic species at a safe, vantage point. This includes the likes of whales, sharks, dolphins, coral reefs, rays and other types of fishes. We do have our very own Aquaria KLCC in the heart of Kuala Lumpur, check out these selected 8 Stunning Aquariums To Visit Around The World.
---
1) Dubai Aquarium @ The Dubai Mall, U.A.E.
Witness one of the world's largest suspended aquariums located within the Dubai Mall. Capable of holding a whopping 10 million litres of water, the enormous aquarium tank houses over 140 different marine species as well as more than 300 sharks and stingrays. Not to mention Dubai Aquarium boasts the biggest collection of Sand Tiger sharks in the world. While taking a walk along the 48-metre long underwater tunnel, visitors get to immerse in the sight of these majestic aquatic animals in a spectacular 270-degree angle.
2) Georgia Aquarium @ Atlanta, Georgia
Other than earning its distinction as one of the largest aquariums in the world, Georgia Aquarium is also notable for housing the world's biggest fish — the whale shark. But there's more to see here, namely bottlenose dolphins, manta rays and beluga whales. To put it simply, there are over 100,000 marine life species residing in the huge tank carrying around 10 million gallons of fresh and saltwater that is spread across 60 different exhibits.
3) Okinawa Churaumi Aquarium @ Okinawa, Japan
Sharks, deep-sea creatures, coral reefs — these are among the colourful marine life you get to witness at the Okinawa Churaumi Aquarium in Ocean Expo Park. The aquarium consists of 77 tanks spanning at four floors high, complete with huge acrylic windows. Interestingly enough, Okinawa Churaumi Aquarium made history for becoming the world's first for successfully breeding whale sharks and manta rays in captivity.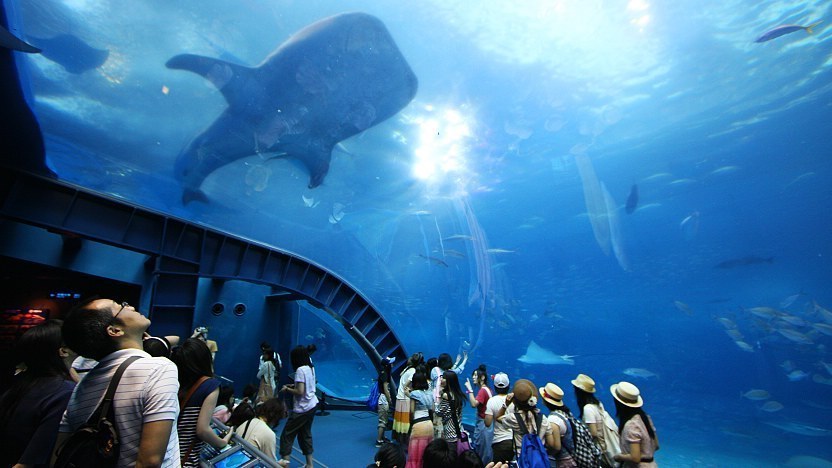 4) uShaka Sea World @ Durban, South Africa
This 16-hectare theme park houses four main sections, with one of them being the uShaka Sea World. It consists of 32 tanks with 17,500 cubic metres of water and has several fascinating attractions. Among them are the interactive dolphin shows and a unique underground aquarium built around four meticulously-designed shipwrecks.
5) S.E.A. Aquarium @ Resorts World Sentosa, Singapore
With over 100,000 aquatic animals of 800+ species and 45 million litres of water, S.E.A. Aquarium certainly has plenty to offer for visitors. Located in the Marine Life Park at Resorts World Sentosa, the aquarium's biggest attraction of all is undoubtedly the Open Ocean tank. It consists of arguably the world's largest viewing panel stretching at 36 metres wide and 8.3 metres tall, offering an one-of-a-kind immersive experience as if you are standing on the ocean floor.
6) Chimelong Ocean Kingdom @ Hengqin, China
The next time you decid to pay a visit to China, make a stop at the Chimelong Ocean Kingdom in Henglong International Marine Resort. Enjoy the amazing sights of 20,000 different marine species such as beluga whales, whale sharks and dolphins. Huge aquarium aside, enjoy the incredible 20-storey high roller coaster ride or immerse yourself in an ultimate cinematic sight-and-sound experience at the 5D Castle Theater.
7) L'Oceanogràfic @ Valencia, Spain
This huge aquatic complex houses 45,000 aquatic creatures of 500 different species such as beluga whales, penguins and sea lions. It has a total of three major sections which consists of the Mediterranean Sea, Arctic and Antarctic. Then, there's the huge dolphinarium which also happens to be the largest of its kind in Europe. This is where you get to watch bottlenose dolphins in action and learn more about them as well.
8) AQWA The Aquarium Of Western Australia @ Hillarys, Western Australia
This privately-owned underwater aquarium offers visitors to witness 400 different species of aquatic life such as sharks and stingrays. It also consists of 40 exhibits as well as a walk-through underwater tunnel, which stretches over 300 feet long. Kids aged 7 to 12, in the meantime, can look forward to a 14-hour "Shark Sleepover" beneath 3 million litres of water filled with hundreds of fishes. Other attractions include diving/snorkelling with sharks or enjoying the interactive diving adventure at Adventure Bay aquarium.