Most holidays to other countries are more or less the same. You book a flight ticket, go to the airport, wait, get on the plane, and fly to your destination. But sometimes you might want something a little more scenic. This sleeper train from Malaysia to Bangkok will give you a much more scenic traveling experience.
---
There is a sleeper train that will bring you straight to Bangkok via a prettier sight. Imagine looking at the windows and seeing paddy fields, trees, and even small towns. You will also have plenty of time to see the world pass by because the train ride is 17 hours long.
Despite it taking a much longer time than just flying straight to Bangkok, we must think of the advantages. Firstly, there will be a much better view than the one at the airport or aeroplane. Instead of just clouds you'll be looking at beautiful scenes.
In addition, it is much more budget friendly than flying which usually costs upwards of RM300.
Let's break down how the trip via sleeper train would work.
Firstly you will need to catch the ETS train either from KL Sentral or Butterworth, Penang. The train will bring you Padang Besar which is the border between Malaysia and Bangkok. Hopping on the train from KL Sentral will take approximately five to six hours while the one from Butterworth is about two hours.
At Padang Besar you will need to get off and go through both Malaysian and Thai immigration counters. Don't forget your passport! Depending on the time of day and how many people are there, it could either be a fast or slow process.
After that, you need to get on a sleeper train under Thai Railways which brings you to Bangkok. While the trip should take about 17 hours from Padang Besar to Bangkok, allow yourself some extra time.
There should be stops along the way which will take some time. However, the good part is that during these stops there will be people coming on board to sell delicious Thai food.
Your whole journey will cost approximately less than RM250 in total. From KL Sentral to Padang Besar seats cost between RM76 and RM102. Tickets for children between ages 4 and 12 cost about RM42 each.
The train from Padang Besar to Bangkok is dependent on which berth you take. The lower berth is THB960 (approximately RM130) while the upper berth costs THB860 (about RM116). There is a cheaper price for children. The upper berth is THB690 (about RM93) and the lower berth is THB780 (around RM105).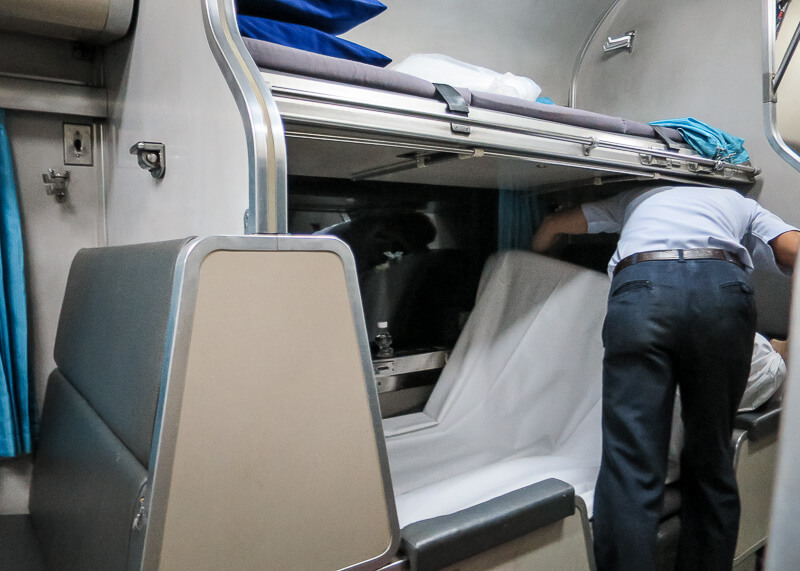 At night, the train conductors will convert your seats into a bed. There will also be a bed above your seats that is tucked away during the day.
Each berth comes with curtains to ensure that there is privacy for guests. It is supposed to be a pretty quiet ride except for some announcements. Don't forget earplugs and an eye mask if it helps you sleep better.
While this way of traveling is certainly not for everyone, those who love an adventure would enjoy this ride. It does take more time and effort but you also get a different experience which is all part of the trip.
To book the ETS train to Padang Besar, click here. To buy your sleeper train tickets from Padang Besar into Thailand, click here.