Coca-cola is a pretty classic drink that everyone knows of and it's pretty much everywhere. You can always grab a can of Coke at the grocery store, petrol station, and of course the Cinema. But now you can bring your experience one step further by stepping into the Coca-Cola Cafe! It's super retro vibes will make you feel like you're in a whole new place.
---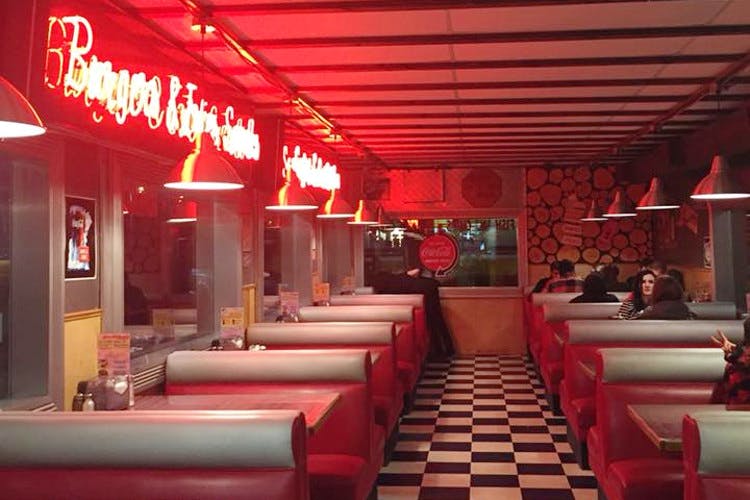 Sometimes we watch those old classic movies or TV shows that feature the old school American diners. Those retro American diners from the 90s that have big booths, neon lighting, a bar style seating area, and of course a jukebox!
Have you ever watched any of these scenes and wondered what it would be like to visit a 90s diner? Well now you don't have to wonder anymore! In fact, you can just head over to TGV Cinemas in Toppen Shopping Centre. Here you will find the Coca-Cola cafe that pays homage to the 90s style American diners.
Step into a whole new world with neon lighting, a bar style seating area, and the signature red of Coca-Cola everywhere. Just slide yourself into a seat at the bar area and enjoy the treats available.
You will be delighted to find sweet treats that include fresh coke, a variety of popcorns, chocolates, sweets, and snacks. If you want to splurge a little more then you can get yourself a cold treat from Cold Stone Creamery.
Don't forget to snap some cool pictures with the decor in the space like the Coke red jukebox or the artificial fireplace. Even just sitting at the bar will give you an awesome backdrop for your pictures.
Want to take pictures but your phone is running low on battery? Just charge your phone at one of the many plugs available in the Power Zone. There is also high speed WiFi available for you to use as you wait for your phone to charge.
Even if you aren't there to watch a movie, it is still pretty cool to check out the Coca-Cola Cafe! The Cafe is located at TGV Cinemas in Toppen Shopping Centre.