And so, the 92nd Academy Awards has wrapped up after announcing all the winners on Sunday night (Monday morning in the Malaysian time zone). Though there were some expected wins, the 92nd Academy Awards also surprised everyone. Keep reading as we summarise our opinions for some of the winners at this year's Oscars!
---
1) "The Irishman" Went Home Empty-Handed
The long-gestating mob epic of Martin Scorsese's "The Irishman" was no doubt an incredible piece of work. Considered a magnum opus, it is hard to believe that this is the work of a director whose age is in the late seventies, though no doubt legendary. As a result, the three-and-a-half-hour movie scored a whopping 10 Oscar nominations including Best Picture, Best Director as well as Best Supporting Actor for Al Pacino and Joe Pesci. It should have won something, right? Well, it turns out that "The Irishman" failed to take home a single award. This also wasn't the first time a multiple Oscar-nominated film directed by Martin Scorsese suffered such a heavy blow. The last time Martin Scorsese's film didn't manage to win any awards out of its 10 Oscar nominations happened to be "Gangs Of New York" back in 2003.
2) "1917" Only Won The Technical Awards
Well, well… how the tables have turned. Sam Mendes' single-shot World War I epic was heavily touted to score a huge number of Oscars out of its incredible 10 nominations. If you have yet to see the film at the cinema, do yourself a favour and go buy a ticket while the showtimes are still available. During the 92nd Academy Awards presentation, "1917" could only muster three technical Oscars including Best Cinematography for Roger Deakins as well as Best Sound Mixing and Best Visual Effects.
3) "1917" Winning Best Visual Effects Was… Really Unexpected
Sure, the movie is both an artistic and technical triumph in minimalist storytelling, cinematography and seamless editing. But visual effects? Believe it or not, it's kind of hard to accept the fact that "1917" won the Best Visual Effects category, let alone landing a nomination in the first place. Logically speaking, the win should have gone to the likes of "Avengers: Endgame", "The Lion King" or "Star Wars: The Rise of Skywalker".
4) Best Adapted Screenplay Goes To… "Jojo Rabbit"?
This is seriously unexpected. Like not in a million years would I expect Taika Waititi's satirical World War II drama to earn the Best Adapted Screenplay award. The movie itself wasn't as witty and heartfelt as expected, and "Jojo Rabbit" could have worked better as a sketch than a feature-length film. How "Jojo Rabbit" even won over fellow (more deserving) nominees like Steven Zaillian ("The Irishman") and Greta Gerwig ("Little Women") is beyond me.
5) Predictable Wins For The Acting Categories
Not that there's really any complaint about their respective wins, though. The four acting nominees — Joaquin Phoenix (Best Actor for "Joker"), Renee Zellweger (Best Actress for "Judy"), Brad Pitt (Best Supporting Actor for "Once Upon a Time in… Hollywood") and Laura Dern (Best Supporting Actress for "Marriage Story") —  all deserved the awards!
6) Hildur Guðnadóttir Became The Third Woman To Win Best Original Score
Icelandic composer Hildur Guðnadóttir scored a well-deserved Oscar win for her deeply ominous music for Best Original Score in "Joker". And believe it or not, she happens to be one of only three women to ever receive such an accolade. The other two were Rachel Portman for "Emma" (1996) and Ann Dudley for "The Full Monty" (1997).
7) Laura Dern Finally Won Her First Oscar
Her solid supporting performance as the lawyer Nora Fanshaw in "Marriage Story" definitely deserves an Oscar victory. Besides, it has been a long-overdue win for the "Blue Velvet" and "Jurassic Park" actress after she went home empty-handed twice in 1992 (Best Actress for "Rambling Rose") and again in 2015 (Best Supporting Actress for "Wild").
8) It Took Brad Pitt Three Tries Before Finally Winning His First Acting Oscar
The name Brad Pitt needs no introduction, given his widespread recognition as both actor and producer for some of the most acclaimed movies. He first scored an Oscar nomination for Best Supporting Actor for his loony role in Terry Gilliams' "12 Monkeys" (1995). Then came two Best Actor nominations in "The Curious Case of Benjamin Button" (2008) and "Moneyball" (2011), both of which he failed to secure a win. It wasn't until his role of a stuntman in Quentin Tarantino's "Once Upon a Time in… Hollywood" finally earned the veteran Hollywood star his first acting Oscar.
9) The Oscar Played It Safe With "Toy Story 4" Over "Klaus"
Like it or not, Disney was often the dominant force in the Best Animated Feature Film category. This year, some analysts predicted Netflix's 2D yuletide-themed "Klaus"  should win the very category, particularly after it took home seven trophies at last month's Annie Awards (the prestigious award ceremony that recognises animated films and television). But the Oscars took a safer bet and gave "Toy Story 4" the win instead.
10) "Parasite" Made History During The Oscar Night
And here we are… Bong Joon-Ho's "Parasite" scored two major upsets over heavy favourites in the 92nd Academy Awards. His two other victories over Best International Feature Film and Best Original Screenplay were both expected to win. But the ones where he won Best Picture and Best Director were the ultimate surprises of the night. Not to mention he even beat the odds against Sam Mendes, who looked like a shoo-in for the two aforementioned categories. Also, "Parasite" marked the first South Korean film to nab such prestigious awards in the Oscars.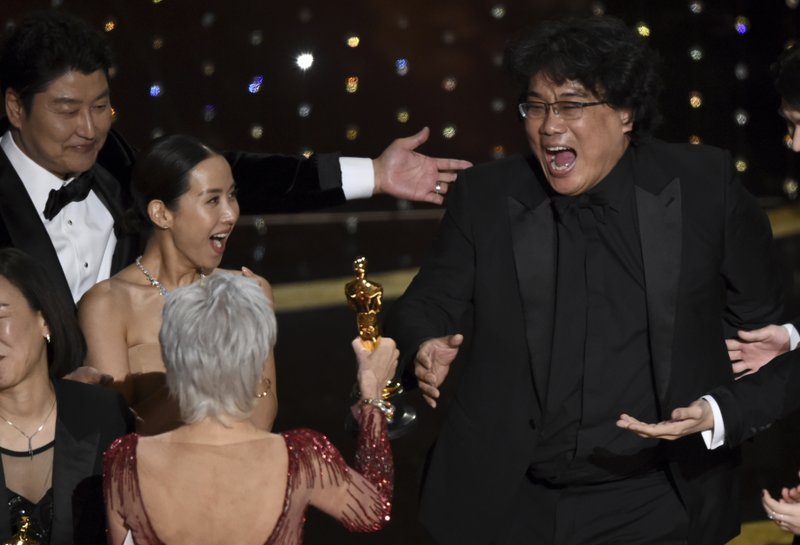 What do you think of the winners of the 92nd Academy Awards? Did you favourites win? Let us know in the comments below!