When it comes to visiting a Starbucks outlet, there are basically two things that matter the most: their coffee beverage and WiFi network. Not to mention it's a good place to chillax after a long day at work or just to hang out with your friends. Beyond that, Starbucks is also reputed for its unique store design. And every country's outlets have their own distinctive charm. Here, we have compiled a selected list of 13 Most Beautiful Starbucks Around The World that you might want to visit one day!
---
1) Fuzhou, China
It's traditional meets modernity in Starbucks at Fuzhou, China. This particular outlet houses a glass wall filled with vertical panels of black and white round pieces inspired by China's ancient board game called wei qi (Go). The somewhat rebellious-looking "Starbucks Coffee" graffiti art that embellishes the white wall matches the contemporary set of wooden furniture with white seat cushions.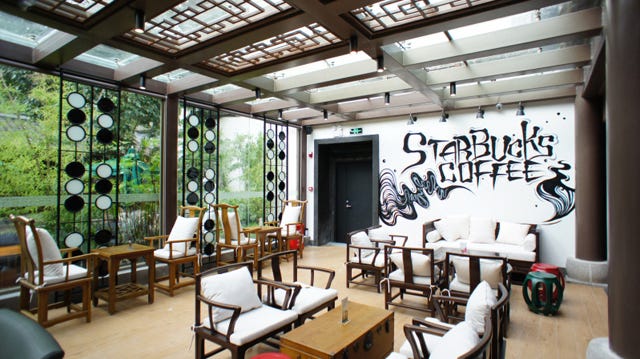 2) Paris, France
Words like "royalty" and "elegance" aren't exactly synonymous with the commercial coffee chain of Starbucks. And yet, this Paris store steps up its game by offering customers the chance to savour their favourite cup of coffee or ice-blended frappuccino in an opulent setting, complete with chandeliers and golden murals.
3) Toyama, Japan
Imagine sitting at the comfort of open space overlooking the lush greenery and a canal while enjoying a cup of freshly-brewed coffee. Now, that's Starbucks in Toyama located alongside the 9.6-hectare Fugan Canal Kansui Park.
4) Seoul, South Korea
This spectacular-looking outlet is actually situated at Famille Park, which comes complete with a glass dome-like structure and installation of birds suspended from the top of the ceiling.
5) Chicago, Illinois
Symmetrical wooden benches of different heights along with the illustrated sights of Starbucks Siren dominates this wood-themed outlet in The Magnificent Mile, Chicago. Sure, it doesn't look comfortable for prolonged seating. But you can't argue that it's aesthetically pleasing, complete with glass walls overlooking the stunning views of Chicago cityscape.
6) Los Angeles, California
This particular Los Angeles outlet was originally a gas station belonging to The Gilmore Oil Company back in 1935. It was also used to be a popular backdrop for notable Hollywood movies like Eddie Murphy and Nick Nolte in "48 Hrs." in 1982. But the former gas station has since been revamped into a Starbucks outlet in the mid-2010s. It even retains most of the petrol station's 1930s art deco style and its original structure.
7) Dubai, United Arab Emirates
Located at Ibn Battuta Mall, this Starbucks outlet is surrounded by intricately-designed arches with matching blue-and-yellow mosaic tiles. The chandelier along with the Persian-inspired high ceiling dome completes the look of this outlet that is nothing short of spectacular.
8) Rio de Janeiro, Brazil
This Starbucks outlet at Rio de Janeiro's Cine Odeon theatre retains most of its 1920s decor from its mahogany wainscots to the classic square tiles on the floor. The outlet also matches well with floor-to-ceiling windows, minimalist wooden chairs & tables and posh green sofas.
9) Zurich, Switzerland
Well, this is something different than your usual brick-and-mortar Starbucks store. Get this: It is actually a Starbucks train that travels from Geneva to St. Gallen in Switzerland. From the striking red-and-white exterior to the posh beige-coloured interior, travelling on a train while drinking your favourite cup of Starbucks sure feels like one of its kind.
10) Las Vegas, Nevada
Starbucks gets all flashy at The Cosmopolitan hotel in Las Vegas, particularly for its eye-catching geometric art installation that contrasts well with the muted interior. We can imagine it's hard to take your eyes off looking at it while you are drinking your favourite Starbucks coffee.
11) Kyoto, Japan
This century-old machiya (traditional Japanese wooden townhouse) consists of everything from wooden walls to tatami mats and noren curtains. And it happens to be a Starbucks outlet, which comes complete with a zen-like interior and even a traditional Japanese garden. The place also stays true to its old-school Japanese tradition, meaning you are required to take off your shoes before entering the premise for a coffee.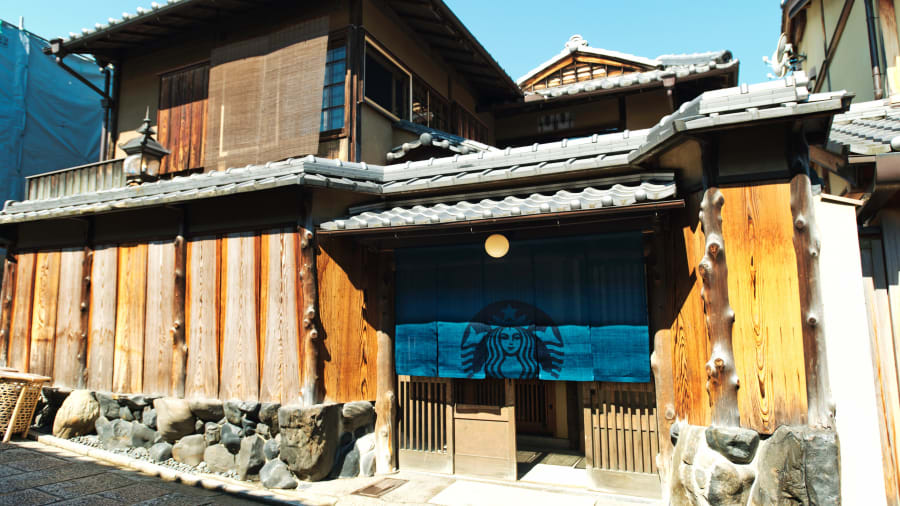 12) Mexico City, Mexico
Looking at the picture below, it's hard to believe that the spiral staircase and the fountain in the middle actually belongs to… a Starbucks outlet. Located at Prado Norte, this aesthetically-gorgeous store is adorned with lavish Spanish-style architecture, tile murals and wood accents.
13) Bali, Indonesia
This Bali outlet famously earned its distinction as the largest Starbucks in Southeast Asia. How large, you say? An astonishing 20,000 sq ft of space. The store, which is actually named Starbucks Dewata, houses a unique half-circle red brick exterior that offers an illusion of wavy movement if you are driving past. The interior is just as grand, complete with a hand-carved wooden mural, Arabica coffee-tree farm and elegantly-designed tasting room.