Here's the thing about tofu: it is bland and tasteless on its own. And frankly, not many people would enjoy eating it. But thankfully, tofu can be tasty if you incorporate them with other ingredients and seasoning. Be it steamed, fried, spicy or soupy, here are the 10 Easy Tofu Recipes For Beginners.
---
1) Steamed Tofu With Minced Meat
Here's an easy-peasy tofu recipe that you can make at home. And it doesn't require a large amount of time to prepare as well. It's one of those simple, comfort dishes best paired with a plate of white rice.
How to make it: To make the steamed tofu with minced meat, you'll need a block of white silken tofu. Remove the tofu from its packaging, trim the sides, cut them into a few portions and steam on high heat for 5 minutes. Discard excess water and set it aside.
Next, combine one tablespoon each of oyster sauce and soy sauce in a bowl of minced meat (you can use pork or chicken). Mix them well altogether before transferring the marinated meat into a wok coated with some oil and cook through. From here, you can choose to stir in chopped shallots, minced garlic, dried shrimps and/or shiitake mushroom. Add in around 3-4 tablespoons of water and stir-fry the ingredients altogether before pouring in the cornstarch slurry. The latter ingredient helps to thicken the gravy. Finally, pour the mixture on top of the steamed tofu and garnish with some chopped spring onions and/or red chillis. Serve hot.
2) Tofu "Egg" Salad
Too lazy to boil an egg or two due to its time-consuming process? Or perhaps you prefer a vegan version of an egg salad? Well, the good news is, you can substitute an egg with tofu as the base of the ingredient. Not to mention making it is fast and simple.
How to make it: Mash a block of firm tofu in a mixing bowl with a fork. Depending on your preference, you can choose to mash them into chunky or crumbly bits. Next, mix in 1/2 cup of mayonnaise, 2 tablespoons of Dijon mustard, 1/2 tablespoons of onion & garlic powder each and combine the ingredients well altogether. You can choose to season with salt, pepper and/or paprika powder. And if you like, top your tofu "egg" salad with a sprinkle of dill and chopped parsley. Enjoy it on its own or add in a sandwich.
3) Tofu Burger
Most of us have grown accustomed to enjoying meat-based burgers ranging from beef to chicken, lamb and pork. But if you prefer a healthier alternative, why not give a tofu burger a try?
How to make it: Remove a block of firm tofu from its packaging and make sure it is drained well. You can wrap the tofu with a clean kitchen/paper towel. Add a weight on top of the towel-wrapped tofu (it could be anything from a small pan to a bowl with a cutting board). This essential "pressing-the-tofu" method helps to remove its excess moisture because you do not want to end up with wet tofu patties later on.
Once the process is done, gently mash the tofu until crumbly in a mixing bowl. Add in chopped onions, finely-sliced red chillies, panko breadcrumbs and season with salt & pepper (You can mix-and-match with other ingredients to boost the otherwise bland taste of tofu). Combine well and do a little taste test to determine whether you need more seasoning. Then, use the palm of your clean hands and gently form the mixture into patties. Fry the tofu patties in oil on medium heat in the pan until they become crisp and golden brown. Cook around 3 to 5 minutes on each side. Next up, it's time to assemble the burger with the likes of burger buns, lettuce, tomato slices and condiments of your choice.
4) Tofu Fruit Smoothie
Fancy drinking tofu for a change? And that beverage in question is a combination of silken tofu and fruit(s) of your choice.
How to make it: Combine 3/4 cup of silken tofu, fruit(s) of your choice and a cup of ice in the blender. Blend the ingredients all together until creamy with a smooth consistency. You can also sweeten the smoothie with 2 tablespoons of honey. Serve immediately.
For the fruit, you can try everything from berries (e.g. fresh/frozen strawberries, blueberries or raspberries) to something tropical like mixes of pineapple and mango.
5) Crispy Fried Tofu
No tofu recipe would be complete without the good old crispy fried tofu. It's the kind of comfort food best eaten as a side dish or a snack. And yes, it's easy to make too.
How to make it: First, you need to gently press your tofu (get a firm one) to remove excess liquid and moisture. Then, cut the tofu into bite-sized cubes.
Now, you can fry the tofu straight in the pan with oil until golden brown but the taste would be bland. Unless if you are okay with that straightforward process, it's best to season the tofu with the likes of salt, curry powder, onion powder, soy sauce and sesame oil. Just feel free to experiment with different seasonings. But whatever you do, remember to let the tofu absorb all the seasoning mixture prior to frying. Serve with sauce dip (e.g. chilli, sweet sauce).
6) Tofu Egg Drop Soup With Tomatoes
Simple yet nourishing, this classic tofu egg drop soup with tomatoes only requires a few ingredients. And as you can already guess them, the main ingredients include tofu, egg and tomatoes.
How to make it: Cut the tofu into cube sizes. Then follow by chopping fresh tomatoes into wedges. Remember to de-seed them. Next, heat up some oil in a pot and cook the chopped tomatoes for around 5 minutes. Or at least until they become soft and tender. Add 2 cups of water along with a cup of vegetable or chicken stock. Bring everything to a boil before adding in the tofu cubes. Next, crack 1 or 2 eggs into the pot gently. Stir the egg liquid around in a circular motion using a ladle. Season with salt and serve hot. You can also garnish the soup with chopped spring onions.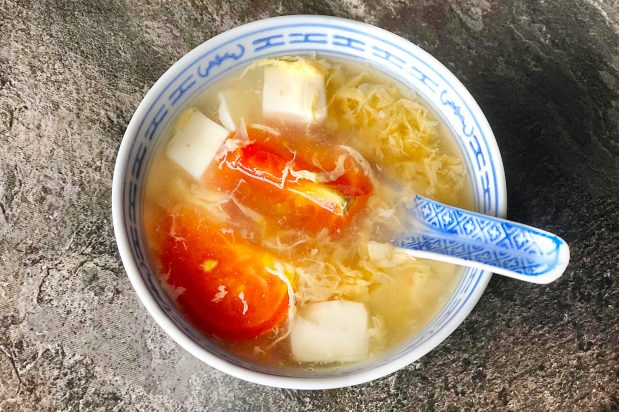 7) Tofu Curry
When we think of curry, the likes of chicken as well as mutton and fish curry often come to mind. But if you wanna go vegan, why not give tofu curry recipe a try?
How to make it: Gently press a block of firm tofu using a kitchen towel to remove moisture and cut it into cubes. Then, toss some cornflour all over the tofu cubes and mix them well. Proceed by heating the pan with some oil and fry the tofu until golden brown. Set them aside.
Now, for the curry base. Add in 1 onion (diced) and 2 cloves of chopped garlic and cook until fragrant. Stir in the spice mixture (ground cumin, garam masala, ground turmeric and cayenne/chilli powder) and cook them for a few minutes. Then, add 1/2 cup of water (you can also include a can of chopped tomatoes) and bring everything to a boil. Reduce to simmer for 5 minutes before seasoning the tofu curry with salt and pepper.
Finally, gently stir in the fried tofu cubes and make sure they are all coated with curry. Serve with rice.
Tip: If you prefer your tofu curry rich and creamy, add 1/2 cup of coconut milk.
8) Stuffed Tofu With Vegetables
Otherwise known as tauhu sumbat, this local tofu snack is often found at roadside stalls. The fried tofu is stuffed with shreds of mixed vegetables (typically cucumbers and carrots) and served with sweet-and-spicy chilli sauce. But you can easily make this stuffed tofu recipe at home anytime you want.
How to make it: Cut the firm tofu diagonally into triangle shapes. Remember to pat them dry with paper or kitchen towels to remove moisture. Then, heat the pan with some oil and deep-fry the tofu until crisp and golden brown.
Once done, set them aside on a paper towel to cool down a little. And while you are at it, julienne some cucumbers, carrots and bean sprouts (you can substitute the latter with turnips). Slit the tofu piece to make an opening just wide enough to stuff the julienned vegetables into each of them. Best paired with sweet chilli sauce or chilli sauce.
9) Tofu Fried Rice
The good thing about the fried rice recipe is its versatility. And that means you can mix-and-match any ingredients you like as long as the rice remains the base. So, instead of the usual chicken/sausage/ham/shrimp varieties, you can also substitute with fried tofu cubes for a change.
How to make it: Cut a block of firm tofu (if you can get extra-firm varieties it would be great) into cubes (make sure you drain them first and pat dry with paper/kitchen towels to remove moisture). Heat the pan with some oil and cook the tofu cubes until crisp and golden brown. Set them aside. Next, cook the fried rice as you normally do (use day-old rice for best result) and add in ingredients of your choice (egg, onion, garlic, carrot and/or frozen mixed vegetables). Then, stir in the fried tofu cubes altogether and season the fried rice with salt, pepper and soy sauce (you can also add in oyster or hoisin sauce). Serve hot.
10) Mapo Tofu
Believe it or not, this classic Chinese tofu dish originated way back in 1862 during the Qing Dynasty era. The traditional mapo tofu typically consists of silken tofu cut into cube sizes, minced pork, spring onion and Sichuan peppercorns — all of which are combined and blanketed in spicy fermented/chilli bean sauce a.k.a. doubanjiang.
How to make it: Drain a block of silken tofu and have it patted dry with paper/kitchen towels to remove moisture. Cut the tofu into cubes and set them aside. Next, heat the pan with some oil and stir-fry the minced pork (you can substitute with minced chicken) until they no longer become pink. Stir in the seasoning mixture (2 1/2 tablespoons of chilli bean sauce, 1 tablespoon of light soy sauce and 1/2 teaspoon of crushed Sichuan peppercorns) and add the tofu cubes altogether with 1/2 cup of water. Make sure to blend the tofu cubes with the sauce gently until well-combined. Mix some cornstarch slurry to help thicken the sauce and cook for around 3-5 minutes. Garnish with chopped spring onions.