If you're a typical girl, you probably use makeup regularly. And even if you don't use makeup regularly, you still use it for special occasions. The makeup trend is really booming now, and it's not an exclusively-female thing anymore, with some of the biggest beauty stars being male! There's almost no escaping the beauty trend, and there are plenty of makeup brands to choose from. With such competition, it's no wonder that brands are constantly trying to up their game, and one way is by collaboration. Without further ado, here are 8 makeup x pop culture collabs that are almost too good to be true!
---
1) Colourpop x Disney Princesses
It's every little girl's dream come true! Named the Disney Designer Collection, this collection features six Disney Princesses: Tiana, Airel, Belle, Jasmine, Snow White and Cinderella. Not only does each princess have her own lipstick shade, but she also has her own eyeshadow pot as well! Other than that, there are also two highlighters, three other lip glosses, and an eyeshadow palette named It's A Princess Thing. You can get items individually, by lip kit, or by princess collections. When in doubt, get the whole collection!
2) Bésame x Disney's Peter Pan
2018 was Peter Pan's 65th anniversary, and Bésame collaborated with Disney to release a collection based on the mermaids of Neverland Lagoon. The Mermaid Lagoon collection has three lipsticks, a bronzer, an eyeshadow palette, a shimmer compact, and a mist fragrance. All items are dreamily named, such as Treasures of the Lagoon and Waterlily Blossom. Again, if you can't decide, you can always get the whole bundle!
3) Etude House x KitKat
Etude House has just recently launched two eyeshadow palettes that look good enough to be eaten – in the form of KitKat bars! One palette is encased in red and of course named "Original", whereas the other is encased in white-and-pink stripes, named "Strawberry". Each palette has six shades, and they both feature a mixture of matte and shimmer powders. We'd say the Original is more smoky, whereas the Strawberry is cuter! By the way, they're called Play Color Eyes #KitKat if you look for them on Etude House's website.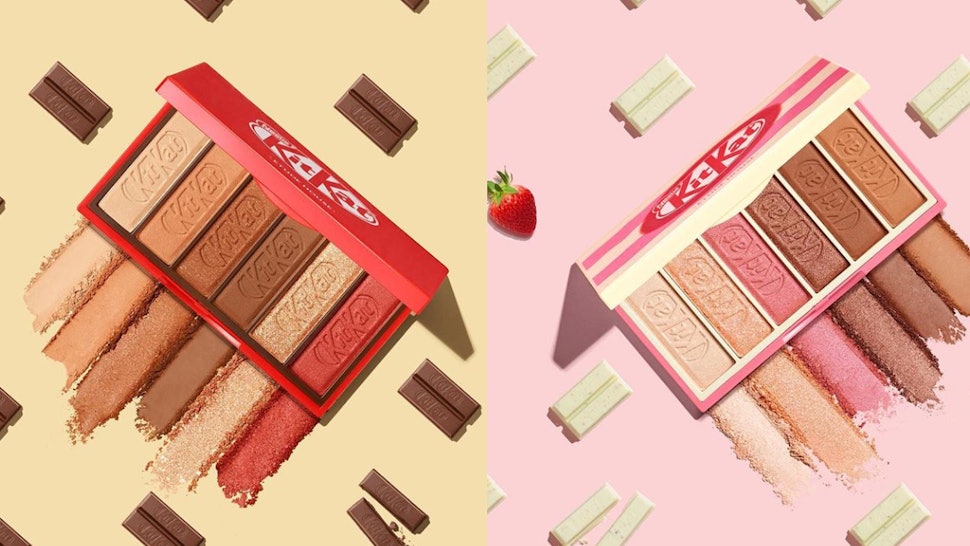 4) M.A.C. x Aladdin
Okay, so unless you've been living in a cave, you probably already know that the live-action remake of Aladdin is releasing in May, and M.A.C. is sweetening the deal for us by releasing a collection based on Princess Jasmine! So far, what we've seen includes a lipstick, a bronzer and a nine-shade eyeshadow palette. Packaging is all themed accordingly, and the bronzer even has a lamp stamped on it. If we can't have a lamp, perhaps we can use the bronzer and wish that there are more items to this collection! It drops 1st May, FYI!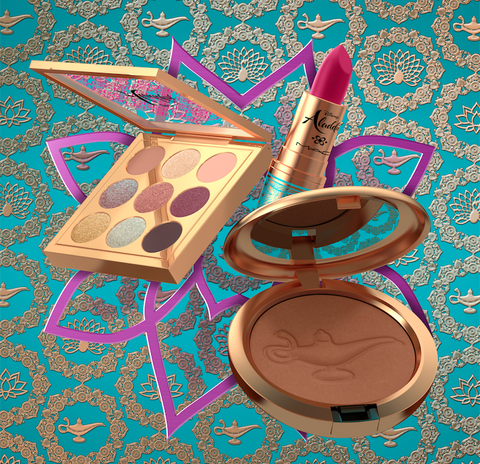 5) Colourpop x Disney Villains
Being bad has never looked so good with this collection, honestly. Based off Hades, Dr. Facilier, Evil Queen, Maleficent, Cruella and Ursula, we're actually loving this one more than the princess one! There's a Misunderstood palette with 15 shades, and each villain has their own signature lipstick, lip gloss, eyeshadow and highlight shades as well. To top it all off, the collection also has two glitter-packed gel pastes, named Glitterally Obsessed. We especially love Cruella's highlight shade, so when people ask what highlighter we're wearing, we can answer with You Fools! You Idiots! You Imbeciles!
6) Urban Decay x Game of Thrones
If this isn't the single most anticipated makeup collection thus far, I don't know what is. The final season of GoT airs 14th April, and fans worldwide are already going into a frenzy with discussions, debates, predictions, and such. GoT has never collaborated with any makeup brand before, and UD has gotten first dibs. Just the day before we published this, we also published an article dedicated solely to the launch of this collection (have you read it yet?). This collection features an eyeshadow palette, lipsticks, eye pencils, a highlighter palette, a lip and cheek tint, as well as eyeshadow brushes. Want to know more? Read our article here!
7) Too Faced x Unicorn
Alright, so this isn't strictly a collaboration with anyone, but it deserves a mention simply because unicorn! A well-loved mythical creature, even the products are packaged ethereally. There's something called Bottle of Unicorn's Tears, and we're not crying, you're crying. There's also a bronzer, highlighting sticks, and lip toppers, but what we're looking at is their La Creme Mystical Lipsticks. Made from tears of mermaids, angels, fairies and unicorns, these lipsticks change colour according to body temperature, and they already look magical enough in their original colour.
8) Storybook Cosmetics x  Wizardry & Witchcraft
This, too, isn't an official collab, but it is inspired from Harry Potter and all things magical. We're pretty sure you've at least encountered their Gun Metal Wizard Wands brushes before. In a set of 5, these brushes took the internet by storm and sparked a host of other counterfeit products. In addition to the brushes, they also have a Wizardry & Witchcraft Liquid Lipsticks Collector's Edition, and a Wizardry & Witchcraft Eyeshadow Palette Storybook. The latter of which is owned by yours truly, and can confirm that it is indeed the bomb! (Rich pigments, magical names, matte and shimmer shades in various colours!)
So all my beauty gurus and makeup junkies out there, have you tried out any of them? Between Aladdin and GoT, which one are you leaning towards? Let us know in the comments below!
---
https://www.facebook.com/tallypressmy/