There's a lot to like about owning a pair of wireless earphones. You no longer have to worry about the messy, tangled wire. Wireless varieties are more convenient, particularly if you are constantly on the move. And of course, they are packed with a host of key features that make listening to music all the more immersive and comfortable. So, take your opportunity to grab one of these 5 Best Wireless Earphones To Buy This 11.11 Lazada Sale.
---
Immerse yourself deep into the world of music with Sony WH1000XM3, which boasts a superb noise-cancelling technology. It comes equipped with an Adaptive Sound Control (ASC), a handy feature that detects one of four motion presents including Sitting, Walking, Running or Transport. You can even adjust your preferred level of ambient sound between the voices and background noises. The wireless headphones are also lightweight and comfortable to wear even for long hours. And speaking of long hours, it packs a durable battery life capable of lasting up to a whole day.
Need further convincing? Here's more: the Sony WH1000XM3 means serious business when it comes to sound quality with the integrated 360 Reality Audio technology. That means you get to listen to your favourite song or music regardless of any genres ranging from vocal performances to the beat of the instrument in a more refined way. To put it simply, it's like the music is playing live in front of you. Then comes the portability, where the wireless headphones can be folded and placed into a bundled carrying case when not in use. Available in black and silver variants.
Owning a pair of true wireless earphones can be costly for some people. But Aukey EP-T10 is thankfully one of the aforementioned earphones that comes with a budget-friendly price. Something that you don't have to max out your credit card just to own a pair. Despite its price range, Aukey EP-T10 doesn't skimp on features. You'll get all the essentials here: ergonomically-designed earphones made with better fit & comfort in mind, an IPX5 rating that is both sweat- and water-resistant and a durable battery life capable of sustaining up to 6-7 hours of continuous playback. It has a decent sound quality for such a price point, while the Bluetooth 5.0 connection able to hold wireless signals up to 10 metres well enough minus the interference.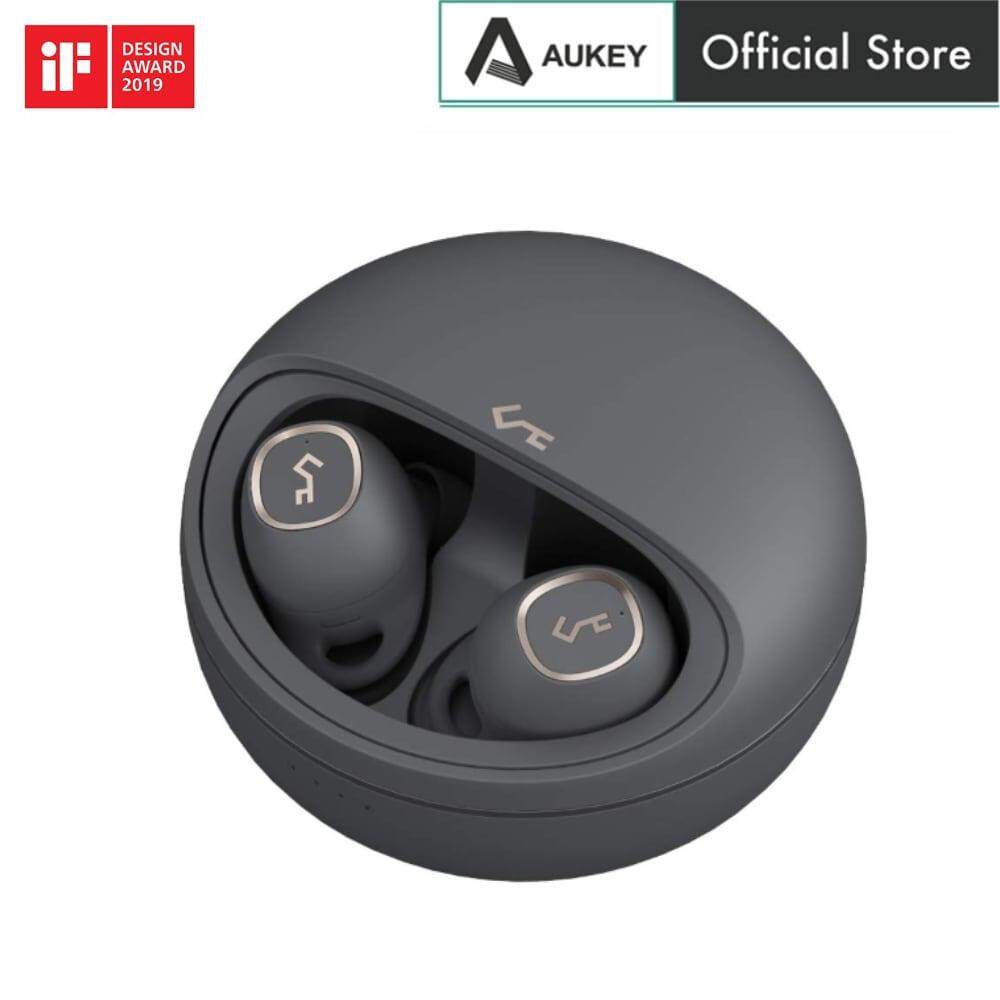 Here is another pair of affordable true wireless earphones that costs a fraction of the price. They may have some budget pieces but Xiaomi Redmi AirDots are far from a flimsy product. Both of the in-ear designs are amazingly lightweight and ergonomically designed to fit snugly in your ears. They even shipped together three different earplug sizes, consisting of small, medium and large — all of which weigh a mere 4.1g each.
Other highlights include faster and more reliable Bluetooth 5.0 connectivity, a multi-function touch-sensitive button capable of playing/pausing music, answering a hands-free call and turning on the voice assistant. The 4-hour battery life is decent enough for normal usage such as listening to music while commuting regardless of train or bus ride to work. Don't worry about running out of juice, though. The Xiaomi Redmi AirDots comes bundled with a portable charging case, which can last up to 12 hours.
Like their popular smartphone counterparts, the Xiaomi's range of true wireless earphones offers feature-packed specs at a budget-friendly price tag. Which brings us the Xiaomi Haylou GT1, boasting two lightweight yet compact-sized earbuds with silicone tips that fit snugly in your ears.
Highlights include a multi-function touch control for the likes of playing music, answering an incoming call and skipping a track. Battery life can last around 4 hours on a single charge but there's a travel-friendly charging case, which can last you up to 12 hours of music playback. The Xiaomi Haylou GT1 uses a Bluetooth 5.0 connectivity since it is known for its better reliability and stability as well as faster transmission speed. Available in black and white variants.
Minimalism takes centrestage as usual in Apple AirPods 2. It boasts the same familiar all-white design, complete with a pair of lightweight earbuds and protruding stems. In fact, they are so lightweight at less than 4g – it's like basically wearing nothing at all. So, don't be surprised to find yourself being paranoid for losing your precious AirPods every now and then. Design aside, the Apple AirPods 2 is able to last up to 5 hours of playback on a single charge (over a day's worth with charging case). Setup is just as easy regardless of pairing it with your iPhone or Apple Watch.