There's no denying that we Malaysians are rather creative when it comes to our first great love: food. Some staple Malaysian food items include rice, durian, chilli, and Maggi mee; and we love to mix them up with other food to see what creations we can make. You could easily replicate some of these Malaysian food combos at home, whereas you would have to visit the shops for others if you want to try them out for yourself.
---
1) Maggi Mee + Cheese
You may or may not have tried this before as it's really simple, but this is officially a Malaysian thing now. This tastes especially good when you're tired of plain old Maggi mee, letting the flavour of cheese take over instead.
2) Noodles + Curry Sauce
Ubiquitous at events which use food caterers (birthday parties, weddings etc.), this combination is a local favourite. Select your noodle of choice (fried beehoon, fried mee) and drizzle curry generously over your noodles to enjoy!
3) "Michael Jackson"
This is actually just a fancy name for soya bean and cincau; you can guess why locals dubbed it "Michael Jackson". This drink isn't as popular as it was last time, but the older generation will definitely remember this. Why not try this the next time you eat out?
4) Chilli, Chilli & More Chilli
We eat roti canai with curry. Nasi lemak with sambal. Curry laksa with chilli padi. Mee goreng tambah pedas. There are so many ways to incorporate chilli into our food, and we never waste an opportunity to enjoy chilli, even if we get a horrible stomachache later from chilli overload. Even plain white rice with chilli padi makes a good meal!
5) The Milo Invasion
Other people: *spoons milo powder into a cup and adds hot water*
Malaysians: *ADDS MILO TO EVERYTHING*
Milo isn't just a household beverage anymore, you know? The ways Milo has infiltrated our food include Milo with Maggi curry, roti Milo, the Milo dinosaur, Milo with raw egg, Milo powder with bread (sometimes with condensed milk), and of course, Milo powder spooned straight into our mouths.
6) Rojak + Cendol
No, we do not have one without the other. They come in a package, like kaya and butter on toast. One does not simply separate them. A bowl of ice-cold cendol is perfect to wash down a meal of rojak, which could be slightly spicy for some people.
7) Rice + Ketchup/Chilli Sauce
This is what to do when you're lazy to cook or have run out of groceries at home. It may not appeal to everyone, but if you're feeling adventurous and/or really love ketchup/chilli sauce, you should totally try this combination!
8) Coffee/Tea Variations
If you frequent mamak shops or kopitiams, then you'll know what I mean. From coffee or tea, we've managed to come up with several variations of those two drinks, including cham, kopi c, teh o ais, kopi o and teh c beng. And who doesn't know the all-time favourite, teh tarik kurang manis?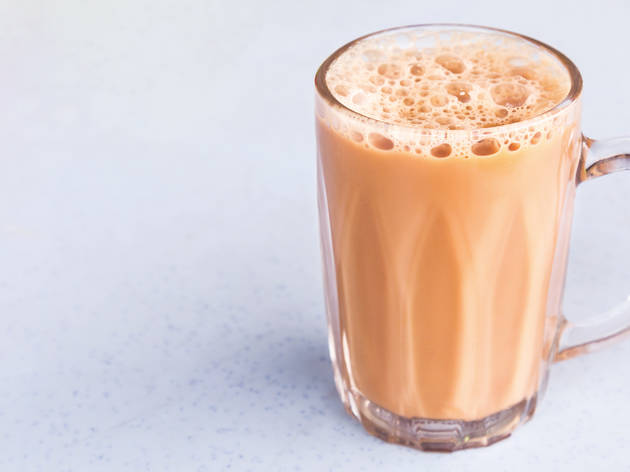 9) Rice + Durian
Another combination that's not for everyone, but rather well-known nevertheless. As both are fair representatives of Malaysia, you can't get any more Malaysian than this. Self-proclaimed durian lovers should definitely try this at least once in their lives.
10) "Nasi Lemak" Everything
You name it, we've got it. From cakes to crème brûlée, crêpes to burgers, and even ice-cream, we love our nasi lemak too much to just eat it like that. No, nasi lemak deserves to be in everything.
---
https://www.facebook.com/tallypressmy/