Most of us would gladly settle for a dessert commonly available in a convenience store, supermarket, cafe or ice cream parlour. But this following list below reveals 8 Most Expensive Desserts In The World that would cost a fortune for most average people. The question is, would you get some?
---
1) Strawberry Arnaud (USD9.85 million / RM41,320,750.00)
Look at the serving cup. It really looks like a deceptively simple combination of locally-grown strawberries topped with whipped cream. But the truth is, this particular dessert costs an exorbitant price due to its additional ingredients. This includes Ceylon cinnamon, Tahitian vanilla, ruby port sauce and 24-carat edible gold leaf flakes. Completing this dessert is Arnaud's signature French 75 cocktail concocted with Cristal Champagne, Hennessy Paradis, Grand Marnier 100 and freshly-squeezed lemon juice. There is even an engagement ring adorned with an eye-popping 10.06-karat royal blue diamond exclusively from MS Rau Antiques in the French Quarter. All this was specially created in conjunction with Valentine's Day back in 2016.
2) Diamond Fruitcake (USD1.72 million / RM7,215,400.00)
Believe it or not, this special creation took pastry chef Jeong Hong-Yong a whopping seven months to design and create this diamond-studded fruitcake! Made for the Takashimaya Department Store in Tokyo, this fruitcake is studded with 223 individual diamonds totalling at 170 carats.
3) Platinum Cake (USD130,000 / RM545,350.00)
Created by Japanese pastry chef Nobue Ikara, this otherwise simple white cake is adorned with all things platinum including chains, necklaces, pendants and pins as well as edible platinum foils. The cake was specially made as a dedication to Japanese female celebrities, with one of them happening to be Rinko Kikuchi of "Babel" and "Pacific Rim" fame.
4) The Absurdity Sundae (USD60,000 / RM251,700.00)
How would you feel if you require to pay RM250,000+ for an ice cream sundae? Definitely absurd, indeed! So, what do you actually get for that kind of price? Here goes: A first-class flight to Mount Kilimanjaro, where the founder of Three Twins Ice Cream himself will personally hand-churn the ice cream using the glacial ice specially harvested from the mount's summit. Other package includes five-star accommodations, all-you-can-eat ice cream buffet, a guided climb and an organic cotton T-shirt. Throw in an extra USD25,000 (RM104,875.00) and you can bring a friend with you.
5) Lindeth Howe Country House Hotel Chocolate Pudding (USD34,000 / RM142,630.00)
A chocolate pudding may be a common dessert but certainly not this one. Chef Marc Guibert of the Lindeth Howe Country House Hotel in England created this exquisite chocolate pudding, where he is meant to replicate a Faberge egg. The dessert itself is made from four different flavours of Belgian chocolates with gold & champagne caviar and covered with edible gold leaf. It also comes with a USD700 (RM2,936.50) bottle of Chateau d'Yquem.
6) Frrrozen Haute Chocolate Sundae (USD25,000/RM104,875.00)
The New York-based Serendipity 3 restaurant created this exquisite chocolate sundae using imported ingredients from around the world, with the cocoas specially sourced from different parts of the world. The edible gold and the truffle (La Madeline au Truffle, to be exact), in the meantime, are flown in from Switzerland and France respectively. Served in a goblet with a gold crown, an 18-karat gold bracelet and a 1-carat diamond, the dessert also comes with a golden spoon that you can bring home.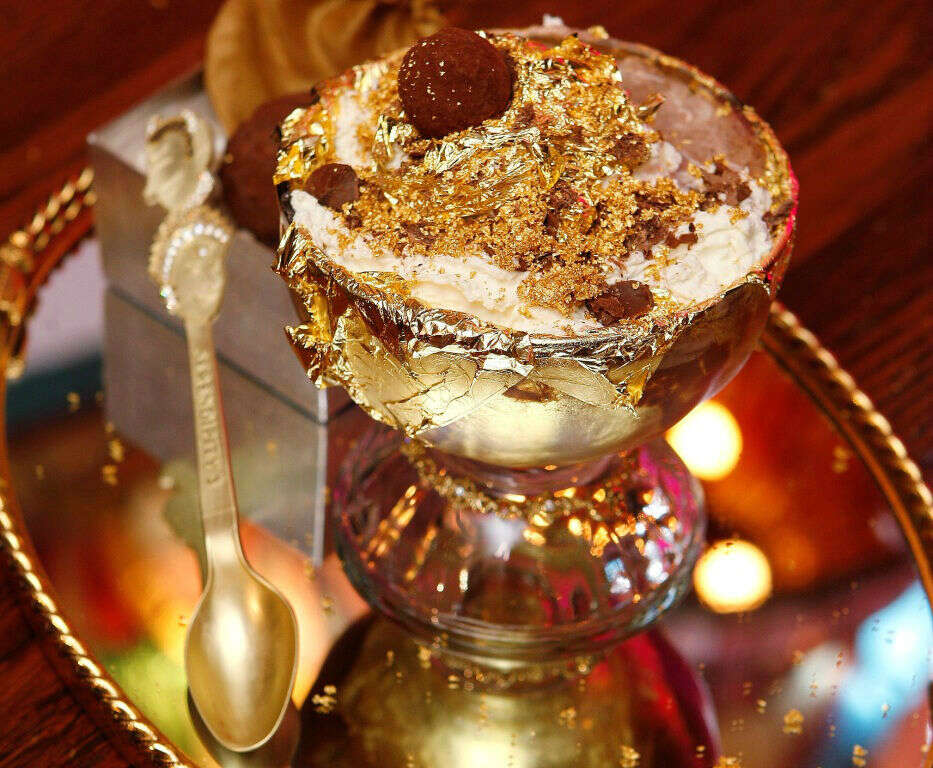 7) Krispy Kreme's Luxe Doughnut (USD1,685.00 / RM7,068.60)
Krispy Kreme needs no introduction. After all, this famous American doughnut can be easily found in major shopping malls like Berjaya Times Square, Mid Valley Megamall and Sunway Pyramid. While a premium doughnut that is available in stores would set you around RM4.00 per piece, this one is a whole different league altogether. Put it this way: can you imagine yourself paying a whopping RM7,000+ over a Krispy Kreme doughnut? Otherwise known as the Luxe Doughnut, it was actually once created at a Krispy Kreme outlet in the UK's Selfridge department store back in 2014. The doughnut was mixed with Dom Perignon champagne jelly and decorated with a 24-carat gold leaf, edible diamonds and a golden white chocolate lotus.
8) La Madeline Au Truffle (USD250.00 / RM1050.00)
Chocolate truffles are typically expensive. But this particular dessert would probably cost too much for most people. Made from a rare French Perigord truffle and 70% premium Valrhona dark chocolate, La Madeline au Truffle also includes heavy cream, vanilla and sugar — all beautifully packaged in a decorative golden box. Keep in mind that this dessert is only available on orders and can be found at Knipschildt Chocolatier in Norwalk, Connecticut.
---