Forget about the conventional bars. Why not chill over a drink at a speakeasy bar for a change? The kind that isn't visible in plain sight and requires you to search for some kind of an entrance. Besides, we all need a little adventure once in a while. Here are the 8 best hidden bars in alphabetical order that you might want to hunt for in Klang Valley.
---
1) Omakase + Appreciate
Finding Omakase + Appreciate can be tricky if you are a first-timer. Located at the basement of Bangunan Ming Annexe, the bar is actually hidden behind the "No Admittance" white door. Their cocktails are particularly a winner here. Just leave it to mixologists Shawn Chong and Karl Too to come up with a concoction that suits your taste buds. After all, they named "omakase" for a reason — which means "I will leave it to you" in Japanese.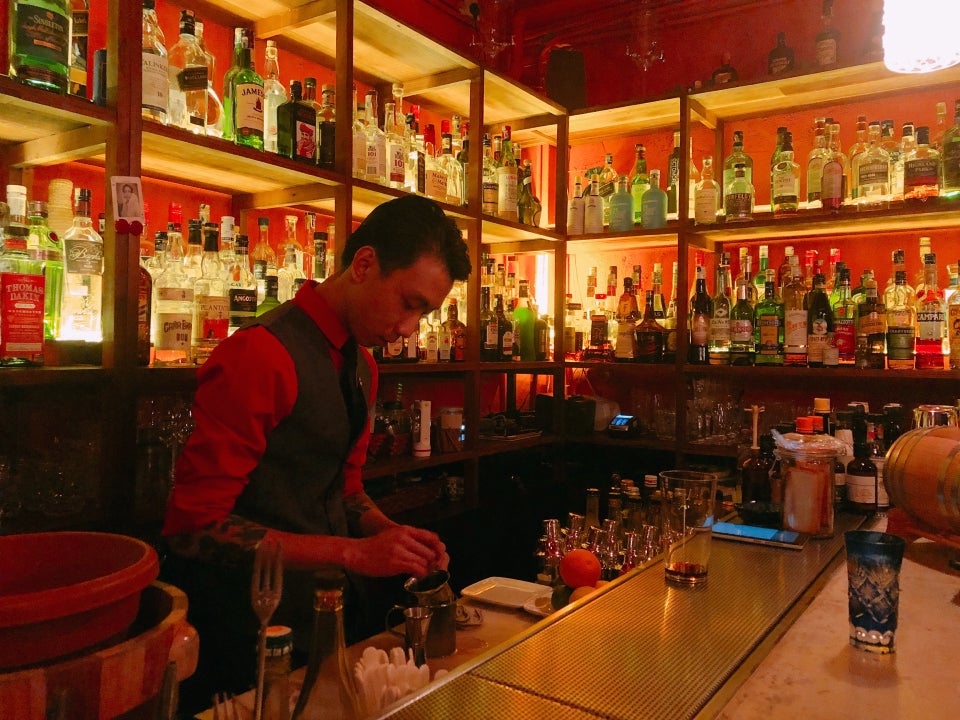 2) Pahit
Pahit, which means "bitter" in Malay, is definitely a go-to hidden bar if you like gin. You will definitely be spoilt for choices here but whatever you do, never give their "Gin Pahit #2" a miss. As one of Pahit's signature drinks, this bittersweet gin-infused cocktail is concocted with dry gin, lime, orange bitters and falernum syrup. Other gin-infused cocktails worth trying are "Pineapple and Basil Fruit Gin" and "Pineapple Smash". If you are more of a traditionalist, not to worry as Pahit also serves good old-fashioned gin as well.
3) P&C Cocktail Bar
Somewhere behind Naughty Nuri's at Desa Sri Hartamas lies a bar with… no menu. At least not in a traditional manner. You have to refer to the double-columned placard where you are required to choose types of flavours, tastes and base liquors like absinthe and brandy. Pick your "poison" and let the mixologist weave his magic to concoct your customised cocktail. But a word of warning, though: the price can vary from RM45++ to RM70++ a glass, depending on the ingredients you pick. It might be costly for some but one thing for sure, the experience is worthwhile.
4) Private Room
Unlike most speakeasy bars in Klang Valley, Private Room specialises more on wine varieties. There are hundreds of different labels to choose from, making this a must-visit drinking spot for wine lovers. Even if you are not into wine, rest assured they still serve liquor like vodka and brandy as well. Look for the yellow door since Private Room has no signboard whatsoever. And to enter the bar, you need a door access password after you have made your reservation or buzz the doorbell if you are a walk-in customer.
FB: prttdi | IG: @privateroomttdi
5) Skullduggery
Cosy, intimate and dimly-lit, Skullduggery sure feels like stepping into your own private space. It's the kind of hangout perfect for a small gathering with your bestie(s) or your loved one. But it is their drink that matters the most. Creative is the only word to describe Skullduggery. For instance, sample some of their unique cocktails such as the jackfruit-spiced "Jack O'Mai" and the savoury truffle-infused "Don't Do Shrooms".
FB: skullduggerykl | IG: @skullduggery_kl
6) The Attic Bar
In the midst of the famously crowded Petaling Street lies a rooftop bar with a picturesque view. Getting there isn't exactly straightforward, though. You have to pass through Travel Hub Guesthouse on the first floor and climb two more floors using the spiral staircase at the back. But the journey is worth the walking trip. You will be greeted with charming decor like exposed bricks, wooden birdcage-like chandeliers and bean bags as you enter the bar. If that's not tempting, wait until you look at their drink menu. Beers like Carlsberg, Guinness and even Hoegaarden are all reasonably priced below RM20. You can try some of their signature cocktails like "Jungle Bird" (Campari, rum, fresh lime juice, pineapple juice & sugar) and the locally-inspired "Masam Manis" (limau purut (kaffir lime)-infused gin, lime juice, egg white & sugar syrup). Fans of "Game Of Thrones", in the meantime, wouldn't want to miss the series-inspired cocktails such as the sweet and zesty "The Dragon Lady (Khaleesi)" and the vodka-infused "Jon Snow".
atticbarkl.com | FB: theatticbarkl | IG: @theatticbar_kl
7) The Pawn Room
One thing worth noting about The Pawn Room is their distinctive old-fashioned Chinese decor. It's like stepping into a 1920s bar, complete with old Chinese newspapers on the bright red walls, traditional chairs & tables and Instagram-worthy, upside-down paper umbrellas hang above the ceiling. Their drinks are just as fascinating. "Liang Moi", for instance, is a rum-infused cocktail with pineapple & lime juice, egg white, pandan cream as well as macaroons & pandan syrup. Here are other concoctions you might want to try: the gin-based "Ming Hua" with elderflower syrup & raspberry puree and the tummy-warming "Chinese Cinderella". To make things even more interesting, the latter drink is actually served in a teacup!
FB: tprttdi | IG: @thepawnroom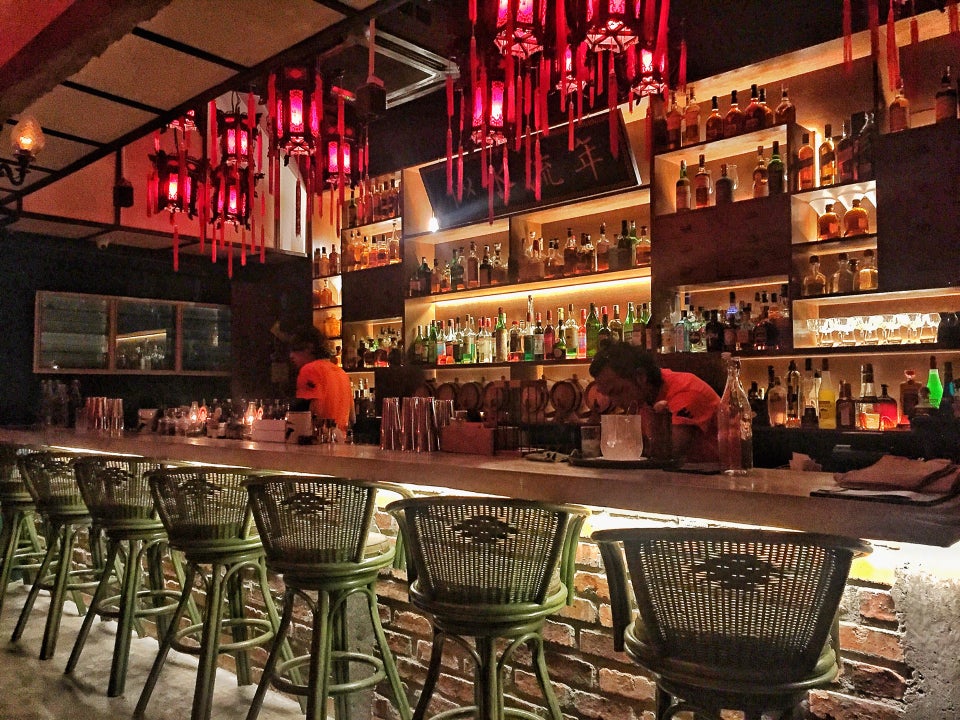 8) The Vault
True to its name, this hidden bar at Sri Hartamas is located behind a vault door. Even the (walking) journey leading to the bar is just as interesting, complete with dimly-lit staircases and low ceilings. For drinks, do try their Campari and gin-infused "Smokey Negroni". Keep in mind their dress code is strictly smart casual and flip-flops are definitely a no-no.
thevaultkl.com | FB: thevaultkl | IG: @thevaultkl
---
https://www.facebook.com/tallypressmy/