People tend to get nervous when it involves going under the knife. This is especially true for those who consider undergoing a plastic surgery treatment. Such fear is understandable. This is why it matters a lot to locate the best clinic possible that specialises in plastic surgery procedures. Here, we have compiled the Top 10 Plastic Surgery Clinics in Singapore based on your votes.
---
 1) Evan Woo Breast & Plastic Surgery
Evan Woo Breast & Plastic Surgery specialises in both breast cancer removal and reconstructive treatment. Comprehensive related services include breast/nipple reconstruction, breast reduction, inverted nipple correction, small scar accessory and gynecomastia (man boobs). The clinic also offers a personalised, yet holistic approach for breast cancer patients. Every treatment is meticulously dealt with utmost care beginning from the diagnostic tests to the best possible surgical options regardless of removal or reconstruction. If you have any question about the breast cancer removal or reconstructive treatment, do not hesitate to contact their clinic at +65 6734 1213 or fill in the form right here.
evanwooplasticsurgery.com | FB: evanwooplasticsurgery | IG: @evanwoobps
2) AZATACA Plastic Surgery
AZATACA Plastic Surgery was founded in 2017 by three experienced and well-trained plastic surgeons including Dr Christopher Chui, Dr Mohamed Zulfikar Rasheed and Dr Terence Goh. Some of the treatments offered at AZATACA Plastic Surgery include breast reduction, rhinoplasty, facial rejuvenation with fillers and correction of ear deformities. Make an appointment here or contact +65 6778 8648 for further info regarding their services available.
azataca.com | FB: azatacaplasticsurgery | IG: @azatacaplasticsurgery
3) Dream Plastic Surgery
Dream Plastic Surgery prides itself on their high-quality bespoke services for both plastic surgery and aesthetic treatment. The clinic was spearheaded by Associate Professor Vincent Yeow, a renowned surgeon specialises in both craniofacial and plastic surgery. He has more than 20 years of experience and also among the local surgeon in Singapore who pioneered the use of Endoscopic Brow Lift to reverse the signs of ageing. He is ably backed by Dr Por Yong Chen, a highly-experienced plastic surgeon who previously won the Owen Cole Young Investigator's Award and Young Surgeon's Award. The clinic itself has garnered numerous accolades including four consecutive awards in 2015 from top fashion magazines such as Harper's Bazaar and Singapore Women's Weekly.
dreamplasticsurgery.com | FB: DreamPSSG | IG: @dreamaestheticssg
4) Allure Plastic Surgery
Just like the name itself, Allure Plastic Surgery is dedicated to making you look like a million dollars. Some of the clinic's signature services include Korean-style double eyelid creation, scarless eye bag removal, tummy tuck, breast augmentation and rhinoplasty. The surgery is led by Dr Samuel Ho, a reputable plastic surgeon who has prior experience working alongside top plastic surgeons in Korea such as the 101 Plastic Surgery Clinic and Hanyang University Hospital. Allure Plastic Surgery also offers comprehensive concierge services for both local and international patients such as post-surgical care support, personal medical butler services as well as specialist doctor recommendations. Book your reservation or an appointment right here or call +65 6734 9988 for more info.
allureplasticsurgery.sg | FB: allureplasticsurgery.sg | IG: @allureplasticsurgery.sg
5) Por Yong Chen Plastic Surgery Singapore
Joining the rank is Por Yong Chen Plastic Surgery Singapore, who is also part of the Dream Plastic Surgery surgical team (you can read the No. 3 above). Dr Por takes pride in delivering the best possible result ranging from the consultation to the surgical procedure itself. He is also an expert in various kinds of plastic surgeries such as cleft lip repair/rhinoplasty, breast/lower limb/burns reconstructions and scar revisions. Book your appointment by calling +65 6871 8888 or simply fill in the form right here.
poryongchen.webs.com | FB: PorYongChenPlasticSurgerySingapore
6) Aesthetic & Reconstructive Centre
Aesthetic & Reconstructive Centre (ARC) is located at Mount Elizabeth Hospital Medical Centre, offering all kinds of plastic and reconstructive surgery ranging from hair removal to body contouring therapy. The clinic is headed by Dr Andrew Khoo, a veteran plastic surgeon whose prior experiences include serving a two-year term as the President of the Singapore Society of Cosmetic (Aesthetic) Surgeons from 2004 to 2006 and a contributor for 16 published articles in international plastic surgery journals.
andrewkhoo.com | FB: aestheticandreconstructivecentre
7) Colin Tham Plastic Surgery
Located in Orchard Road, Colin Tham Plastic Surgery provides a one-stop solution in all manners of plastic and cosmetic surgery including surgical and non-surgical procedures. Dr Colin Tham, who led his eponymous clinic, is best known as among the first plastic surgeons in Singapore who pioneered the acclaimed VASER Hi-Dep Liposculpture. The aforementioned procedure refers to the liposuction surgery, which uses a combination of patented ultrasound technology and state-of-the-art surgical techniques to remove unwanted fat such as tummy, face and thighs.
colintham.com.sg | FB: colintham.plastic.surgery
8) MH Plastic Surgery
MH Plastic Surgery is yet another plastic surgery clinic located strategically in Orchard Road. The clinic is led by Dr Martin Huang, a top plastic surgeon where some of his expertise include double eyelid surgery and breast augmentation. You can send your enquiry regarding their services via WhatsApp at +65 9298 5578 or contact +65 6733 3372.
mhplasticsurgery.com.sg | FB: mhplasticsurgery
9) Shens Clinic
With over 19 years of experience, Dr Shens is one of Singapore's most sought-after plastic surgeons specialised in eyes, face and body cosmetic treatments. Whether you are looking for a double eyelid creation or buttock augmentation, you can visit his eponymous clinic at 3 Killiney Road or make an appointment right here.
shensclinic.com | FB: drshensclinic | IG: @shensclinic
10) Leslie Kuek Plastic Surgery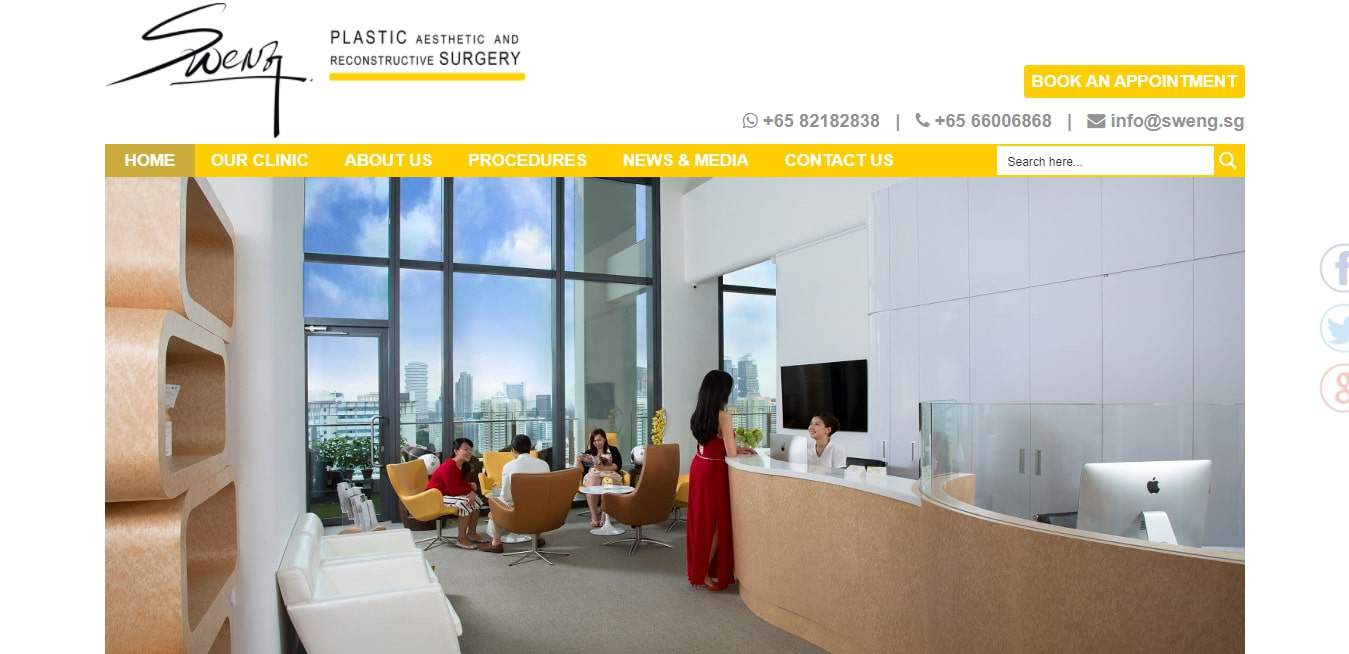 Dr. Leslie Kuek is an award-winning plastic surgeon who received the Young Surgeon's Award for Best Scientific Research back in 1989. Also a former president of the Singapore Association of Plastic Surgeons, Dr. Leslie Kuek has since operated his own clinic at Mount Elizabeth Novena Specialist Centre. His services covered everything from eye to nose and chin to breast. He also offers a range of body contouring services including liposuction and tummy tuck, as well as non-invasive surgeries like facial rejuvenation and Botox injection. You can send your enquiry by filling in the form right here or call +65 6472 2972.
lesliekuek.com.sg | FB: lesliekuekplasticsurgery | IG: @lesliekuekplasticsurgery
That's not all! More Top 10s in Singapore are waiting to be discovered!
---
The compilation of this list was made from accumulation of Public Votes at TallyPress.com.