Stemming from Hawaiian roots, poké bowls were once served as fishermen snacks by seasoning their cut-off's catch. It's seasonings were heavily influenced by the Japanese during the Japanese invasion in Hawaii during the Second World War. With its long history and rich culture, poké bowls have been on the hunt by poké lovers since its emergence in Klang Valley. Here's a list of the top 5 poké bowls to catch in Klang Valley!
---
1) The Fish Bowl
The Fish Bowl has come a long way creating fish bowls since 2016. Essentially, a poke bowl here primarily consists of three components: fibres (furikake, avocado, nori, edamame, quinoa) to brighten up the bowl; protein in the form of different fish such as Norwegian salmon, tuna, shrimp, and chicken; and lastly, carbohydrates with either brown rice or Japanese white rice. Mix them up with your choice of irresistable marinades, which are kaffir lime, shoyu, and sriracha. Have a go at their bestseller Shoyu salmon bowl with its rainbow coloured presentation and its tender salmon sashimi! Each bowl is priced at RM 17.90.
thefishbowl.my | FB: thefishbowlmalaysia
2) Paperfish
If you've never tried creating your own Poké bowl, Paperfish is probably a good start. Firstly, you choose your base with either white rice, brown rice, or quinoa. Next, choose your protein choice with salmon, tuna, or shrimp served with a variety of flavours such as Umami Shoyu, Sriracha sauce, cili padi, pineapple and citrus. If you're a vegetarian, don't worry! They also have a vegetarian bowl with avocado goodness. Lastly, top it up with healthy toppings such as chia seeds, almonds, flax seed and avocado. Each bowl is usually priced with a decent RM 15.90.
paperfish.com.my | FB: paperfishmy
3) Rubberduck
Since the addition of Salmon poké bowl to their menu, it has caught the attention of many poké bowl lovers. You can expect your bowl to be served with the finest salmon and topped with cucumber, pickled radish, purple cabbage, and parsley over a satisfying bed of rice, dressed in ponzu sauce that gives a flavourful kick. Rubberduck is perfect for those who like a quick option without having to go through the fuss of building a poké bowl themselves. Each bowl is priced at RM 22.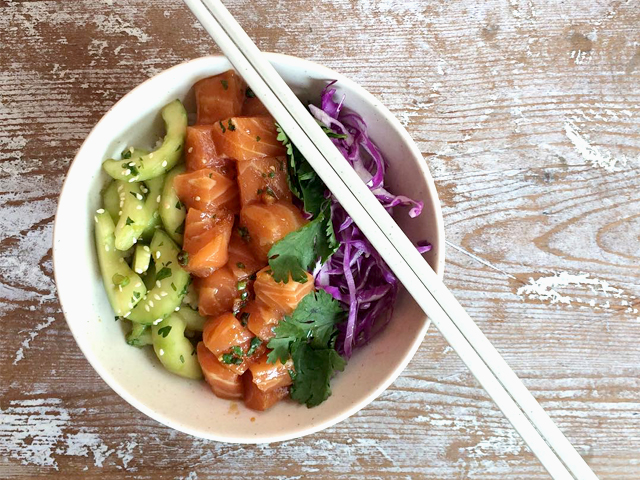 IG: @rubberduckquack
4) Fat Fish
Fat Fish is known to be a neighbourhood friendly place for fresh seafood. You can expect to choose from a wide variety of seafood selections, such as trout from Norway, fish and shellfish from Japan, oysters from Ireland, France, United Kingdom, Australia, and New Zealand. What makes their poké bowls unique from the rest is their clear Japanese influence! Unlike the throw-together look traditional bowls have, Fat Fish serves them with meticulous and well presented arrangement with bold colours. It's definitely an Instagram-worthy shot! Each bowl ranges from RM 25-28.
thefatfish.com | FB: thefatfish.sb | IG: @thefatfish1505
5) Fin
If you're looking for a true traditional Hawaiian poké, you can count on Fin. You can choose from their three signatures, or customise your own bowls. One of their bestsellers is Moana which consists of salmon, toragashi egg, edamame, sweet corn and purple cabbage topped with seaweed, roasted sesame mayo and wasabi peas. Whichever you pick, you're bound to be treated with fresh fish and healthy fillings. Each bowl ranges from RM 15.
FB : thefinpeople
---
https://www.facebook.com/tallypressmy/