All right, this is how it is. Something is created, and suddenly there's a whole fan base out there, always clamouring for more. What do we mean? Let me give you some examples: Marvel, DC, Harry Potter, Game of Thrones, Disney… from movies, books, merchandise and extra content, it seems like its never enough to keep us hungry fans satisfied. To complete the whole experience, some places now offer stays. That's right, if you're a real hardcore fan, why not book yourself one of these pop culture-themed stays and go wild with glee?
---
1) Batman Suite, Taiwan
This must really be a dream come true. Ever thought about sleeping in a Batman bed, or casually lounging on a mini-Batmobile sofa? Well, now you can do that in the confines of a Gotham city room in Eden Motel, Kaohsiung. To complete the whole Batman vibe, there are bat silhouettes everywhere, as well as Batman posters and logos. A rent by hour motel, the minimum stay here is 3 hours.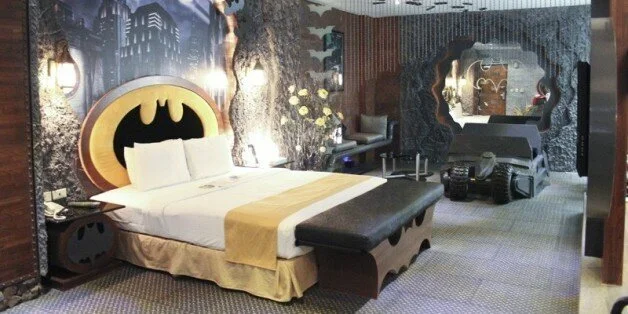 2) Groundskeeper Cottage, England
A relative newcomer, Groundskeeper Cottage in North Yorkshire just launched earlier this year, right before Harry Potter Day (2nd May, if you want to know). As its name suggests, this is a cottage – well, Hagrid's Hut! From the outside, it greatly resembles Hagrid's actual hut with its mossy stones and everything, but the inside is not as humble. There are modern facilities, but hanging lanterns, ropes, pots and pans contribute to the hut feeling. Also, maybe the cottage doesn't open out to the Forbidden Forest, but it does open out to a field – it's in the countryside, after all.
3) Game of Thrones Hotel, Finland
Man, oh man. If I were a GoT fan, I'd book myself in without a second thought. Part of the Lapland Hotels Snow Village, the snow suite is based on scenes and characters from GoT. Expect to see the Sept of Baelor, Iron Throne, and even a lifelike dragon among other things. In the Snow Village, there are 16 suites, each featuring a unique GoT ice sculpture. At night, temperatures can drop down to -5 degrees Celsius, but you'll get a thermal sleeping bag so don't worry. However, the hotel also recommends that you stay only one night in the snow suite, and the rest at one of their cabins. Besides that, they also have an ice chapel, ice restaurant and ice bar. Looks like winter is coming indeed.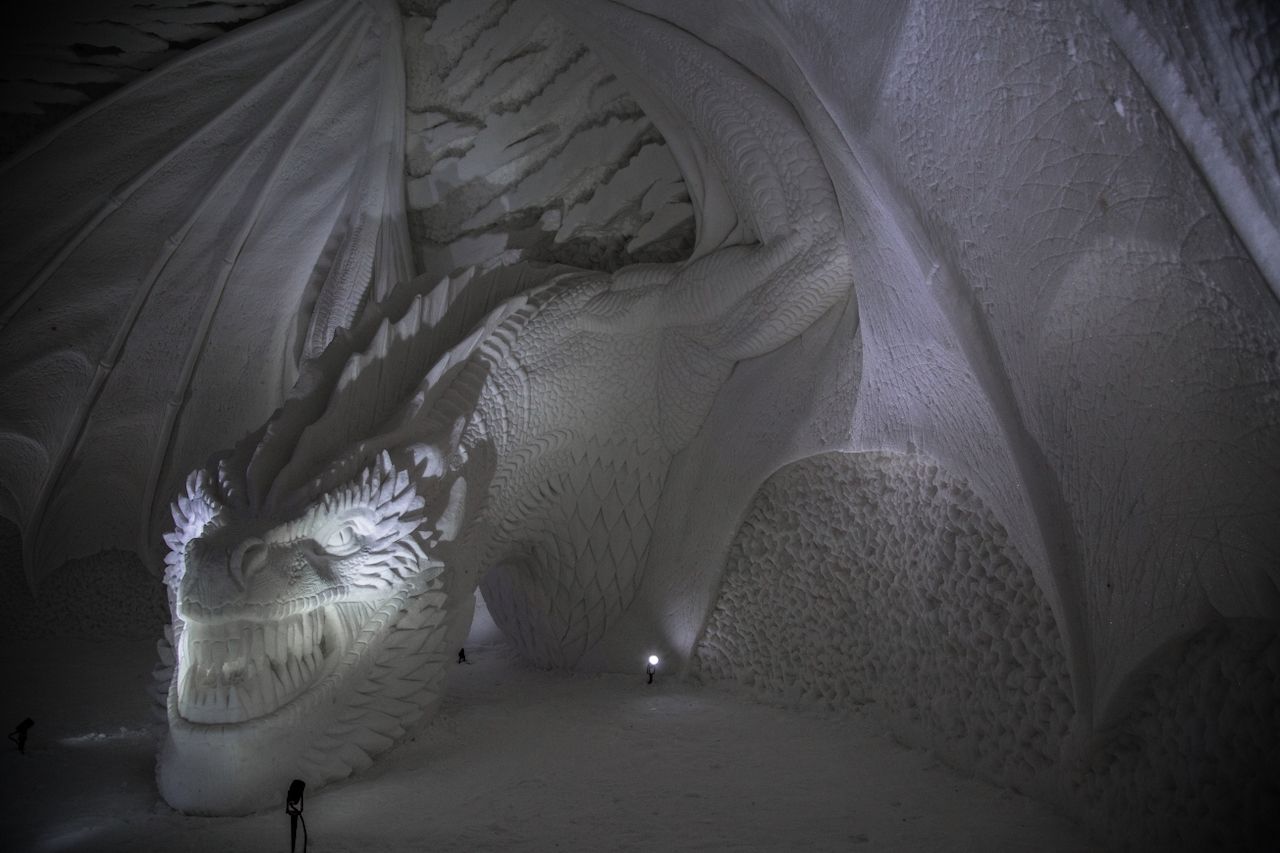 Note: The hotel is currently closed, but will reopen in December.
4) Fairytale Suite, USA
Located in Disneyland Hotel, Anaheim, the original Disneyland, the Fairytale Suite is exactly what it is – a fairytale. The room is splendidly decked out in the royal colours of purple and gold, including the canopy bed. There are pictures of castles and various Disney princesses, and oh, the bathroom is fit for a princess. Not only do you get a Jacuzzi tub and a steam shower, but its vanity is grand enough to make any princess feel right at home! Last but not least, you will also be able to enjoy the Disneyland fireworks at night through the floor-to-ceiling windows.
5) Secret Agent Suite, France
Have you always wondered what it'll be like to be a 007 agent? Well, now you can have a taste of the British spy's life at Hotel Seven, Paris. Step right in and feel like James Bond with its sophisticated, elegant yet luxurious decor. Check out the mirrored ceiling, the lamp on a revolver and even a 007 suit! Not only that, but the TV is loaded with all the Bond film archives as well, so you can really feel like you're living vicariously through James Bond at that moment. Ready? Suit up!
6) Twilight Rooms, USA
Once upon a time, there was #teamedward and #teamjacob, with the whole Twilight craze. If you're one of the die-hard Twilight fans, then you must not miss out on this! The Twilight Rooms at Pacific Inn Motel, Washington, features two queen-sized beds with dark linen. The rooms are decked out with Twilight-themed decor and movie posters. Dark and broody, it certainly befits Twilight!
7) The Wizard Chamber, England
Okay, I couldn't resist slipping in another Harry Potter one. Not up for Hagrid's Hut? Well, what about a stay at Hogwarts? Set up in a 19th century Victorian hotel called Georgian House Hotel, Muggles will not be able to access the Wizard Chambers. Cleverly concealed behind a bookcase door, you'll feel like you're navigating the secret passageways of Hogwarts on your way to your chamber. Mysterious and gothic, there are stained glass windows, stone walls, archways, trunks, cauldrons… all of them a nod to the world of Harry Potter itself! There are four chambers available, but the wait time is still pretty long due to a high demand.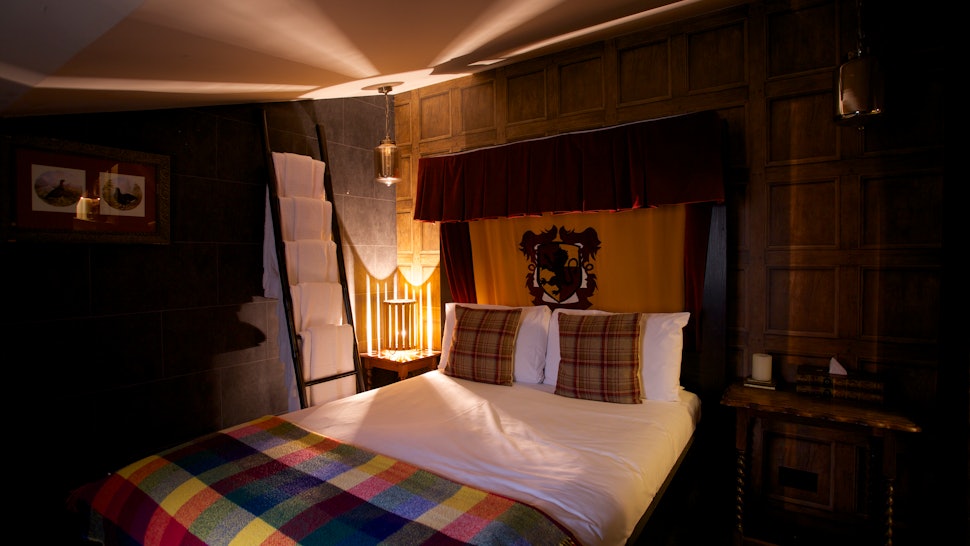 Obviously, I would choose The Wizard Chamber as my top pick, but what about you? Which fandom do you belong to and where would you like to stay? Let us know in the comments below!