Alice in Wonderland tea party is a childhood fascination for many. Revelling in such tea parties gives one the feeling of being ever so important, perhaps as important as the English Queen during her tea parties. Here are the 6 cafés in Singapore that offer their customers the experience of traditional English high tea with an Asian twist.
---
1) TWG Tea
TWG tea boutique, located at Marina Bay Sands, is known for its award winning tea concoctions. Built over an indoor lake resembling the underground rivers and boats of Venice, the experience is one that you must have. Enjoy their exquisite selection of teas and pastries on the bridge or in an elegant indoor garden. Don't forget to try their Sunday Brunch menu too!
2) Fullerton High Tea @ The Courtyard
The afternoon high tea comes with unlimited replenishment of their tiered contents as well as coffee and tea. Its sunlit location and well furnished interior puts you at great ease. The sandwiches come with exotic names such as the Smoked Salmon Mille Feuille with Avruga Caviar and curry egg sandwich on Brioche roll. For the sweet selection, you may consider the English Fruit cake with Raspberry financier, the doubled flavoured Macaroon or stick to local tea favourites such as the humble 9 layered Kuih Lapis.
3) The Swiss Hotel Straits Afternoon High Tea
The Swisshotel afternoon tea is very popular among the locals. It houses a Peranakan tea session with the added option of a traditional English tea set. The English tea menu offers the traditional scones, Victoria Sandwich, Cornish clotted cream, muffins and more. On the other hand, get a kick of spice with the Peranakan tea menu that has interesting flavours like Otah Otah or Barbecued Sambal fish, Yam cake with X.O sauce or Braised pork belly in steam leaf bun.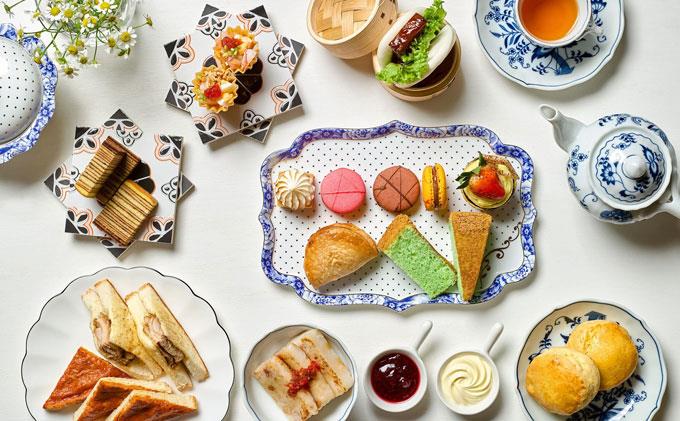 4) The Knolls at Capella Sentosa
This peaceful location is far away from the city. With an extended selection of over 30 teas and pastries you will be spoilt for choice. They have an interesting menu such as the custard of duck liver with Yuzu and the Quinoa with beetroot cream.
5) D'Good Café
You will surely fall in love with D'Good Café's handcrafted matcha spreads. Their savouries include wonders like tiger prawns with caviar on toast. This café remains highly affordable and their petite pastries and cakes are scrumptious. Check out their afternoon tea set that comes in a special three tiered bird cage.
6) Anti:Dote at Fairmont
Interestingly, their afternoon tea sets are served in a very pretty, vintage European jewellery box. Check out their succulent lobster rolls or scrambled eggs on toast with black truffle oil. Lay back and enjoy your hi-tea on a lazy afternoon. The beautifully presented concoctions are a true treat for the eye.
---
https://www.facebook.com/tallypressmy