From limestone hills and cave temples, Ipoh is more than just a tourist attraction for sightseeing. Because there is another thing you must do when you're in Ipoh: their local food! Whether you are a newcomer or a frequent visitor, here are the 10 delicious foods you can't afford to miss in Ipoh.
---
1) Ipoh White Coffee @ Sin Yoon Loong & Nam Heong
Forget about the Old Town White Coffee branches you normally enjoyed your white coffee in the air-conditioned outlets. The real deal is in Ipoh itself, specifically at Sin Yoon Loong and Nam Heong. Let's begin with Sin Yoon Loong at Jalan Bandar Timah, which is actually the first coffee shop in the old town of Ipoh that introduced the famous white coffee. The white coffee here is robust, complete with a distinct bitterness and charred taste upon each sip.
Address: No. 15A, Jalan Bandar Timah, 30000 Ipoh, Perak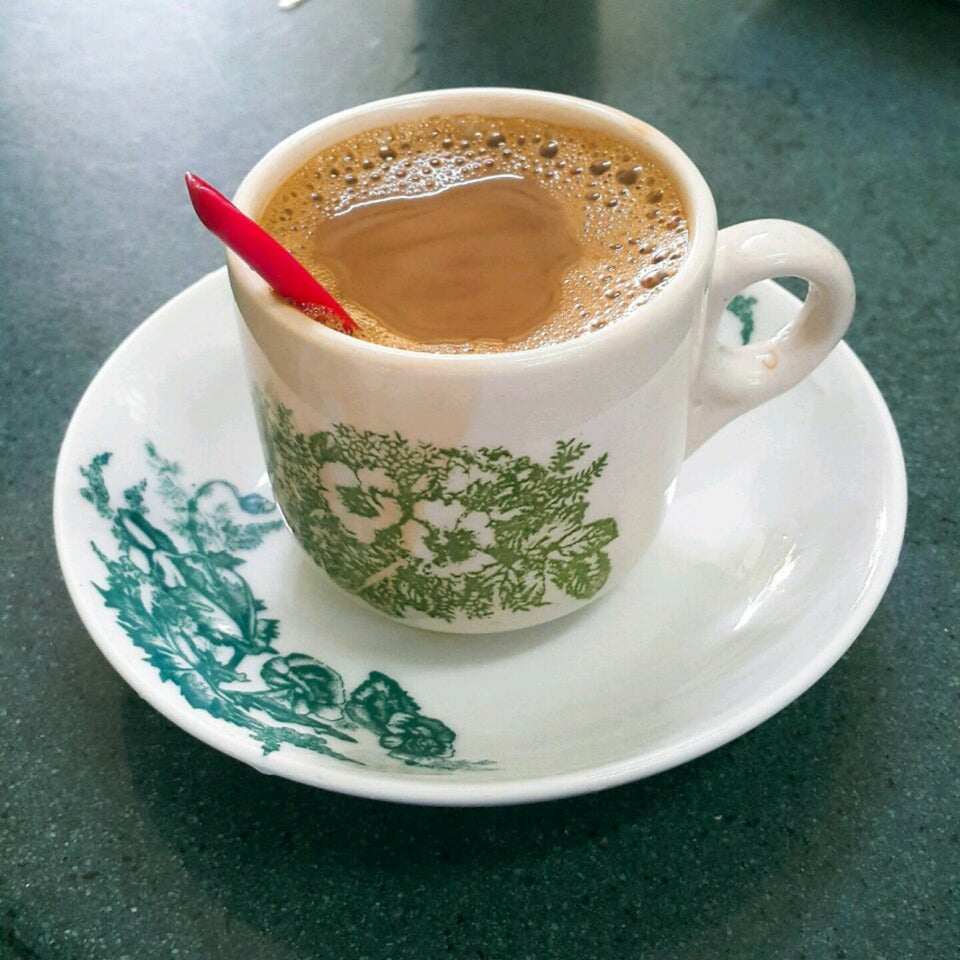 Next up is Nam Heong, located just across the same street of Jalan Bandar Timah. Unlike Sin Yoon Loong, Nam Heong is more popular with both locals and outsiders. Nam Heong's white coffee is similarly rich with a nice kick of bitterness level. Best enjoyed hot or iced.
Address: No. 2, Jalan Bandar Timah, 30000 Ipoh, Perak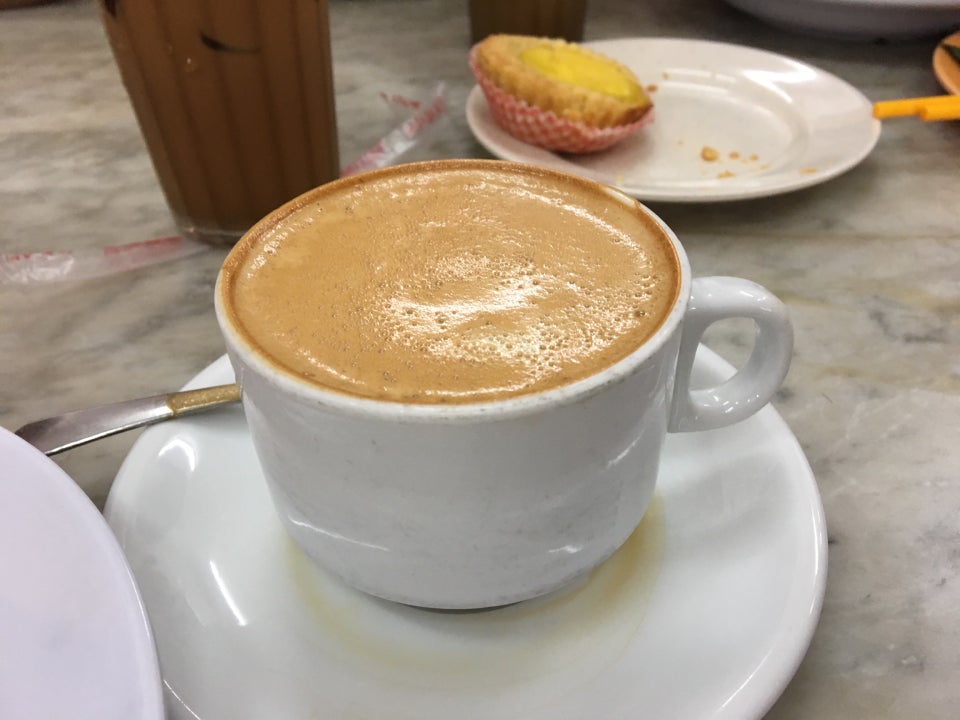 2) Salt-Baked Chicken @ Aun Kheng Lim
This famous salt-baked chicken shop with the bright-red signboard at the corner of Jalan Theatre needs no introduction. It has been around since 1987 and it still stands tall until today. Aun Kheng Lim uses free-range whole chicken, marinated and baked to briny perfection using salt crystals and Chinese herbs like dong guai (female ginseng) and gei zhi (wolfberry). The chicken is wrapped in paper and packed inside the box. Mind you, the chicken tends to sell out fast before the end of the day. It's best to go early or call 05-2542998 for reservation.
Address: No. 24, Jalan Theatre, 30300 Ipoh, Perak | Tel: 05-2542998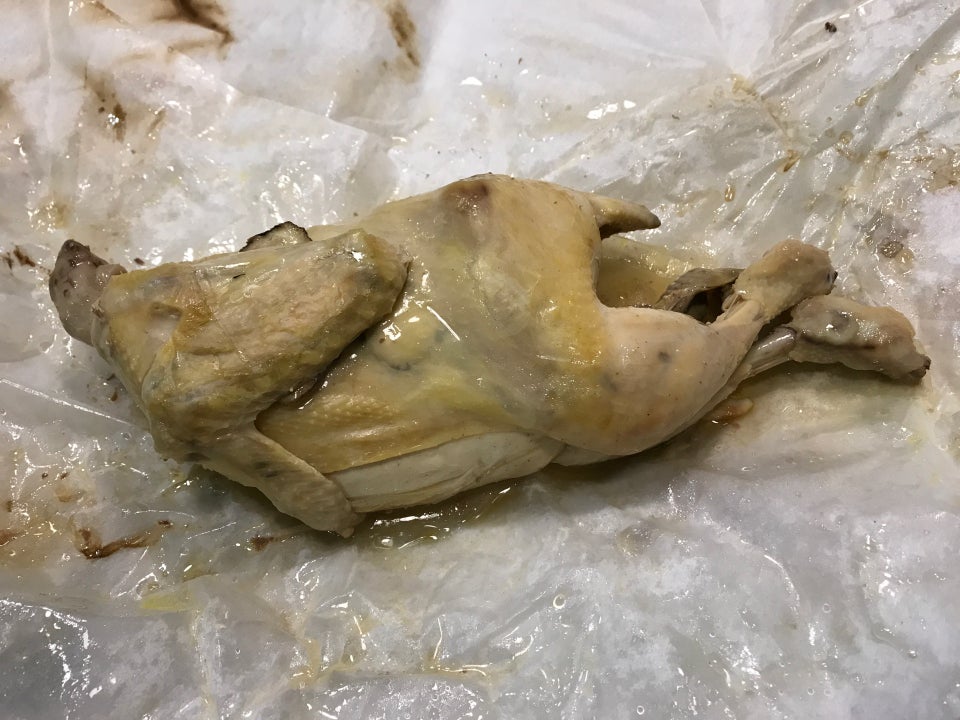 3) Bean Sprout Chicken @ Lou Wong
Here is another must-try chicken dish in Ipoh. Except this is not a salted variation, but rather a steamed chicken served with bean sprouts. The chicken itself is smooth and tender. Best of all, the bean sprouts are delectable yet crunchy enough. You can opt for white rice or kuey teow soup to go along with your bean sprout chicken dish.
Address: No. 49, Jalan Yau Tet Shin, 30000 Ipoh, Perak | Tel: 05-254 4199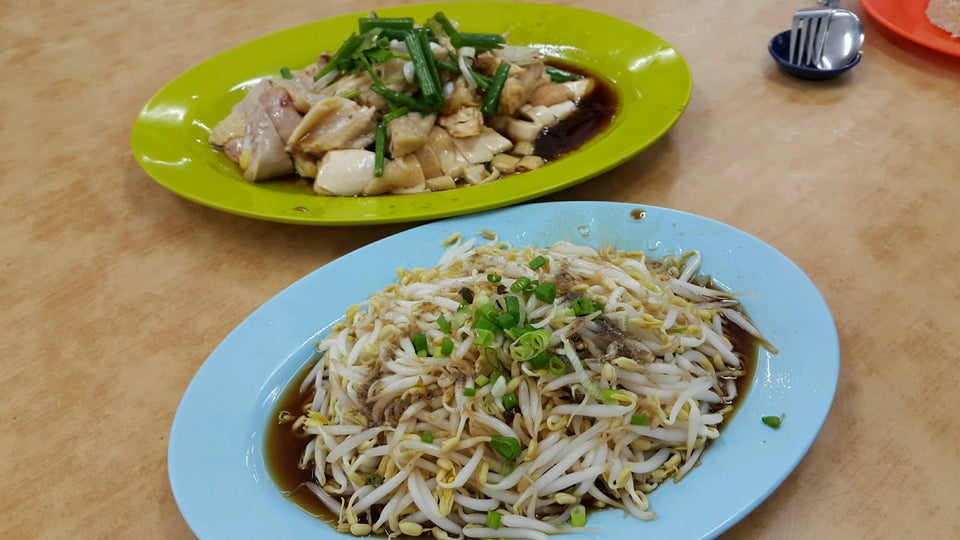 4) Chicken Hor Fun @ Thean Chun
A food adventure in Ipoh wouldn't be complete without savouring a bowl of kai si hor fun (chicken hor fun/shredded chicken flat rice noodle). Thean Chun, an old coffee shop which has been around since the mid-1940s, serves one of the best kai si hor fun dishes in Ipoh. The highlight of this dish comes from its orange-tinged broth infused from boiling prawn heads and shells. This gives a distinct prawn aftertaste upon every slurp of the broth. Together with a combination of shredded chicken, fresh shrimps, chopped spring onions and smooth hor fun, this is definitely one of Ipoh's best comfort foods you can't afford to miss.
Address: No. 73, Jalan Bandar Timah, 30000 Ipoh, Perak
5) Caramel Custard @ Thean Chun
Thean Chun may have been famous for their signature kai si hor fun. But if you are looking to complete your meal with a sweet finish, don't forget to order their famous caramel egg custard. This dessert is soft and creamy, thanks to its heavenly combination of caramelised sugar and egg mixture.
Address: No. 73, Jalan Bandar Timah, 30000 Ipoh, Perak
6) Egg Tarts @ Hong Kee Confectionery & Choy Kee Bakery
Ipoh is also famous for their local egg tarts. You can get them at Hong Kee Confectionery in Kedai Kopi Weng Seng, famous for its thick and crusty egg tarts. The filling is particularly heavenly, with a silky-smooth and sweet egg custard.
Address: No. 14, Jalan Dato Onn Jaafar, 30300 Ipoh, Perak | Tel: 05-546 6431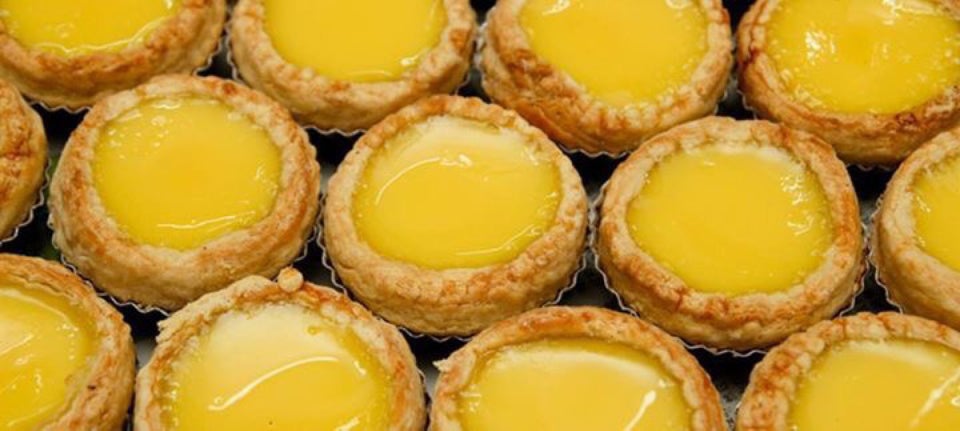 Choy Kee Bakery is another must-visit place to fulfil your egg tarts fix. Crispy on the outside and creamy on the inside, Choy Kee's egg tarts are just as good as Hong Kee's.
Address: 218, Lebuh 3, Kampung Simee, 31400 Ipoh, Perak | Tel: 05-545 4351
7) Tau Fu Fah (Soybean Curd) @ Funny Mountain
The name may have been odd and strange but one thing for sure, Funny Mountain makes a great-tasting tau fu fah! Now, what's so special about their tau fu fah? The answer lies in their silky smooth soybean curd layered with white sugar syrup. Best enjoyed on the hot sunny day.
Address: No. 49, Jalan Theatre, 30300 Ipoh, Perak
8) Mixed Fruit Shaved Ice @ Tong Sui Kai
Tong Sui Kai, which literally means "Dessert Street" in Cantonese, is famous for a row of food stalls selling various desserts. For an ice-cold dessert, do try the Mixed Fruit Shaved at Stall 41. Each bowl of shaved ice comes with a mountain of assorted fruits such as mango, watermelon, honeydew and longan. If that's not enough, a handful of nuts and sago topped with a scoop of ice cream completes this icy treat.
Address: Stall 41, Jalan Sultan Ekram, Taman Jubilee, 30300 Ipoh, Perak
9) Chee Cheong Fun @ Pasir Pinji & Canning Garden
Savour the authentic taste of chee cheong fun (steamed rice noodles) at Pasir Pinji, which is made the old-school way. You get to choose different kinds of sauces, namely sweet sauce and chilli sauce. But if possible, mix every sauce available topped with fried shallots.
Address: 1456, Jalan Pasir Pinji 5, 31650 Ipoh, Perak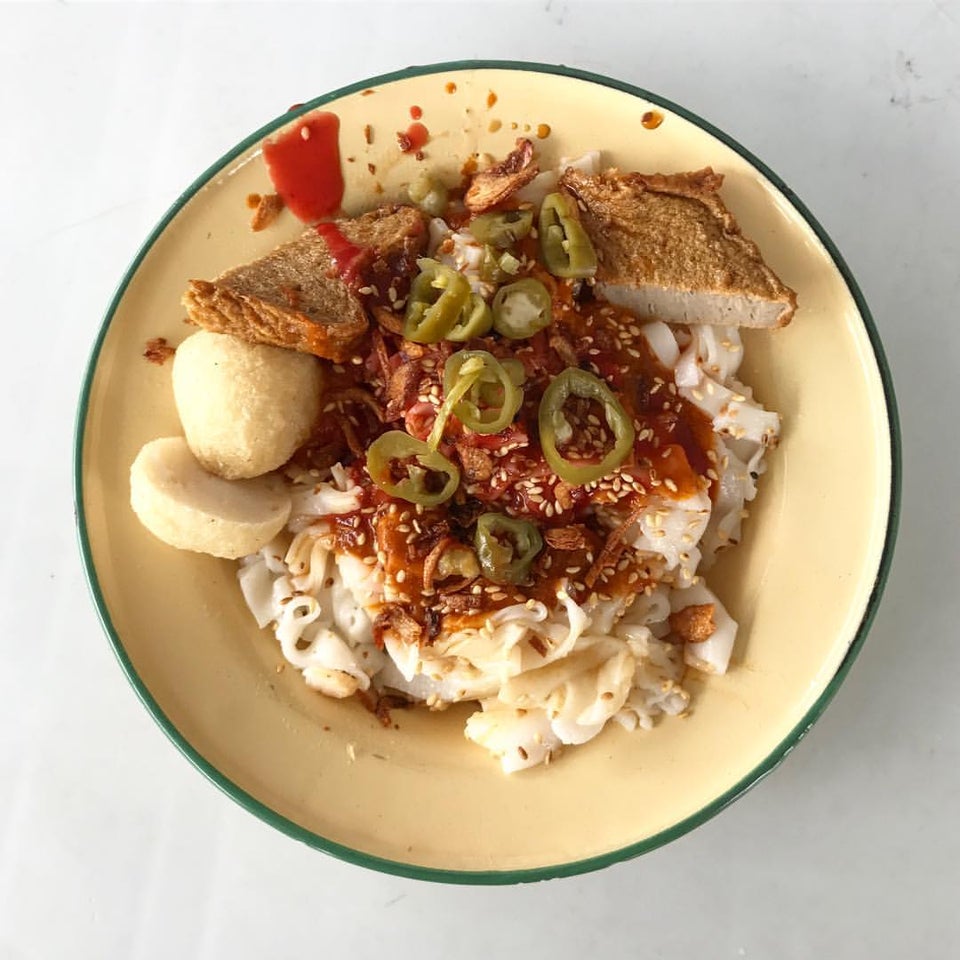 Another great place for chee cheong fun is at Canning Garden. The steamed rice noodles are soft and slippery smooth. But the real deal here is the sweet red sauce, complete with shallot oil, sesame seeds, green chillies and fried shallots.
Address: 27, Lorong Cecil Rae, Canning Garden, 31400 Ipoh, Perak
10) Wat Tan Hor (Cantonese Fried Flat Noodles With Egg Sauce) @ Tuck Kee
If you are a big fan of noodles, then you shouldn't give Tuck Kee a miss. This old Chinese restaurant has been operating for over 50 years since its establishment in 1963, and it still going strong even until today. They serve various kinds of noodles such as yee mee and hor fun but their must-try signature dish is wat tan hor. The flat noodles (kuey teow) are stir-fried to golden brown perfection with enough wok hei (literally means "breath of the wok" in Cantonese). The gravy and a crack of an egg yolk on top of the noodles complete this mouthful of a satisfying dish.
Address: No. 61, Jalan Yau Tet Shin, 30100 Ipoh, Perak | Tel: 05-253 7513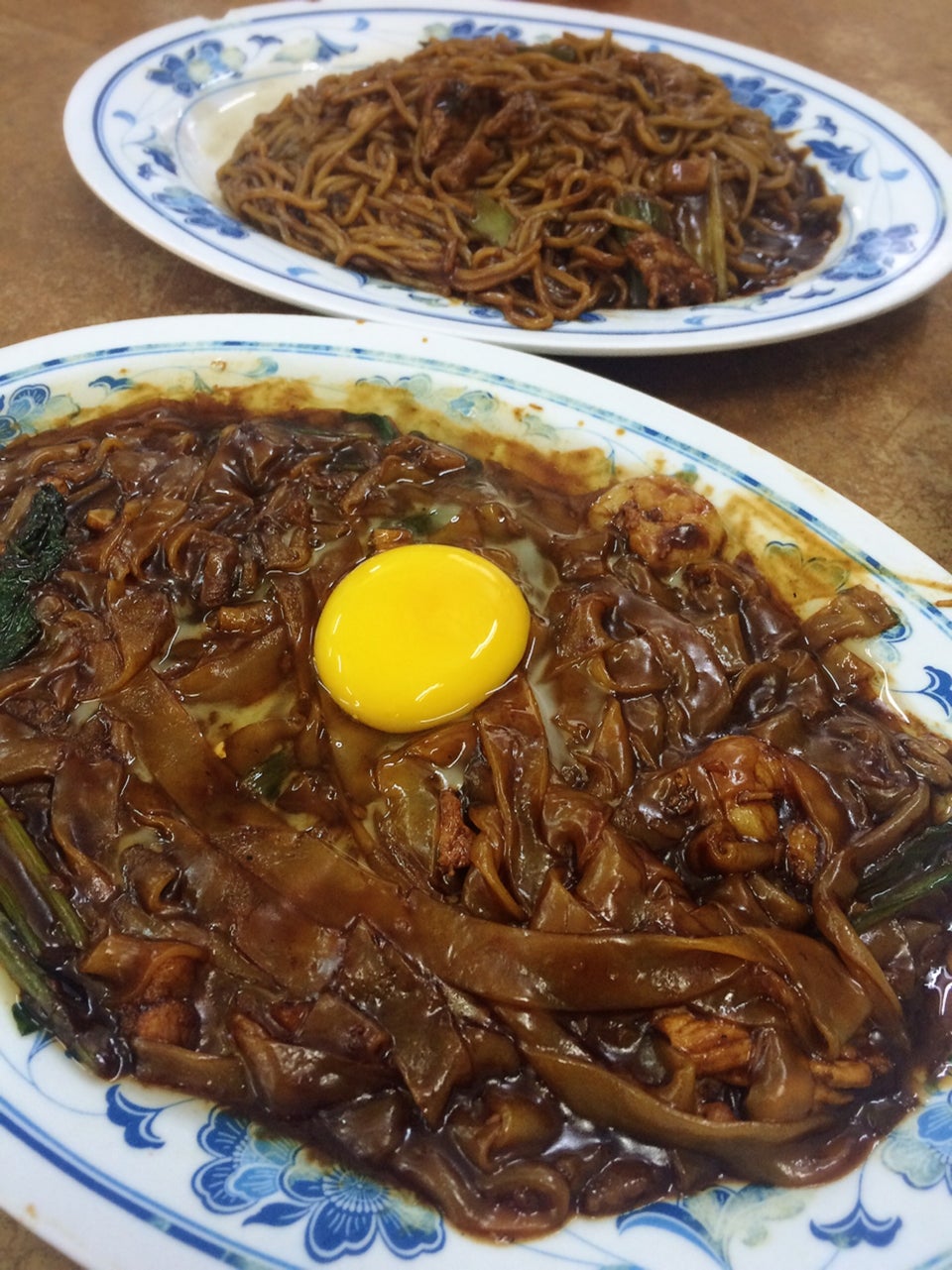 Thinking that you won't be able to finish all the food in a single day? Well, you can always stay for a night or two! For your accommodation options, you can check out these Ipoh apartments, all the better to prolong your food trip!