Loosely translated from Thai as "pork" and "skillet", mookata is basically Thai barbecue. Most often, it features a dome-shaped skillet with a ring of soup around the dome, so you can cook ingredients in the soup, and grill your meat on the "dome". Widely enjoyed by many, here are some of the Best Mookata Thai BBQ in KL & Selangor!
---
The results of this Top 10 list is derived from the voting period of 13th January 2022 to 16th January 2022 on Carilocal.com. Over time, the ranking of the businesses as seen on Best Places for Mookata Thai BBQ in KL & Selangor may differ from this list.
---
1) Ruk Mookata
For just RM55 nett, you get to enjoy more than 90 various ingredients, covering everything from fresh seafood & vegetables to pork slices and frozen foods, namely fish and lobster balls served in all-you-can-eat buffet style at Ruk Mookata. Each serving comes with a pot of hot tom yum broth, where you can use to boil the likes of seafood and vegetables. There's even a grill plate in the middle of a metal pot, which allows you to grill your favourite meat slices ala Thai BBQ-style. Remember to pair them with the sauces that you can mix and match in a bowl from the condiments counter. Last but not least, their signature Thai Milk Tea complements well with the mookata set, thanks to its refreshingly milky flavour.
FB: rukmookata | Insta: @rukmookata | Address:48-G, Jalan Puteri 2/2,Bandar Puteri Puchong, 47100 Puchong, Selangor, Malaysia
2) Thai Bear Mookata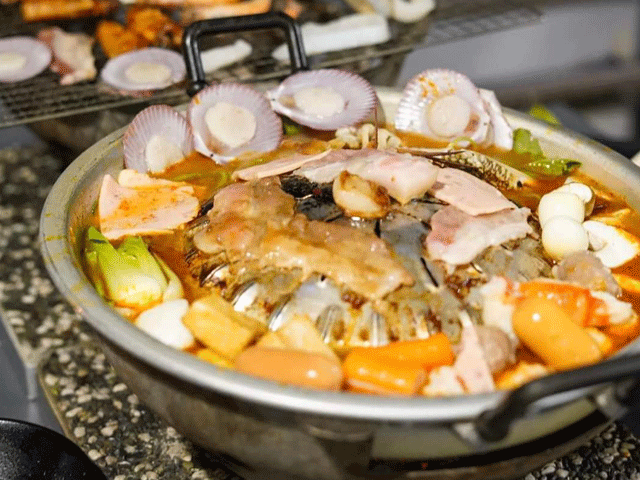 Located in Seri Kembangan, Thai Bear Mookata offers an open-air rooftop dining concept for just RM45 per adult in an all-you-can-eat buffet style within a 2-hour period. They have two choices of soup bases of tom yum and clear soup, where the latter is ideal for those who can't handle spicy stuff. Expect assorted ingredients from meat slices to fresh seafood & vegetables and frozen foods, just to name a few. For meat slices, remember to dip them in various spicy condiments ranging from garlic chilli to Thai chilli and shrimp chilli. When comes to drinks and desserts, they have fizzy beverages and cocktails as well as ice creams and puddings.
FB: thaibearmookata| Insta:@thaibearmookata| Address: No. 2-1, Jalan Equine 9F,
Taman Equine, 43300 Seri Kembangan Selangor, Malaysia
3)

Moo Noi Mookata & BBQ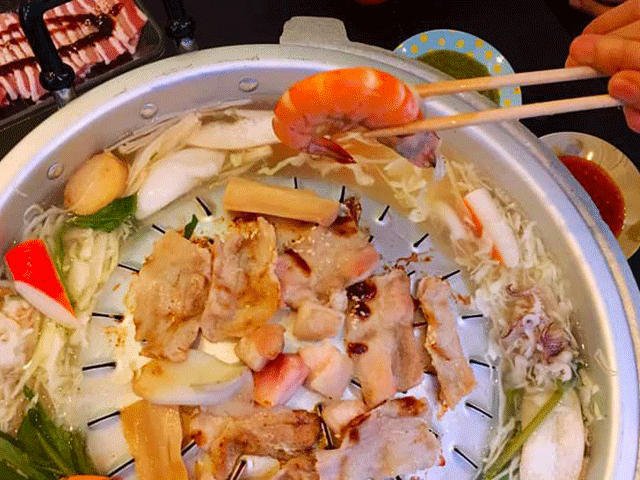 Craving for a super-affordable mookata buffet? You might want to go for the Moo Noi Mookata & BBQ at Setapak. They offer all-you-can-eat Thai BBQ/hotpot varieties with plenty of ingredients to choose from. This includes everything from meat slices (e.g. chicken, pork) for grilling purposes to the likes of fresh seafood & vegetables, enoki mushrooms, tofu and meatballs. Their homemade condiments come highly recommended too, where they are best served as a dipping sauce for grilled meats.
FB: moonoimookata | Address: G-2 & M2 MH Avenue, Jalan Bunga Kantan, Off Jalan Genting Kelang, 53300 Setapak, Kuala Lumpur, Malaysia
4) Restoran BBQ Thai Aroi 
Be it a Thai BBQ buffet or steamboat set, Restoran BBQ Thai Aroi has them all to satisfy your cravings. The former offers a special menu that includes Thai Pork BBQ, Taiwanese Sausage BBQ and Prawn BBQ with refillable beverage & dessert, namely Thai Green Tea and ice cream for a 2-hour dining period. If you prefer the latter, they have a tom yum steamboat set with various add-on ingredients like Cheese Seafood Tofu, Fried Fish Skin and refillable glass noodles & vegetables. Best paired with a glass of ice-cold signature snow beer.
FB: restoranBBQthaiaroi | Address: Jalan Layang-Layang 1, Bandar Puchong Jaya, 47100 Puchong Selangor, Malaysia
Thai in Mookata Setapak serves reasonably-priced mookata sets for as low as RM49.80 per 2-3 pax. A basic set consists of a pot of soup base with various ingredients such as the restaurant's signature pork slices, crab sticks, Japanese tofus and fish balls. Vegetables and glass noodles, in the meantime, are refillable. Other than their Setapak outlet, you can also locate Thai in Mookata at Old Klang Road, Kepong and Subang Jaya.
FB: thaiinmookata | Insta: @thaiinmookata | Address: No 3, Jalan 14/27B, Desa Setapak, 53300 Setapak Kuala Lumpur, Malaysia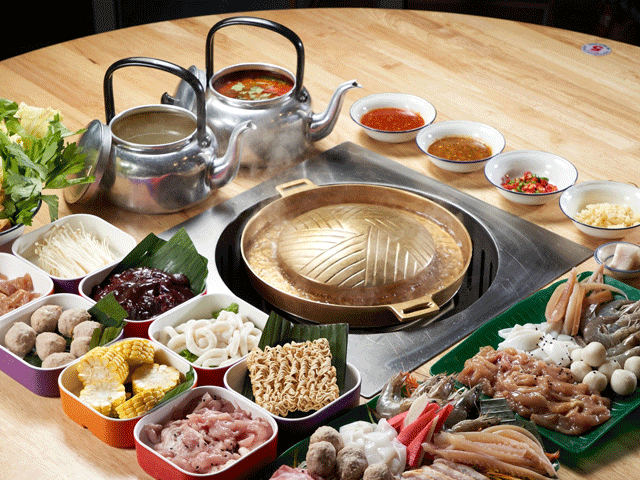 Based in Kepong, Moo-Ka-Ta Krua Thai specialises mainly in authentic mookata sets, where they come highly commended by many patrons. They have a choice of clear or red tom yum soup with several choices like Pork Set, Mixed Set or Seafood & Chicken Set. For instance, the Pork Set includes different cuts such as pork slices and pork chops with added mixed vegetables. You can also add side orders of your choice ranging from bacon to bak kwa, fresh prawn, seafood tofu and even MAMA noodles.
FB: mookatakruathai | Address:G13 & G13A, First Residence Condo, Jalan Vista Mutiara 1, Kepong Baru, 52200 Kuala Lumpur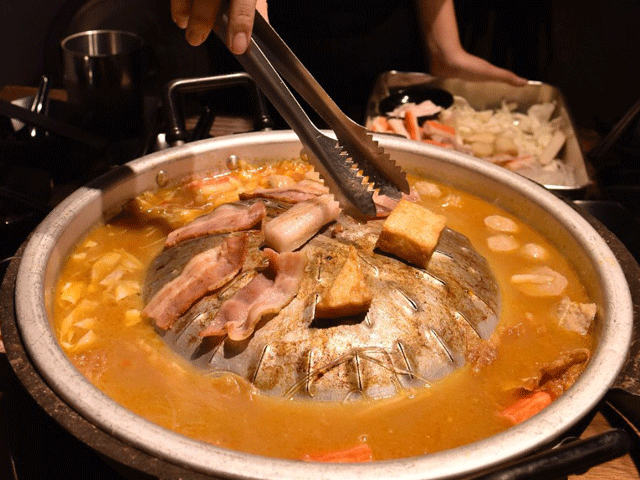 At Mookata Boy Thai BBQ, their hotpot soup base is all made using natural ingredients with no added MSG whatsoever. And here, they have different types of them available such as Pork Bone Soup, Signature Tom Yum Soup and Signature Thai Laksa Soup. Depending on your set choices, they come with various ingredients such as pork slices, gold coin meat, enoki mushrooms as well as free-flow of cabbage and glass noodles.
FB: mookataboythaibbq | Insta: @mookataboythaibbq | Address:10, Jalan Rampai Niaga 3, Rampai Business Park, 53300 Kuala Lumpur
A hidden gem in Taman Desa Petaling, Khunyai Thai BBQ & Mookata Steamboat specialises in authentic kampung-style Thai foods including the likes of pineapple/tom yum fried rice, pad Thai and green curry chicken. They also serve mookata sets, which come in clear or tom yum soups with assorted ingredients like MAMA instant noodles, pork slices, veggies and glass noodles. You can even choose various add-ons at a fraction of the price such as crab sticks, lobster balls, golden coin meats and green mussels.
FB: khunyaithai | Insta: @khunyaithai | Address: 22-1, Jalan 2/125F, Taman Desa Petaling, 57100 Kuala Lumpur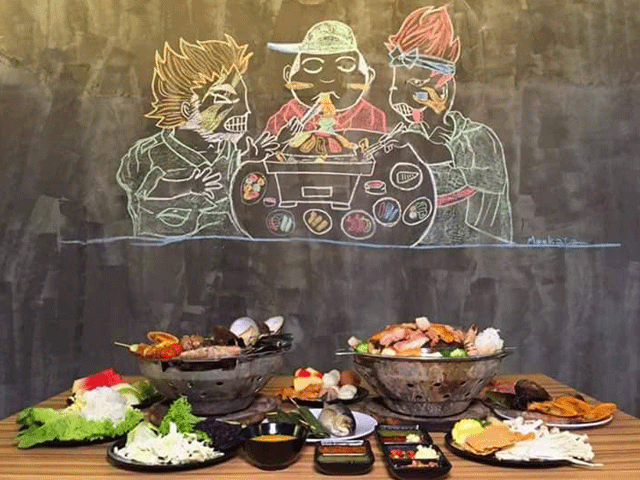 Mookata Thai BBQ, which is previously from Sri Petaling before relocating to Taman Bukit Indah, serves authentic Thai cuisines ranging from pork leg stew to mango sticky rice. And of course, they have mookata sets as well, offering a choice of clear or spicy tom yum broth to go with various ingredients such as pork slices, fresh seafood and assorted vegetables. Also, did we mention they come at a reasonable price too?
FB: mookatathaibbq | Address: 22, Jalan Lazat 2, Taman Bukit Indah, 58200 Kuala Lumpur

Fresh meat slices, seafood, veggies and many more that you can find here at Bangkok MOOKATA in Kuchai Entrepreneurs Park, all of which are served in mookata style and you can enjoy them with the spicy-sourish tom yum broth. Best paired with their top-selling Thai Milk Tea or a glass of beer of either Chang Beer or Singha. If you plan to visit Bangkok MOOKATA, it is advisable to come early to avoid an unnecessarily long wait for the table.
FB: bangkokmookata | Insta: @bangkokmookata | Address: 22, Jalan Kuchai Maju 1, Kuchai Entrepreneurs Park, 58200 Kuala Lumpur
Voting was carried out on Carilocal.com: Best Places for Mookata Thai BBQ in KL & Selangor.
Enjoy all things BBQ? You may like this as well: