It is a well known fact that we Malaysians love our food. Some food entrepreneurs have taken this love to the next level, with creative themes that give their cafes a unique identity. If you need some ideas on where to hang out this weekend, check out these Top 10 Theme Cafés in Malaysia, as voted by you!
Who said test-tubes and beakers wouldn't be useful after school? This is one lab that isn't just for science geeks. Located in Shah Alam, Chemistry Cafe is inspired by all the things you may find in a laboratory, which means you can expect your drinks to be served in scientific apparatus, and not cups. Food and cakes are also served at the cafe, which is open daily.
FB: chemistrycafe | IG: @chemistrycafe
2) Locahouz
The next cafe takes us all the way to Malacca for a bit of a history lesson. Almost every hipster cafe you'd see nowadays would have vintage memorabilia scattered throughout their venues, but this one is truly special as the items here are rooted in the state's history. So sit back and enjoy a cup of coffee in an old school kopitiamstyle cup, and take in the classic vibes around you, the Malacca way.
3) Hello Kitty Gourmet Café
These days, even cartoon characters are worthy of cafes. Of course, with her cult global following, Hello Kitty is no exception to this. Nestled in Sunway Pyramid, fans of the pink-bowed feline can pretend they're on a European escapade, as the decoration there certainly evokes such feelings. At Hello Kitty Gourmet Cafe, you'll also find a variety of food offerings which are of Western selections.
hellokittygourmet.com.my | FB: Hello Kitty Gourmet Café | IG: @hellokittygourmetcafe
4) Mamee Jonker House
Malacca makes the cut once again, this time with a very familiar Malaysian snack – Mamee! Here, the infamous noodles are given a twist, in the form of well-loved local dishes like Bee Hoon Goreng and Curry Laksa. If noodles aren't your thing, they even have classic Malacca favourites like Hainanese Chicken Rice. When you're done tucking in, you can always head on over to their merchandise store where you can not only buy Mamee items, but see how the noodles are made.
mameejonkerhouse.com | FB: my.mameejonkerhouse | IG: @mameejonkerhouse
5) TOKB Café
This cafe features a menu full of  Kelantanese flavours. TOKB actually stands for "Taste of Kota Bharu" and this is reflected in the food served there, which is reminiscent of cuisine from Kelantan itself, such as the traditionalKeropok Lekor. But another attractive feature is actually the WWII inspired decor, which is in tribute to war heroes of that time. Camouflage lovers will certainly enjoy taking photos of the military artifacts and items available in the cafe.
tokbcafe.com.my | FB: tokbcafe | IG: @tokbcafe
6) Departure Lounge
Frequent flyers, this one's for you. Inspired by the airport lounges travelers wait in before jetting off somewhere, this place also has guidebooks for you to peruse over one of their famous brunch/breakfast type meals. Even the setting is somewhat reminiscent of an airport, with clocks showing the times in different countries. Explorers and adventurers will definitely have a soft spot for the interior here in this quaint Damansara Utama cafe.
FB: CafeDepartureLounge | IG: @cafedeparturelounge
7) M2escape
The southern state represents here, for anyone who's heading over to Johor Bahru looking for an interesting conceptual cafe. This cafe has a distinct Mickey Mouse theme going on, and you'll definitely be seeing lots of nods to the world's most famous mouse throughout their Mount Austin venue. Dishes feature classic Western and Asian items, as well as chocolate beverages and cakes.
FB: M2escape | IG: @m2_escape_x_cafe
8) Drums Café
If it's music that makes your heart beat faster, stop over at Drums Cafe in Johor Bahru. This cafe is inspired by the 24 Festive Drums, and these performances are very much tied to the Chinese calendar and are very symbolic and meaningful to the culture. The traditional drums used in the performances are seen all over the cafe, even functioning as tables, but lots of customers also frequent this place for the Ampang Yong Tau Foo, which is said to be delicious!
FB: 24FestiveDrumsCafe | IG: @drumscafe
9) Wheeler's Coffee
The Pearl of the Orient, Penang, is not to be left out in this list, with Georgetown's Wheeler's Coffee making the cut. Their theme is dedicated to bicycles, bikers and "bicycle art", so cyclists can always make this a pit-stop on their next biking tour.  In addition to classic coffees and teas, they also have their own version of frappes, which should be a delight in the hot island weather. Meals like pizzas and pastas are served too, as are cakes, like their Molten Chocolate Lava Cake.
FB: wheelers67 | IG: @wheelerscoffee
10) Slurp Café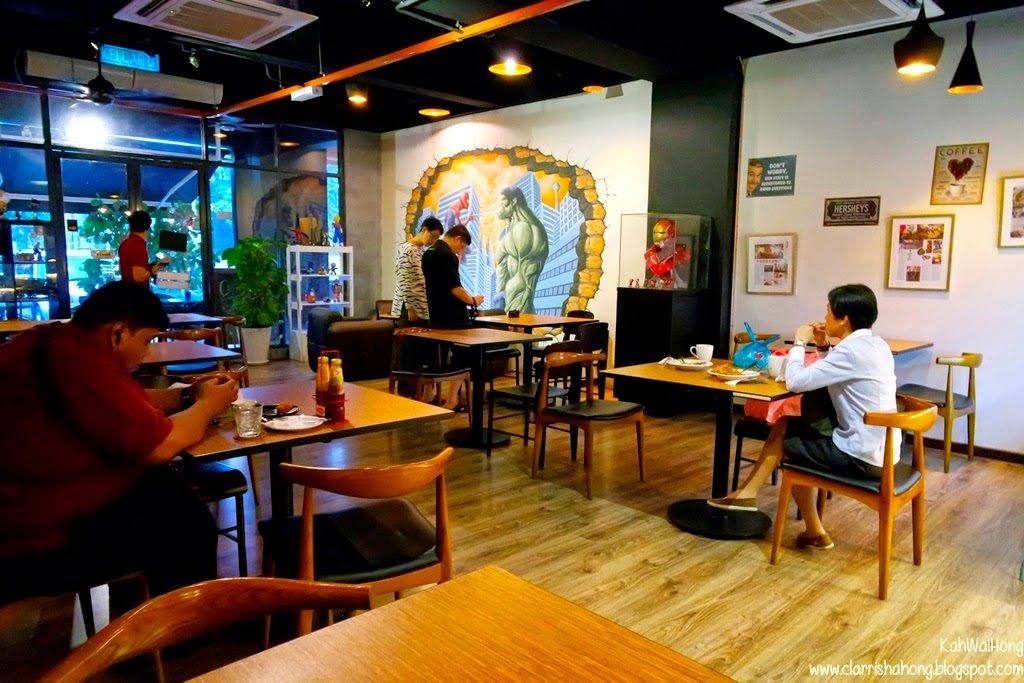 Your inner child will definitely enjoy Slurp Cafe. Whether it's The Caped Crusader or Son Goku you fancied growing up, you'll find them here. When you're done soaking up the cool atmosphere and taking pictures of their adorable superhero memorabilia, sit back and relax over a drink, or enjoy something to eat from their fusion menu, which has an East meets West concept, so you'll see influences from local and international cultures.
FB: cafeslurp | IG: @slurpcafe
That's not all! More Top 10s in Malaysia are waiting to be discovered!
---
The compilation of this list was made from accumulation of Public Votes at TallyPress.com.