For the longest time, the word "iTunes" has been synonymous with Apple, or more specifically, Macs. However, iTunes will soon be a relic of the past. At Apple's recent Worldwide Developers Conference, they announced that they will be replacing iTunes with three separate apps. This is in conjunction with its latest operating system, macOS Catalina, which rolls out this fall. Before you panic, all your stuff can be saved. Either sync it via iCloud, or connect your device to your Mac using the "back up, restore, and sync" method. You're safe!
---
Apple Music
The app name rather speaks for itself, for this will be your go-to app for all things music. As "the ultimate music streaming experience on Mac", this app has a library of 50 million songs, playlists and music videos for you to explore. Prefer something of your own? Your music library inclusive of downloaded songs, purchased songs and even songs ripped from a CD will all be there, accessible not only on Mac, but across all devices in your music library. If you still want to buy songs, don't worry. The iTunes store will still be there!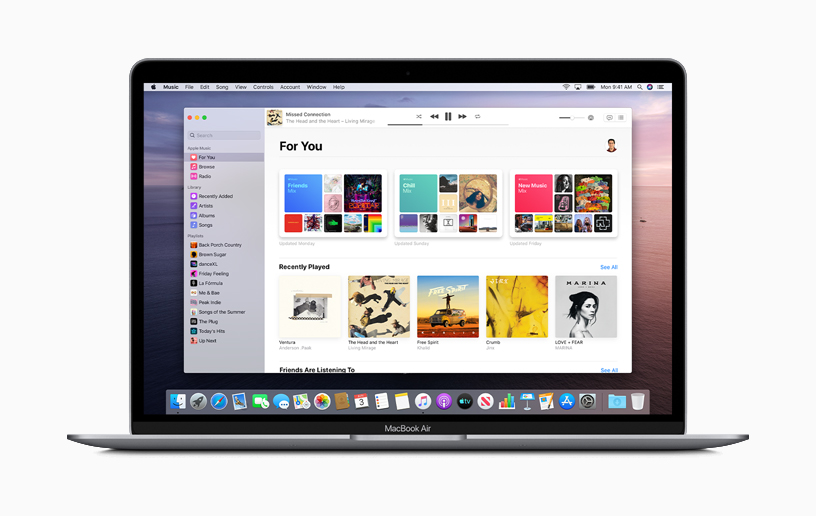 Apple TV
Movies, TV shows, whatever – it's all on this app. Not only will the Apple TV app be available on Macs, but on all other devices including iPhones, iPads and of course, Apple TVs themselves. There will be more than 100,000 shows and movies available to rent or buy on the app, and will also include Apple TV channels. The Watch Now tab will have a feature called Up Next, where you can see what you're currently watching, and pick up from where you left off on any device. Also, for the first time ever, you will be able to enjoy 4K and Dolby Atmos-supported movies on this app! Last but not least, Apple is also unveiling its original video subscription service, Apple TV+. And yes, it will be available on the app as well.
Apple Podcasts
If you're an iPhone user, you may have noticed that you have a Podcasts app on your phone. If you're using a Mac, you might have noticed that there's also a podcasts section on iTunes. This could be confusing, so Apple has decided to introduce a standalone Podcasts app to Mac, which should work the same way as the phone one. The Podcasts app will offer more than 700,000 shows, and perks such as receiving notifications on new episodes of your favourite shows. It will also feature curated collections and better search tools, allowing you to search by title, topic, guest, host, and more. Similar to the Apple TV app, you can also pick up where you left off across all devices.
Now, for one last important announcement. You've probably noticed that every single time you plug in your device to your Mac, iTunes pops up like a very persistent ghost that wouldn't go away. It's annoying to say the least, and with macOS Catalina, it won't be an issue anymore. You'll simply see your device in the sidebar next to the Finder, and that's it. Should you want to sync your device, you can do so via individual apps. What do you think of this change? Let us know in the comments below!