If you're a sea person, the best way to rest and relax is probably to spend your time on a cruise ship. After all, what can be better than soaking up the sun doing nothing on board? But then again, doing nothing for a few days in a row may get boring for some. Symphony of the Seas, the world's newest largest cruise ship, is here to set a new record and break the monotony!
---
About Symphony of the Seas
The fourth of the exclusive Oasis-line vessels by Royal Caribbean Cruises Ltd., Symphony of the Seas is the 25th ship overall in Royal Caribbean's fleet. It will begin its inaugural sail in April 2018, leaving from Barcelona, making several stops in Europe. Its inaugural sail will last for the whole summer, and it will arrive in Miami in early November. Caribbean sailings will also commence in November 2018. By the time it starts sailing, Symphony will have its added security measure ready: facial recognition check-in. Now, with a "security selfie", all you have to do is screen it and you can proceed straight to your cabin!
Boasting 16 decks, a length of 1188 feet and a width of 215 feet, Symphony of the Seas has been under construction since October 2015. Its construction site is at the STX France shipyard in St. Nazaire, and it has completed sea trials and tests in mid-February, ensuring that it is safe and efficient. Even though it is only set to launch in April, the handover ceremony for the "World's Largest Cruise Ship" title will be held on 25th March 2018. Currently, the holder of the title is Symphony's sister ship: Harmony of the Seas, and she has held on to that title since 2016. Interestingly, all Oasis-line vessels have claimed this title at some point; with Oasis of the Seas holding it in 2009, and Allure of the Seas in 2010. The title for each ship has been certified by Guinness World Records.
---
Unique Features of Symphony of the Seas
Symphony of the Seas features Signature Oasis amenities that other Oasis-line ships have, such as twin 40-feet rock-climbing walls, an ice-skating rink, a bionic bar, Flow Rider surf simulations, a zip line, and an AquaTheatre. Previously featured on Harmony of the Seas, the Ultimate Abyss, a 10-storey slide, makes a comeback on Symphony.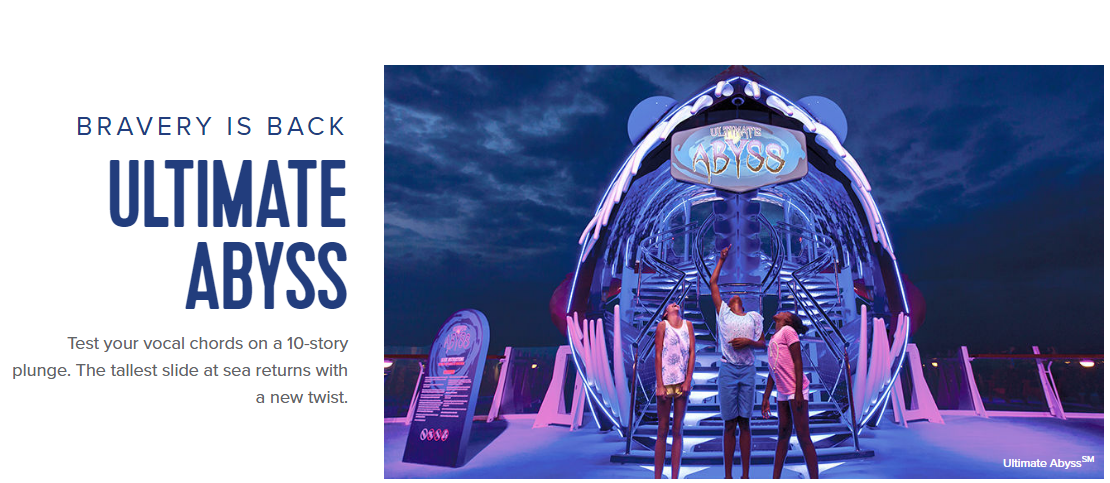 The 7 "Neighbourhoods"
Boardwalk
Central Park
Royal Promenade
Pool and Sports Zone
Spa and Fitness
Entertainment Place
The Youth Zone
The Boardwalk has a new sweet and ice-cream shop called Sugar Beach, where everyone who has a sweet tooth can satisfy their sugary cravings. Central Park has a distinctive uptown vibe, with more than 12000 trees and plants lined up. Royal Promenade is for dining, wining and shopping. The Bionic Bar, which has robots as servers, is located here.
Food and Beverage
Two new eateries makes its debut on Symphony: El Loco Fresh, a Mexican food concept restaurant; and Hooked, a casual seafood option. Other restaurants which have been previously featured include:
Wonderland (Fusion)
Jamie Oliver's (Italian)
Izumi (Japanese)
Chops Grille (Steak)
150 Central Park (Seasonal American Cuisine)
Vintages (Wine bar)
Solarium Bistro
A sports bar and arcade will also be available on board.
Entertainment
"Hairspray" will be performed on Broadway, and an original production "Flight". There will be an ice-skating show entitled "1977", and in the AquaTheatre, "HiRo", which will feature high-flying feats, as well as numerous stunts and acrobatics. New to Symphony is the "World's Largest Laser Tag Arena", called "Battle for Planet ZSM". The arena will be transformed into a glow-in-the-dark venue, with a galaxy theme. There will also be a night club, casino and shopping amenities on board.

Accommodation
With a gross tonnage of 230000, Symphony has 2774 cabins, 28 more staterooms than Harmony with a Royal Suite class, neighbourhood balconies overlooking "Central Park", virtual balconies on inside stateroom, and the highest number of ocean-view cabins at sea. However, the real highlight is its all new Ultimate Family Suite, which has features such as:
A two-level, 1346 square-feet space
Two bedrooms, allowing up to 8 people to sleep in
A balcony bumper pool table
A 3D cinema room with a popcorn machine and an array of video games
A floor-to-ceiling LEGO climbing wall
An air hockey table
A whirlpool on its 212 square-feet wraparound balcony
An in-room slide to slide from the bedroom to the living room
All Aboard!
Symphony of the Seas can fit 5500 passengers, and its inaugural summer sailing spots has already been fully booked! There might still be hope for the November sailings though, so do hurry and check it out!
---
https://www.facebook.com/tallypressmy/