Are you feeling bored going through the same gym routine? If the answer is yes, it's time to add some spice into your fitness! Here's a list of the top 7 trending alternative fitness in Malaysia for you to try.
---
1) SPINNING
Take your cycling to the next level with Spin classes! It is essentially a high intensity cycling workout on a stationary machine with a weighted flywheel that is linked to the pedals. Participants cycle to groovy playlists while working on their upper body strength with choreographed hands and chest combo movements. Get ready to burn it up and party in neon light strobes in one go!
ministryofburn.com | FB: MOB.KL | IG: @ministryofburn
2) Jumping Fitness
Here's a workout that relives your childhood dreams on trampoline jumping! This fitness exercise helps to train balance. strength, and body endurance. It combines aerobics, jumps, and sprints to provide a full body workout. It looks easy, but it's a challenging one that's worth your sweat!
jumpingmalaysia.com | FB: jumpingmalaysia | IG: @jumpingmalaysia
3) Animal Flow
This is an alternate fitness that focuses on ground-based, animal-like movements. It allows you to use your own bodyweight to mimic the movements of a beast. With the combination of gymnastics, breakdancing and martial arts, you'll get shredded in no time!
yogabycat.com | FB: yogabycat | IG: @yogabycat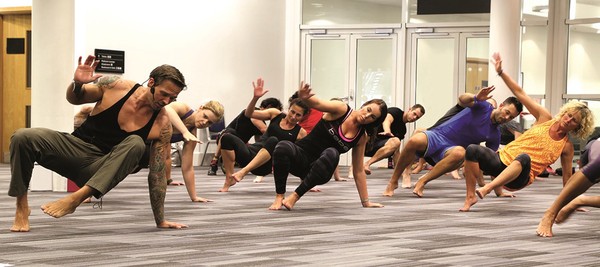 4) Kangoo jumping
You can burn twice more calories than walking with this futuristic alternative fitness! The special shoes were designed to absorb landing impact from jumps with the springs under the soles. It helps to improve muscle tone, endurance and provide cardiovascular fitness.
FB: mykangooclub | IG: @mykangooclub
5) POUND Fit
POUND Fit is a great and fun cardio fitness that gets your heart and body pounding to the music. It requires only special drumsticks and a hot playlist. In addition, it focuses on conditioning, strength training, and Pilates movements.
FB: blackandwhitefitnessstudio | IG: @blackandwhite_kl
6) X-TEND BARRE
You'll probably discover your inner ballerina through X-Tend Barre because it helps you build a dancer's body. It is a fitness training that combines both elements of Pilates and dance. As a result, it strengthens your flexibility and leave you with a chiseled body.
urban-spring.com/xtend-barre | FB: urbanspringpilates | IG: @urbanspringpilates
7) THE MERMAID MISSION
Ever wondered what it's like to be a mermaid? Now here's your chance to find out while getting fit! You'll get to wear mermaid fin (mono fin) while drilling on your dolphin strokes. These exercises are all about toning the abs, back, and pelvis.
dolphinlee.com| FB: themermaidmission | IG: @themermaidmission
---