One of the recent viral videos that have been going around Tiktok would be none other than Dalgona Coffee. Hundreds of people have tried it, but little did you know there are many other instant coffee recipes out there that you could make at home as well! Save the money on overpriced coffee drinks and try out these coffee recipes, especially since you have all the time in the world at home! 
---
1) Coffee Mocha Frappe
Ingredients: 1 cup of instant coffee of your choice, milk, ice cubes, chocolate syrup
For Mocha lovers, you'll enjoy this frappe! Who doesn't love the taste of both chocolate and coffee combined? Plus, in this hot weather, a nice frappe sounds like a fantastic idea to drink during the day. 
Step 1: Start by making a cup of instant coffee with hot water.
Step 2: Then, in a blender, pour in the coffee, add a couple of ice cubes (roughly 8), squeeze some chocolate syrup and start blending them all together until it becomes smooth.
Step 3: For a final touch, drizzle some chocolate syrup as the topping.
2) Cinnamon Iced Coffee
Ingredients: instant coffee, brown sugar, cinnamon, milk, ice cubes, cold water 
You can't really go wrong with spices in your coffee, including cinnamon. This cinnamon iced coffee adds a little taste to your regular iced coffee. 
Step 1: Add 1 tbsp of instant coffee, 1 tbsp of brown sugar, ⅛ tsp of cinnamon, a handful of ice into a tall jar or container.
Step 2: Pour around a cup of cold water inside.
Step 3: Blend them all together until a foam is formed.
Step 4: In an empty glass, add 2-3 ice cubes and put them in together with around 4 tbsp of milk.
Step 5: Before you pour the coffee into the glass, take a tablespoon and hold it against the wall of the glass as you pour the coffee in to prevent the layers from overlapping. 
3) Nutella Iced Coffee
Ingredients: chilled milk, Nutella, instant coffee, sugar, vanilla extract, ice cubes
I'm pretty sure every household should have at least a Nutella jar! All you sweet-tooths will surely enjoy this refreshing, chocolatey drink with a hint of caffeine.
Step 1: In a blender, add ¼ cup of milk, 4 tbsp of Nutella, 1 tsp of sugar, ½ tsp of Vanilla extract, 2 tsp of instant coffee powder and blend them all together.
Step 2: Prepare a glass and pour the mixture inside.
Step 3: Add some ice cubes to your glass.
4) Oreo Iced Coffee
Ingredients: milk, Oreo biscuits, instant coffee, creamer, sugar
Another drink that will satisfy your sugar craving, plus a caffeine fix as well! Oreos are a common favourite snack among most Malaysians. This would be a perfect drink for tea-time, plus, if you have kids, they will surely love it!
Step 1: Blend 3-4 pcs of Oreo biscuits, a glass of milk, 1 tsp of instant coffee powder, 1 tsp of creamer, 1 tsp of sugar, and a handful of ice cubes.
Step 2: Pour the mixture out in a glass and sprinkle some chocolate chips (optional) or insert an Oreo biscuit at the top as the topping.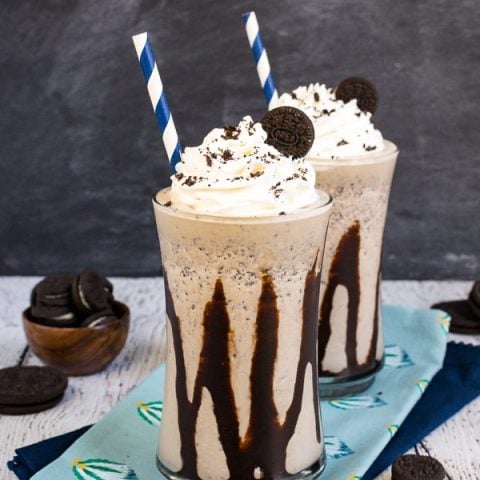 5) Caramel Hot Coffee
Ingredients: instant coffee, water, caramel sauce or syrup, milk, whipped cream (optional)
Aside from iced coffee, of course, there are some of you who prefer to drink your coffee hot. I would personally recommend this cup of caramel hot coffee as caramel tastes really good when served hot!
Step 1: Mix together 1 tbsp of instant coffee and 2 tbsp of hot water in a bowl.
Step 2: Add in 2 tbsp of caramel sauce or syrup.
Step 3: Pour out the mixture into two separate glasses (or one big glass) and add in roughly 2 cups of milk inside.
Step 4: Add whipped cream if you'd like as the topping, or drizzle some caramel at the top.
With all of the free time you have at home, including skipping the early rush hour, you'll have plenty of time to give these recipes a go! Having different kinds of coffee every other day will surely make this quarantine just a little bit more bearable!