The climate crisis is becoming increasingly worrisome. Most of us are doing our parts by reducing use of plastic but is it enough? These Malaysian university students are doing their part for the environment by creating a brick made out of recycled plastic waste.
---
Recycled Plastic Waste Brick
In an incredible effort, these students have found a way to turn our recycled plastic waste into bricks. It is amazing work because plastic is one of the hardest materials to recycle and takes thousands of years to break down.
The brick was created by the joint efforts of Jerome Emmanuel, Nur Syafiqah, Nur Mastiqah, Ros Amirah, and Fakhrul Azeem. The students are from Politeknik Kuching Sarawak and have created the brick as their final year project.
Reducing our use of plastic is a great effort for the environment but it might not be enough anymore. By having our recycled plastic waste turned into bricks, the plastic is repurposed and serves a function rather than sitting in a landfill.
Their brick is made mostly out of recycled Polyethylene terephthalate plastic bottles which are cut into tiny pieces. Approximately 1.3kg of recycled plastic is mixed with river sand, fine and coarse gravel, and calcium carbonate.
Firstly, the plastic is melted over high heat until completely liquid-ish. Then, the dry materials are added in and the mixture is stirred until completely mixed. It is then put into a brick shaped container and left to cool.
The brick still needs some fine-tuning before it can be used for construction purposes. However, this is a really good effort from the team and a great step towards providing more eco-friendly construction materials.
Other Eco-friendly Construction Materials 
It is important to just be aware that there are more options for construction materials than our typical cement. More eco-friendly materials include rammed earth, straw bale, and bamboo. These materials are more eco-friendly for their own various reasons.
Rammed Earth
Rammed earth is a great eco-friendly material because it has several advantages. It provides superior thermal mass, temperature and noise control, and is low maintenance. It is also has a more natural environmental ambience thanks to its natural colour.
Straw Bale
Straw bale is an affordable option and can be used in its raw state and requires no further processing. It also allows building to naturally provide high levels of insulation for climate change. Straw bale is also a low impact and low carbon building material but cannot be used in areas with extreme humidity and high rainfall.
Bamboo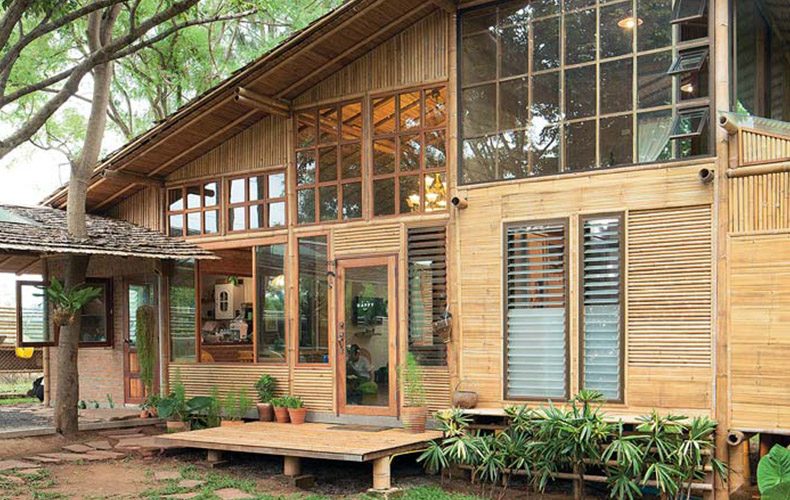 Bamboo is an amazing way of building houses because it produces more oxygen and absorbs more carbon dioxide. This is a great effort to combat global climate change. It is also easy to grow and be harvested which is why it's so cost-effective. Bamboo is highly sustainable and gives an aesthetic appeal.