This year, the month of December may be filled with a roster of exciting Hollywood movies. But one thing for sure, it's hard to ignore the existence of "Star Wars: The Rise of Skywalker". As the movie sets to arrive this December 19th, it's time to revisit the previous "Star Wars" movies — all ranked from worst to best.
---
10) Solo: A Star Wars Story (2018)
Let's face it, there's only one person who can play Han Solo. And that person in question is none other than Harrison Ford himself. When Disney decided to make a prequel of that legendary rogue smuggler, they knew they need a younger actor to pull off the role. And so, they chose Alden Ehrenreich whose previous credits included The Coen Brothers' "Hail, Caesar!" and Warren Beatty's "Rules Don't Apply" (both released in 2016). While he does a decent job emulating some of Ford's signature devil-may-care charm, his performance is disappointingly wooden. Even his character's backstory is perfunctory while the overall drab-looking picture dampened the cinematic experience, thanks to Bradford Young's ill-advised moody cinematography.
9) Star Wars: Episode II – Attack Of The Clones (2002)
Every filmmaker, no matter how good he/she is, has weaknesses. George Lucas is no exception, and it clearly shows in "Star Wars: Episode II – Attack of the Clones", the second chapter of the prequel trilogy. He just can't make a competent love story, which happens to be the movie's central theme of forbidden love between Anakin Skywalker (Hayden Christensen) and Padme Amidala (Natalie Portman). Lucas' frequently corny dialogues dampened the movie even deeper, with the least saving grace came to the rescue during the final 45-minute action-packed moments. And yes, this is the Star Wars movie where you get to see Yoda (voiced by Frank Oz) showing off his amazing lightsaber skills against Count Dooku (Christopher Lee).
8) Star Wars: Episode I – The Phantom Menace (1999)
Back in 1999, fans and audiences went crazy when "Star Wars: Episode I – The Phantom Menace" first arrived in the cinemas. Besides, it had been 16 years since "Return of the Jedi" ended in 1983. Sure, George Lucas' script tends to be cheesy and he was even infamously responsible for torturing our eyes and mind with the annoying CG creation of Jar Jar Binks. But the movie is far from a failure, as Lucas delivers some of the best action sequences in a "Star Wars" movie including the "Ben Hur"-like pod race and the epic three-way lightsaber battle between Qui-Gon Jinn (Liam Neeson), Obi-Wan Kenobi (Ewan McGregor) and Darth Maul (Ray Park).
7) Star Wars: The Force Awakens (2015)
Thanks to Disney, the long-dormant "Star Wars" franchise lives on with a sequel trilogy, giving us the first "Star Wars" movie since "Star Wars: Episode III – Revenge of the Sith" in 2005. Longtime fans may have complained about J.J. Abrams' slavish approach of using "A New Hope" (1977's "Star Wars") storytelling template. But you can't deny his energetic direction that evokes the same childlike wonder seen in the original trilogy. He does a great job introducing some of the new characters including Daisy Ridley's Rey, John Boyega's Finn, Oscar Isaac's Poe Dameron and the BB-8 droid. And he isn't even afraid to take a creative risk involving a certain death of a beloved character, which delivers a good shock.
Image Credit: cutprintfilm.com
6) Star Wars: The Last Jedi (2017)
There's never been so much hatred and contempt surrounding Rian Johnson's risky approach in subverting (most) longtime fans' expectations of a "Star Wars" movie. Of course, not many audience can accept his creative decision (e.g. turning the otherwise noble Luke Skywalker into a world-weary hermit). But that's what filmmaking is supposed to be, as Johnson deserves to be credited for staying true to his own artistic vision by turning the age-old "Star Wars" mythology inside out and steering it in a whole new direction.
5) Rogue One: A Star Wars Story (2016)
A refreshing change of pace from the Skywalker-centric saga, this first "Star Wars" spinoff deftly combines the war and heist genres. It also featured some of the most memorable characters in a "Star Wars" movie, notably Felicity Jones' rebellious portrayal of Jyn Erso and Donnie Yen's scene-stealing turn as the blind fighter Chirrut Îmwe. Then, there's the ending: the long-missed Darth Vader (voiced by James Earl Jones) in a brief but memorable hallway massacre on the ship.
4) Star Wars: Episode III – Revenge Of The Sith (2005)
It took two strikes (read: "The Phantom Menace" and "Attack of the Clones") for George Lucas to finally get back on the right track in this third and final "Star Wars" prequel trilogy. He's clearly saved the best for the last here, making the smart choice reducing the screentime of Jar Jar Binks. He even turned "Revenge of the Sith" into a dark Greek tragedy where all odds are out and evil unexpectedly triumphs over the good side. Lucas also manages to bring out the best in Hayden Christensen's otherwise wooden performance as Anakin Skywalker seen in "Attack of the Clones", giving him a meatier role for a change.
3) Return Of The Jedi (1983)
The first 30 minutes may have been cheesy, complete with the way bounty hunter Boba Fett (Jeremy Bulloch) getting abruptly killed off in an unbelievable scene you have to see for yourself. But kudos still go to director Richard Marquand for maintaining a consistent pace with top-notch action sequences and colourful performances. Ian McDiarmid, then-newcomer to the "Star Wars" franchise, delivers a perfectly imposing performance as the Emperor while the movie itself wraps up with a satisfying conclusion.
2) Star Wars (1977)
What can we say about the original "Star Wars" a.k.a. "Star Wars: Episode IV – A New Hope"? It made cinematic history for single-handedly changing the Hollywood film history, even being hailed as among the greatest science fiction movies ever made. Credits go to George Lucas for incorporating the classic good vs. evil theme with a pulpy storytelling method, which pays homage to the 1930s "Flash Gordon" movie serials. He is also responsible for giving us some of the most iconic characters in cinematic history. This includes everyone from Mark Hamill's Luke Skywalker to Carrie Fisher's Princess Leia as well as Harrison Ford's Han Solo and James Earl Jones-voice role of Darth Vader. The special effects are groundbreaking at the time of the release, with exciting action sequences and not to forget John Wiliams' soaring music score.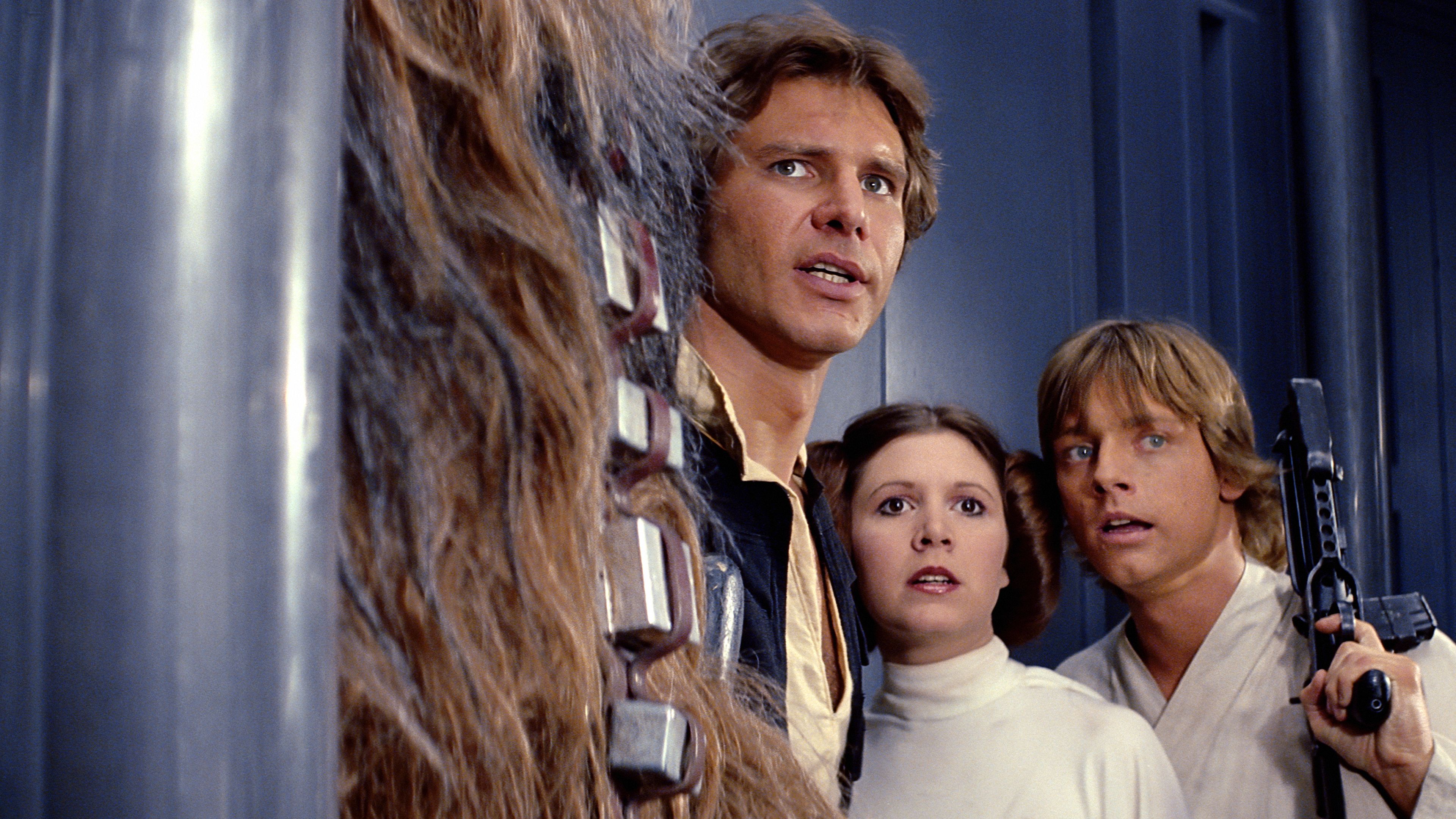 1) The Empire Strikes Back (1980)
Words like "bold" and "daring" are best described for "The Empire Strikes Back", where director Irvin Kershner took a creative risk by subverting expectations into the dark, uncharted territory. This is the movie where "good guys always win" gets thrown off the window and replaced with evil triumphs over the good. This sequel also improved upon the first "Star Wars" in many ways, namely the special effects as well as action sequences and even better performances this time around (Mark Hamill's Luke Skywalker and James Earl Jones' Darth Vader particularly comes to mind). Then, there's the introduction of Master Yoda (voiced by Frank Oz), who happens to be one of the movie's centrepieces.